What are Canada's Top 5 PR Categories for Skilled Immigrants in 2023?
Canada is one of the favorite destinations of many professionals to settle and work. Since 2014, Canada has been active in providing permanent residency to skilled workers. Although Canada has over 60 visa programs, below are the top 5 visa categories for professionals to apply in 2023.
1. Federal Skilled Worker (FSW) Program
A skilled international worker can get permanent residency to Canada by the Federal Skilled Worker (FSW) program. To be eligible for this program, the candidates have to get the minimum number of eligibility points.
2. Provincial Nominee Program (PNP)
Various Provinces of Canada sponsor skilled immigrants to come, live, work, and settle in their region. Once they receive the nomination, they can apply for a permanent visa with Canadian immigration after 3 years. A few provinces are very easy to get into. These provinces offer good jobs to various types of skilled immigrants.
3. Quebec Skilled Worker Visa
Skilled workers who wish to settle in Quebec have to get their permanent status in Canada through a different system. Under the government of Quebec, the applicants must apply for the Regular Skilled Worker Program, which is also known as the Quebec Skilled Worker Program (QSWP) or Quebec Experience Program.
This program allows high education and trained international applicants to immigrate to Quebec. The skilled workers are evaluated based on the selection grid of factors.
Upon getting the required points, the applicant will get a Quebec Selection Certificate (CSQ) that helps them to apply for permanent residency in Canada. The main requirement of this program is that the applicant should understand, read, write, and speak French.
4. Atlantic Immigration Pilot Program
The 4 Atlantic provinces of Canada joined together and started with a fast-track immigration program called the Atlantic Immigration Pilot program. The 4 Atlantic provinces are:
Nova Scotia
New Brunswick
Newfoundland and Labrador
Prince Edward Island
This program enables the employers of the above 4 provinces to hire skilled immigrants by giving jobs and to fill the gap in their region or community. It's an employer-driven program wherein the employer will give jobs to qualified candidates. Then, you will be given a settlement plan to settle in that community along with your family.
5. Rural and Northern Immigration Pilot (RNIP)
The community-driven program is designed to roll out the benefits of immigration for the economy to a smaller community.
This permanent residency program allows immigrants to settle and work in the communities that are participating.
Each participating community will have designated employers that will offer a job to the skilled workers in their respective communities.
Upon meeting the requirements of the community and getting the job offer from the employer, the applicant can apply for permanent residency for Canada.
They are several communities or small towns from the provinces like:
Ontario
Manitoba
Saskatchewan
Alberta
British Columbia
Canada has several immigration programs for skilled professionals.
What are the other visa categories?
Canada immigration visas are not limited to these 5 programs, there are other popular programs like:
Canadian Experience Class (CEC):
Canada is home to many skilled workers who are on a temporary visa and students who come to acquire professional degrees.
Canadian Experience Class program is the best mode to acquire Canada Permanent Resident visas to those candidates who are already studying or working in Canada. These individuals already possess skills, work experience, and language proficiency and are already working or studying in Canada.
This gives a window of opportunity to apply for Canada PR, especially for students looking to settle in Canada permanently. You should have work experience for 1 year under the skilled worker category and plan to live outside Quebec province.
Federal Skilled Trades (FST) Class
Canada immigration gives permanent residency opportunities to the candidates who have a valid job offer from any Canadian Trade Employer.
There are many trades in which skilled immigrants have a lot of experience. Many companies hire immigrants who are experienced in their trade for various services and jobs.
Federal Skilled Trades Class not only gives the immigrants a chance to work immediately after entering the country, but they also get a chance to settle down with their family.
Along with the job offer, the applicant should also meet the eligibility criteria for this program like:
English Language test (CLB 4 and above)
Prove the intent to stay anywhere in Canada except Quebec
Family Class
The Family Class Visa enables Canada permanent residents to sponsor a relative, spouse, or family member to become a permanent resident in Canada.
This visa is quite useful for those who have already made their way to Canada to study, work, and have become permanent residents in Canada. They can sponsor their relatives and can let them migrate to Canada to live as a family.
Many young individuals who have moved to Canada also have the opportunity to sponsor their grandparents to come live with them in Canada.
The applicant has a chance to sponsor their spouse and dependent children to stay with them and get the benefits.
How to choose the appropriate category?
There are many programs and ways to apply for a permanent residency visa in Canada. Based on your work experience, your occupation, job profile, etc.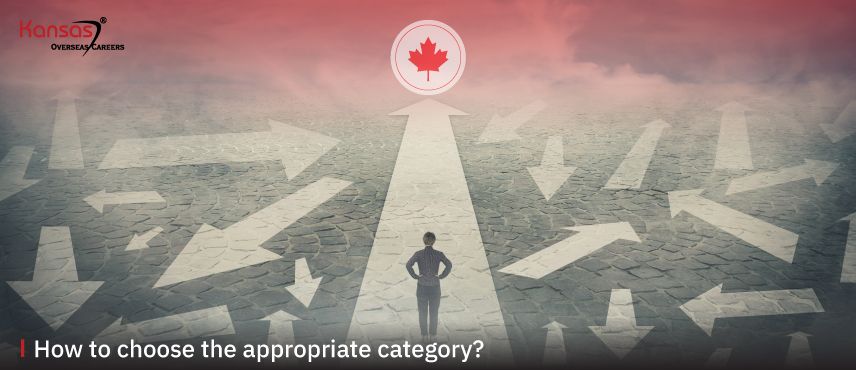 you can choose the program that fits you.
Eligibility
If you have 3-5 years of work experience in your hometown and a good IELTS score, you can opt for FSW.
To increase the FSW (under express entry) scores, you can opt for Provincial Nominee Program
If you have a minimum 1 year of Canadian experience, you can apply by Canadian Experience Class
If your spouse is a PR or citizen of Canada, you can immigrate through the family class visa.
After concluding about which category you fall under, you can start applying for your visa.
You can then work towards fulfilling the other criteria, such as language proficiency and other things that would enable you to become a Canadian resident.
It is easy for you to choose the program that can make the visa process easier for you if you have proper guidance.
For all the right information and guidance, connect to our experts at Kansas Overseas Careers.
Documentation
For applying for a Canada permanent resident visa from India, there are several documents that you need to produce.
Proper documentation will assist you in acquiring the Canada PR visa as soon as possible.
It is always crucial to ensure that you have submitted all the necessary documents required for the Canada PR visa. Each visa program requires additional documents for the visa process.
However, here are the basic documents that you need to apply for a PR visa in Canada.
Passport or travel document
IELTS or equivalent language proficiency test results
Education Credential Assessment report (if you're applying through the Federal Skilled Workers program, or you want to get points for the education you got outside Canada)
Written job offer from an employer in Canada (if you have one)
Cost
There are various types of fees for different types of programs to process your Canada PR visa application. Many miscellaneous expenses occur while applying for the Canada PR Visa application.
However, here are the most basic expenses:
For the Educational Credential Assessment, you would need about 13,000 INR- 28,000 INR approximately
IELTS test fee costs 15,500 INR
Permanent Residence fee costs (called PR fee or RPRF)- Primary Applicant: 51,596 INR Secondary Applicant: 51,596 INR and Child Applicant: 13,961 INR approximately
Medical price: 5000 – 11,000 INR approximately
Processing time for Canada PR: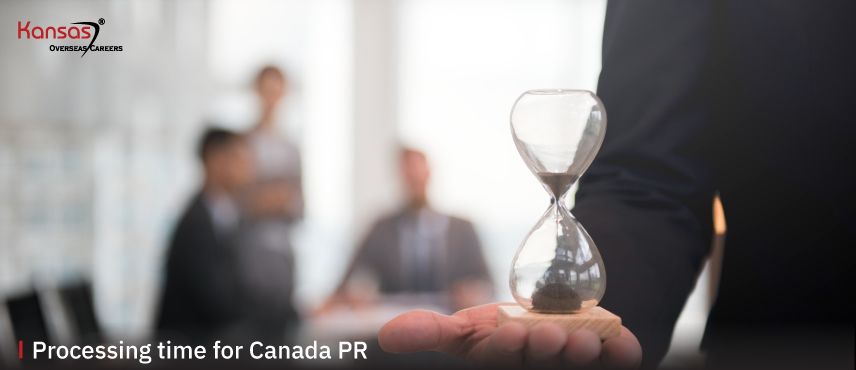 Your application for permanent residency in Canada should be complete in all respects.
It takes 6 months to get a response from the IRCC.
The issuing authority (IRCC) examines every detail in the application.
They receive thousands of applications daily, and it takes time to dig into every detail.
So you need to keep your fingers crossed.
You need to submit all the documents supporting your academic and professional profile.
There are certain regulations about arriving in Canada in the given duration after you get the PR Card.
How can Kansas Help?
When applying for the Canada PR visa, Kansas Overseas Careers can help you in every way possible.
We have the most experienced staff that will help you select the right visa category and apply to become a permanent resident in Canada.
By approaching us, you are sure to move one step closer to becoming a permanent resident in Canada.
Other FAQs
What are the IELTS score requirements for Canada PR 2023?
Many countries demand proper language proficiency scores. IELTS is the most popular mode of testing a candidate for his/her English proficiency. IELTS is a test that evaluates the language proficiency of the candidate by looking at their listening, speaking, reading, and writing skills.
Various countries use this evaluation method to understand the language proficiency of the candidate. The IELTS band scores are important for getting the scores. These are the different scores that candidates need to achieve for each program:
Express Entry - For express entry program, the candidates must obtain 6 bands in all modules (Listening, Reading, Writing and Speaking)
Canada Provincial Nominee Program (PNP) - For the Provincial Nominee Program, candidates must acquire six bands in all modules (Listening, Reading, Writing and Speaking)
Saskatchewan Immigrant Nominee Program (SINP) - For this program, the candidates must score 4.5 bands in all modules (Listening, Reading, Writing and Speaking). Accepting lower IELTS score is one of the most significant plus points of SINP
Quebec CLB (Canadian Language Benchmark) - For this program, the candidates must achieve 5 bands for Listening, 4 for Reading, 5 for Writing, and 5 for Speaking.
What are the benefits of Canadian PR?
Canada is a country that is rich in various aspects. There are many types of people that migrate to Canada for the endless benefits the country offers its residents.
The key benefits of becoming a Canada permanent resident are:
Canada offers free education to all the permanent residents and citizens of the country.
They have excellent governance over medical care.
These are the two most essential needs of any person.
Since Canada provides a very high standard of education and medical care at an affordable price, many people get attracted to the country.
Live, study, work and settle anywhere in Canada
You can enter and go out of Canada whenever you want
Become eligible for Canadian citizenship after fulfilling the minimum stay requirements.
Sponsor relatives to Canada
The children who are born in Canada are considered as Canadian citizens.