Key Highlights:
Overview

Eligibility for Invitation

CEC-Only Draws

Invitations in 2021
The Immigration, Refugees and Citizenship Canada (IRCC) recently invited 3,000 immigration candidates under the Canadian Experience Class (CEC) to apply for permanent residence.
Eligibility for Invitation
The IRCC sent Invitations to Apply (ITAs) to candidates eligible for the CEC program and who had a Comprehensive Ranking System (CRS) score of at least 404 points.
The candidates with the minimum score of 404 points were only invited if they had submitted their profile with the federal Express Entry system on or before August 3rd, 2021, at 05:39:26 UTC.
This is provided according to the mandatory tie break rule. However, it does not mean that there was an actual tie.
CEC-Only Draws
Since the beginning of 2021, the IRCC has been conducting Express Entry draws for only CEC and PNP candidates.
This is because a large number of candidates in these programs are currently living in Canada or have some ties with the country.
This is especially true for CEC candidates as having Canadian work experience is the important eligibility factor in the program.
According to the latest statistics, over 90% of the candidates under CEC are in Canada at any given time.
Invitations in 2021
The number of ITAs issued this year has almost doubled the number of ITAS issued at the same time last year. This trend aligns with the IRCC's goal of admitting 108,500 immigration candidates through Express Entry this year.
So far, it has already invited 102,316 immigration candidates for PR, needing just over 6,000 more candidates to complete its goal for the year.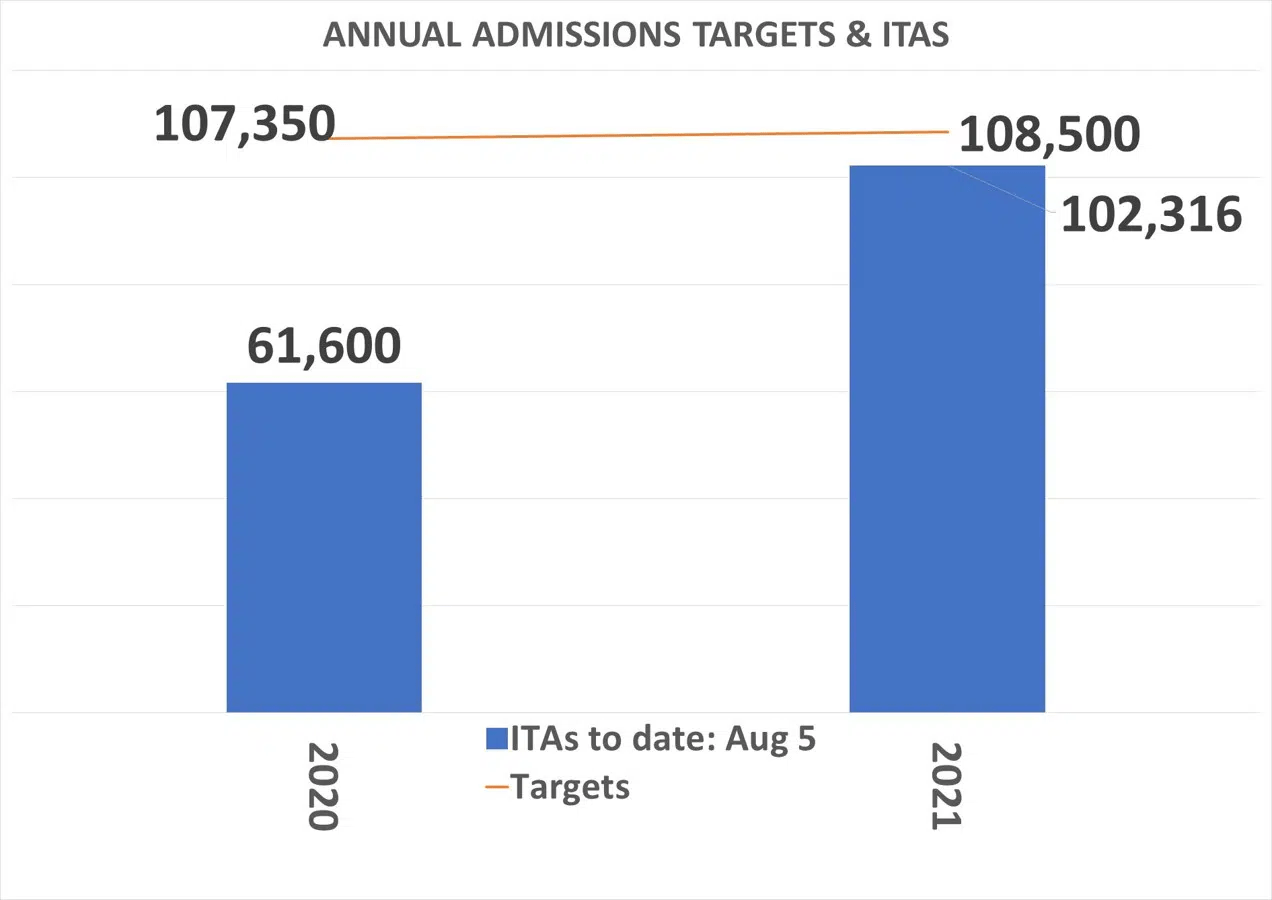 The CRS score requirement has seen many ups and downs this year, with the lowest requirement of 75 points for the historic February 13 draw, which invited a massive total of 27,332 CEC candidates.