Key Highlights
-

Overview
-
Invited Candidates
-
Previous Draws
The Immigration, Refugees and Citizenship Canada (IRCC) held a new Express Entry draw yesterday, inviting 6,000 immigration candidates from the Canadian Experience Class (CEC).
Invited Candidates
The IRCC issued Invitations to Apply (ITAs) for permanent residence in the latest round. It issued 1,000 more ITAs than the last draw and had a CRS score requirement of 417 points, 15 points less than the previous draw.
If two or more candidates in the draw had the same lowest CRS score of 417 points, they would be invited only if they had registered their profile before March 1, 2021.
This was a rare one, held on a Friday evening, right before the weekend. The IRCC generally conducts Express Entry draws during the weekdays to give PR applicants more time to prepare their applications.
Previous Draws
This was the second-largest draw in the history of Express Entry. The three largest draws yet have all been conducted in the last three months.
On February 13, the IRCC held the biggest-ever draw, inviting a whopping 27,332 CEC candidates. This draw also had the lowest CRS requirement of 75 points.
Prior to this, the largest draw had invited 5,000 candidates in 2020.
The IRCC has now invited 55,390 immigration candidates in CEC, and Provincial Nominee Program (PNP) specific draws in 2021. This is nearly double of the numbers invited last year at the same time.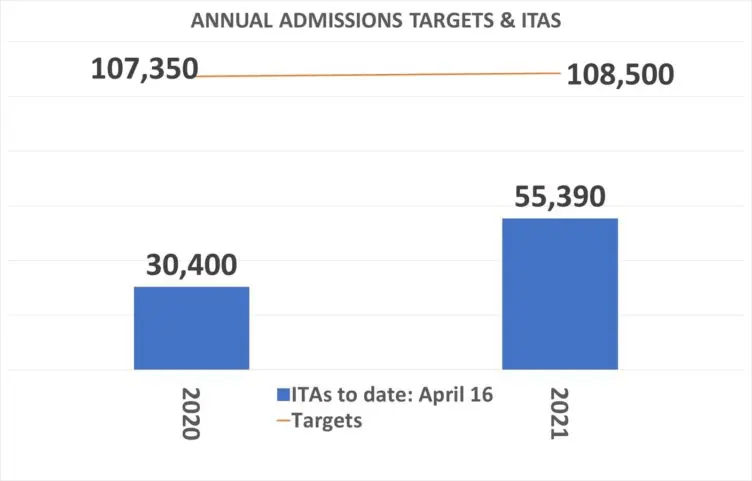 These massive draws are in line with the IRCC's target of inviting 401,000 immigration candidates this year.