Canada to clear 2.7 million visa backlog by 2022-end. The existing backlog has led to delays for those seeking visas from all over the world.
Recently, the High Commissioner of Canada to India Cameron MacKay was in Hyderabad. Speaking to Deccan Chronicle in an exclusive interview, the High Commissioner acknowledged an awareness of the inconvenience caused to travellers across all visa categories due to long delays in processing. He said that work was in progress to set things right and bring Canada visa processing times back to normalcy by early-2023.
As per the High Commissioner, at least 3-4 months will be needed to be back to the usual visa processing timelines. According to the High Commissioner, the most number of applicants for any Canada visa category were from India. On an average, around 10,000 visas a week are processed by the Canadian Embassy & Consulates in India.
Why is there a delay in Canada visa processing?
COVID-19 related service limitations and disruptions led to a global visa backlog of 2.7 million applications with Immigration, Refugees and Citizenship Canada (IRCC). Those looking to work in Canada or study abroad in Canada have been affected the most by visa delays.
Post-pandemic, Canada has seen a 55% increase in Canada visa applications, adding enormous pressure to the Canadian immigration - temporary and permanent - process.
Why Canada needs immigrants?
Immigration holds the key to help Canada deal with labour shortages. Temporary workers and permanent residents contribute to the Canadian economy in many ways.
There were 1.5 million successful Indo-Canadian citizens in India. More immigrants are needed.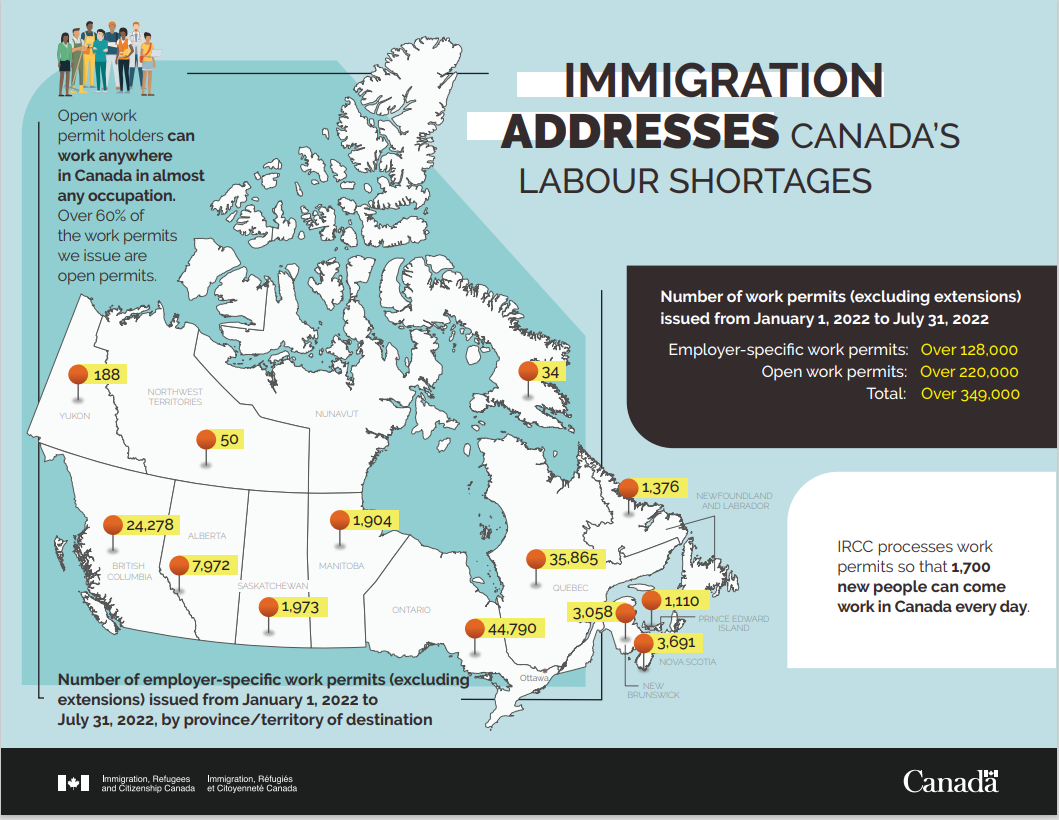 Source: IRCC.
According to the Minister of Immigration, Refugees and Citizenship, "There is an unprecedented interest in Canada as a destination for newcomers from around the world…. We will continue to take steps to strengthen immigration, for the benefit of our businesses, our economy, and all Canadians."
How can I work in Canada?
A Canadian work permit lets you work temporarily in Canada as a skilled worker. Your work permit for Canada can either be an open work permit which is unrestricted, allowing you to generally work for any employer anywhere in Canada.
An employer-specific work permit, on the other hand, lets you only take up employment for a specific employer. There are conditions attached to your work permit as to the location where you can work as well as the duration of work to be taken up by you.
Securing permanent residence lets you live and work anywhere in Canada.
How many Canada PR visas will be issued in 2022?
Canada plans to welcome 431,645 new permanent residents in 2022. Of these, many will get their Canada PR visa through the Express Entry system. A nomination by a provincial or territorial government under Canada's Provincial Nominee Program (PNP) can fast-track your Canadian permanent residence application.
So far in 2022, Canada has issued an altogether 24,289 invitations to apply (ITAs) under 19 Express Entry draws held this year. 55,900 is the Express Entry invitations target for 2022. The latest Express Entry Draw #231 was held on September 14, 2022.
Canada remains well on track to grant 431,000 PR Visas in 2022.
For more information, get in touch today!