Key Highlights:
Year-End Overview
The Latest Express Entry Draw
Cutoff CRS Score
Beginning of the Year 2020
The Good News
Express Entry candidates received a total of 107,350 invitations to apply in the year ending 2020. A record-high number of candidates were invited to Canada this year.
The Latest Express Entry Draw
The 23 December 2020 Express Entry draw saw the CRS cutoff score dip slightly from the two rounds held earlier. Canada invited 5,000 more immigration candidates in this round.
It is the fourth consecutive draw to invite 5,000 candidates for Canadian permanent residence. The increase is consistent with all-program Express Entry draws since 2 September 2020.
IRCC has maintained a two-week interval between draws since September.
Cutoff CRS Score
The current draw continued the cut-off CRS score decrease set up in the last four draws. It was at 468 points this time.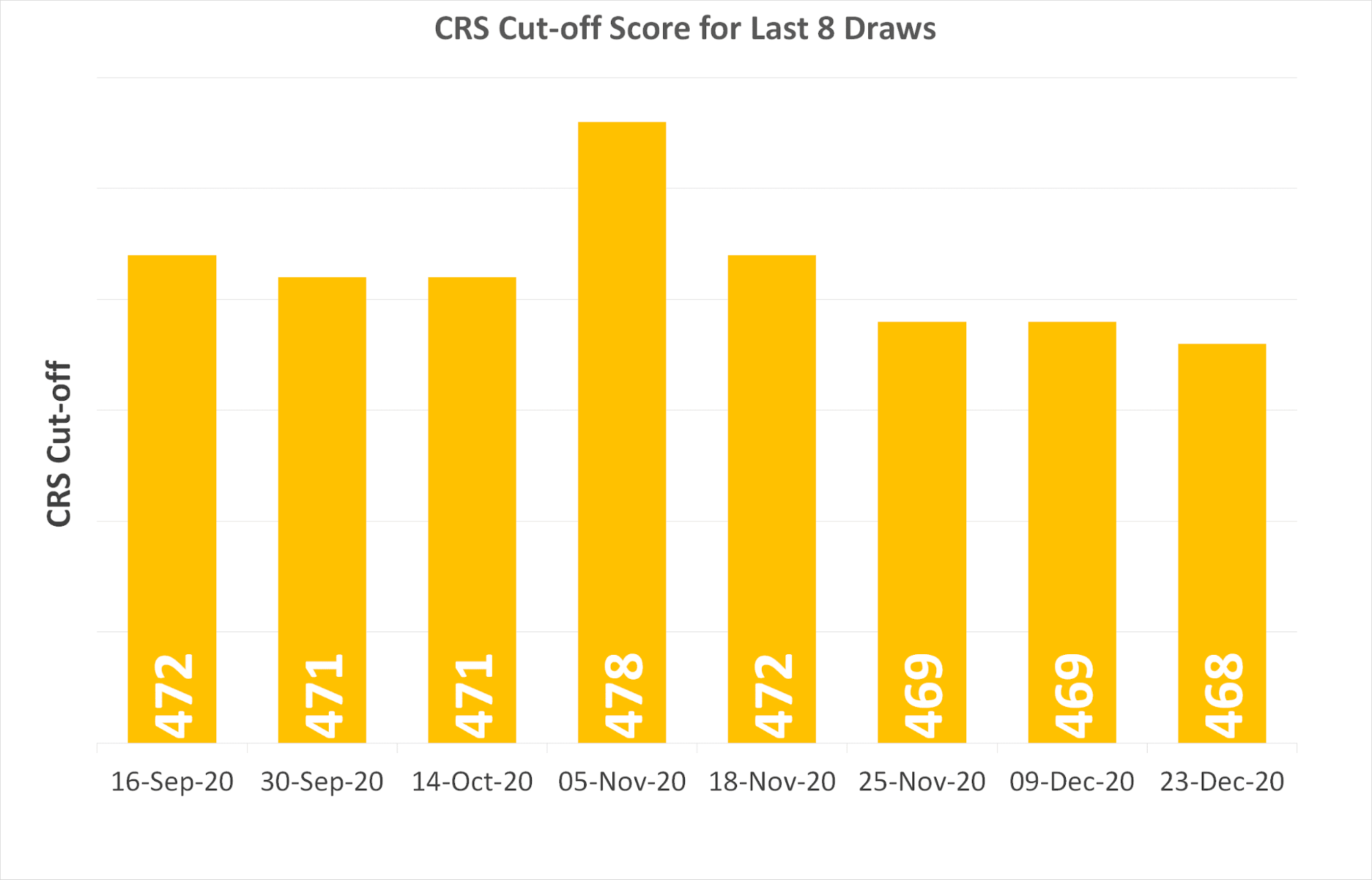 In this draw, the tie-breaking rule for candidates having scored CRS 468 points or more needed to have submitted their Express Entry application before 4th June 2020, at 13:39:44 UTC, to receive an invitation.
Beginning of the Year 2020
During the early months of the Covid-19 pandemic, IRCC had conducted only program-specific draws. The Government of Canada has now taken steps to include most of its programs to facilitate the immigration process.
This year is the first that the number of ITAs has crossed the 100,000-mark since the Express Entry system launch in 2015.
The Good News
The good news is that Canada has recently announced that targets for the three programs managed by Express Entry have been hiked along with its association with provincial nominee programs.
Express Entry linked PNP programs of Ontario, Nova Scotia, Manitoba, Prince Edward Island, British Columbia, and Saskatchewan has been regularly held over the past four weeks.