Priority services reintroduced for new customers applying for a UK Student visa or under the sponsored work routes such as the Global Talent Visa.
As per a recent update by VFS Global, Priority Visa Services are now available for "new study and sponsored work applications". Previously, VFS Global has announced an update regarding the availability of priority processing for new UK Visit visa applicants.
In partnership with UK Visas and Immigration, VFS Global offers support services to individuals applying for a UK visa. VFS Global manages the Visa Application Centres (VACs) for UKVI. At VFS Global, you can -
Provide biometrics,
Submit your completed visa application form, and
Provide the required supporting documents.
On August 30, 2022, the British High Commissioner to India Alex Fillis announced the update for students travelling to the UK. As per the official update on Twitter, the UK "has now made Priority and Super Priority visas available for students".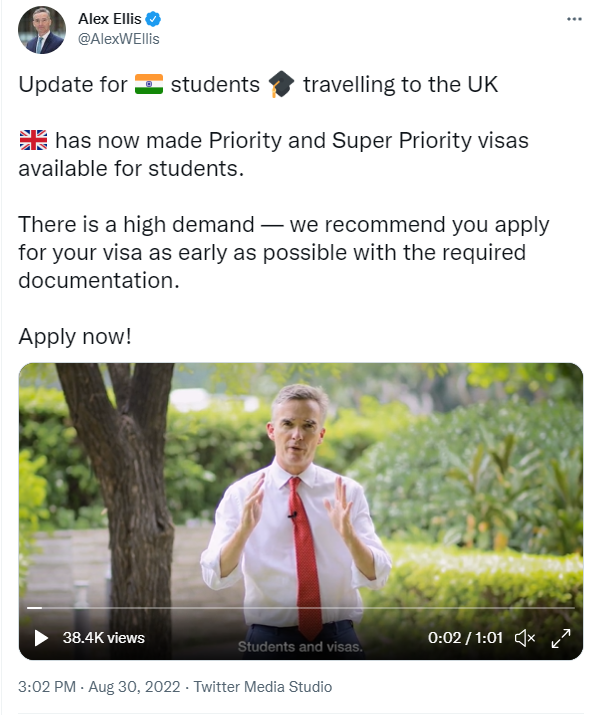 Source: Twitter
What's the difference between PV and SPV for UK visas?
Priority Visa (PV) visa services gets you a decision on your UK Visa application within 5 working days. You get a decision by the end of the next working day if you choose Super Priority Services (SPV).
UK Visas - Priority Visa and Super Priority Visa Services

PV

SPV

Decision within

5 days

1 day

Cost

£500

£800
What is the cost for priority processing for UK visas?
You will have to pay the following for priority processing of your new visa application -
PV - £500 (INR 46,040 approx.)
SPV - £800 (INR 73,665 approx.)
How do I avail Priority Service for UK Student visa?
New customers applying for Priority Services or Super Priority Services can select the option at the time of submitting their application online. If required by you, PV or SPV must be purchased online during the appointment booking process.
Can I take Priority Services from VFS Global?
No. PV and SPV services cannot be purchased in the Visa Application Centre.
My UK Student Visa is delayed. Can I buy Priority Service now?
No. Priority processing can only be opted for at the time of the online application submission. You can't purchase the same at a later date.
Can I get priority processing for my UK Visit Visa application?
Yes, to be purchased online at the time of visa application submission. Not available later or at a UK VAC. However, do note that Priority Visa appointment availability for new UK Visit Visa applications continue to be reduced. Super Priority Visa services, on the other hand, have no such reduction in appointment availability.
Can I get priority processing for UK visa family applications?
Priority and Super Priority Services for new family applications remain suspended as of now.
Available at an additional cost, PV and SPV can help you get a decision much sooner. Opting for SPV services when submitting your US Student visa application online to the UKVI lets you get a decision within 1 day of applying.