Canada has a high vacancy in the health care sector. Immigration will help fill many health care jobs in Canada.
On October 27, 2022, Statistics Canada released "Payroll employment, earnings and hours, and job vacancies, August 2022". Canada's Survey of Employment, Payrolls and Hours (SEPH) provides a monthly picture of the -
Level of earnings,
Employment, and
Hours worked.
The figures are given industry-wise. Statistics are considered for the national as well as provincial/territorial levels.
Put simply, the report measures the total number of employees in the Canadian labour market. Employees currently receiving wages are considered. Estimates on the money made by them as well the hours worked are reached at. Job vacancies are also looked into.
As per the latest Statistics Canada report, there were 958,500 jobs available in Canada in August 2022.
Job vacancies reach a record high in health care and social assistance
152,000 vacant positions in the health care and social assistance sector, as reported in August 2022. The vacancy rate was up by -
6.4% (+9,100 jobs) when compared to the previous month, and
19.4% (+24,800) when compared to August 2021.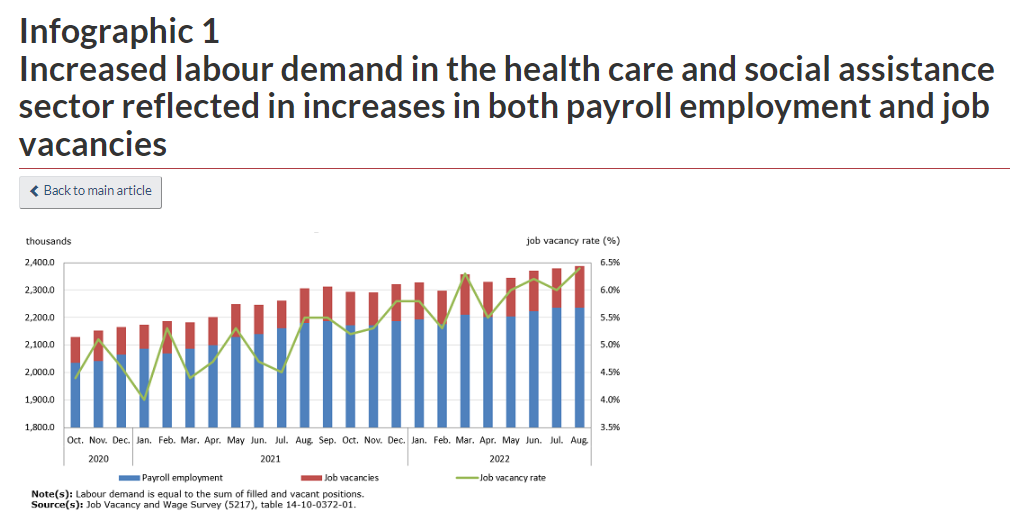 As per the Report, "The job vacancy rate in this sector increased to a new high of 6.4% in August ..".
Source: Statistics Canada.
Which provinces had the highest job vacancy rates in Canada?
British Columbia (6.1%) and Quebec (5.9%) continued with the highest job vacancy rates among Canadian provinces. In August 2022, job vacancies increased in Saskatchewan (+11.2% to 23,800) and New Brunswick (+11.3% to 16,300).
Immigration Matters in health care
Over 1.6 million work in Canada's health care sector. Many more will be needed in the near future to ensure continued access to high quality health care in Canada.
Around 500,000 workers in the sector are 55+ years of age. A majority of these will retire within the next 10 years. Moreover, there are already existing recruitment challenges that have to be met for nurses, home health care staff, and residential care staff.
Immigrants that decide to settle in Canada can play an important role to ensure that there are sufficient people working in Canada in the health care sector. An integrated and diverse workforce is the need of the hour to ensure the sustainability and effectiveness of the Canadian health care system.
Quick facts
As per the Statistics Canada 2016 Census, 1 out of every 4 health care workers is an immigrant. In Canada, immigrants make up -
54% of dental technologists and related occupations
39% of dentists
37% of pharmacists
36% of physicians
35% of nurse aides and related occupations
23% of registered nurses
In view of the high demand for health care professionals, Canada has now made it easier for doctors to get Canadian permanent residence. Some of the barriers for physicians already working in Canada as temporary workers have been removed by Immigration, Refugees and Citizenship Canada (IRCC).
Express Entry offers a route to Canada PR visa for doctors under the Federal Skilled Worker Program (FSWP) or Canadian Experience Class (CEC). Many Canadian immigration routes under the Provincial Nominee Program (PNP) are specifically for health care professionals.
465,000 will get permanent residency in 2023. Of these, 82,880 Canada PR visas will be granted to Express Entry candidates. Another 105,500 will get Canada PR in 2023 via the PNP route.
For more details, get in touch. Free consultation available.