H-1B initial registration for 2024 to soon be open. A total of 131,970 H-1B registrations selected in FY 2022. Of these, 87,500 were through initial selection.
On January 28, 2023, the US Government announced that "The initial registration period for the fiscal year 2024 H-1B cap will run from noon ET on March 1 to noon ET on March 17". The official announcement came in the form of a Press Release by U.S. Citizenship and Immigration Services (USCIS).
H-1B visa lets you live and work in the US for a maximum of 6 years. Generally, the initial registration period is open for a minimum of 14 calendar days in each financial year.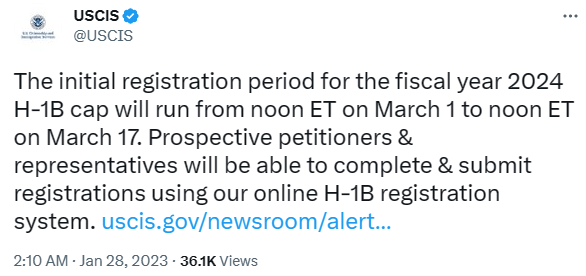 Source: Twitter
Once the H-1B initial registration period is open, U.S. companies petitioning for H-1B workers will be able to complete and submit their registrations online. Both registrants and their representatives are required to wait until March 1 to create and submit H-1B registrations online.
What is H-1B electronic registration process?
In 2020, USCIS implemented an electronic registration process for H-1B visas that come under the annual cap or numerical limit. A prospective petitioner that wants to file an H-1B cap-subject petition must begin the process by registering online.
Basic information will be needed about -
The prospective U.S. employer petitioning for an H-1B worker, and
The requested worker being petitioned for.
Once the initial registration window is closed, the selection process will then run on the H-1B electronic registrations that were properly submitted. Selected H-1B registrations will only be eligible for filing H-1B cap-subject petitions.
Why was the H-1B electronic registration process introduced by USCIS?
An electronic H-1B registration was introduced to -
Streamline processing by reducing data exchange and paperwork,

Reduced overall costs for petitioning U.S. employers.
How to submit H-1B registration for FY 2024?
For submitting an H-1B registration, you must first create a USCIS online account.
What is the H-1B registration fee?
USD 10 (around INR 816) has to be paid as the associated H-1B registration fee per person.
How many H-1B visas are granted in a year?
Total H-1B visas granted in a financial year by USCIS are -
65,000 subject to cap, and

20,000 additional for those with Master's or higher from a U.S. educational institution
What is the H-1B process timeline?
Generally, important dates under the H-1B registration process timeline are -
March 1: H-1B registration period opens (at noon ET)

March 18: H-1 registration period closes (at noon ET)

March 31: Date by which USCIS notifies selected registrants

April 1: Earliest that H-1B cap-subject petitions might be filed
There is a random selection process. Selection notifications will be sent by USCIS to users via their myUSCIS online account.
How many H-1B registrations were selected for Financial Year 2022?
131,970 H-1B registrations were selected in total by USCIS for FY 2022, in 3 separate selection rounds.
H-1B Registrations Selected in FY 2022

Initial selection

87,500

Second selection in July 2021

(due to low filing volume from initial selection)

27,717

Third selection in November 2021

16,753

TOTAL

131,970
H-1B is the most sought-after way to live and work in the United States. A minimum Bachelor's degree will be required, either in the specialty or its equivalent. There are other ways to work in the U.S., such as intra-company transfer.
For more information, get in touch.
Free consultation provided.