Under the new UK PBS visa rules (Points Based System), dependents can stay in the UK. These include the partners or children of the primary applicants. The UK government rules regarding work are strict for primary student visa holders. But a student visa dependent can work in different occupations. They must still follow specific rules.
Dependents can apply for a UK dependent visa directly or with the applicant. However, the primary applicant should be a full-time student on a postgraduate level course (RQF level 7 or above) that lasts for at least 9 months or more, a new government-sponsored student, or a doctorate extension scheme student.
Who Is a UK Student Visa Dependent?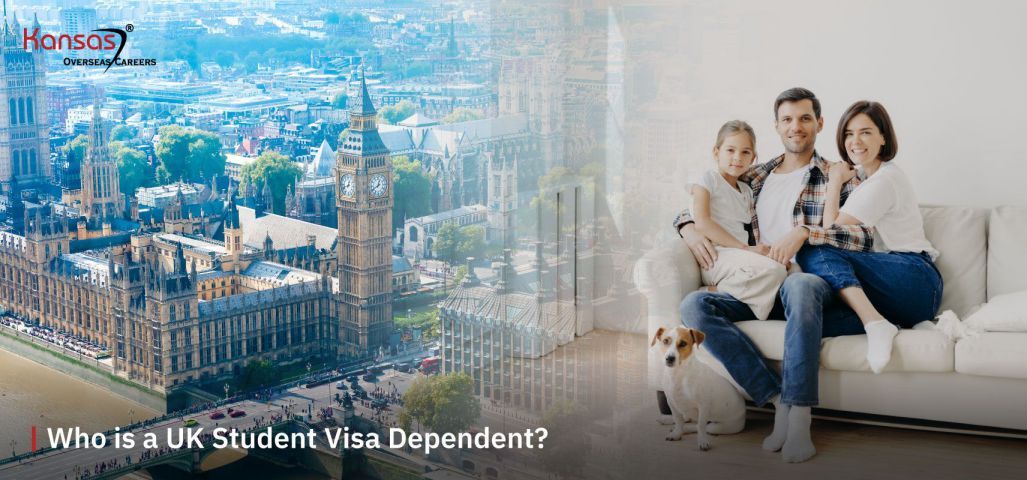 International students can bring their immediate family members to the UK during studying. To specify, these include the child or partner of the applicant. They are called dependents. There are separate UK student visa rules for them.
Other relatives like brothers, parents, sisters, or other relations cannot apply as dependents.
Qualifications to Become a UK Student Visa Dependent
A person can become a UK student visa dependent if:
They are the wife or husband of the applicant.
The partner is the fiance, same-sex partners, or unmarried partner. The applicant and the partner have lived together for two years minimum.
The partner is a registered civil partner.
They are over 18 years of age.
They meet the UK's financial requirements.
They would stay long as the applicant would.
The partner would live with the applicant throughout the period.
The spouse has no interest in settling permanently in the United Kingdom.
Children to Become a UK Student Visa Dependent
A child can become a UK student visa dependent if:
He/she is lower than 18 years of age.
First-time applicant for a UK student dependent visa.
Ready to show documents as per Student & Child guidance rules.
Coming with both parents or single parents.
Above 18 years must show separate documents for staying as dependents.
Have no interest in staying in the United Kingdom permanently.
Parents are financially responsible for them (specific to minors).
Do not have full-time employment (specific to minors).
Usually live with their parents (except for educational purposes).
Parents are their emotional support.
Unmarried and have no child of their own (specific to adults).
General Rules for UK Student Visa Dependents
There are some provisions specific to becoming a UK student visa dependent. These are related to the original UK student visa holder. They are as follows.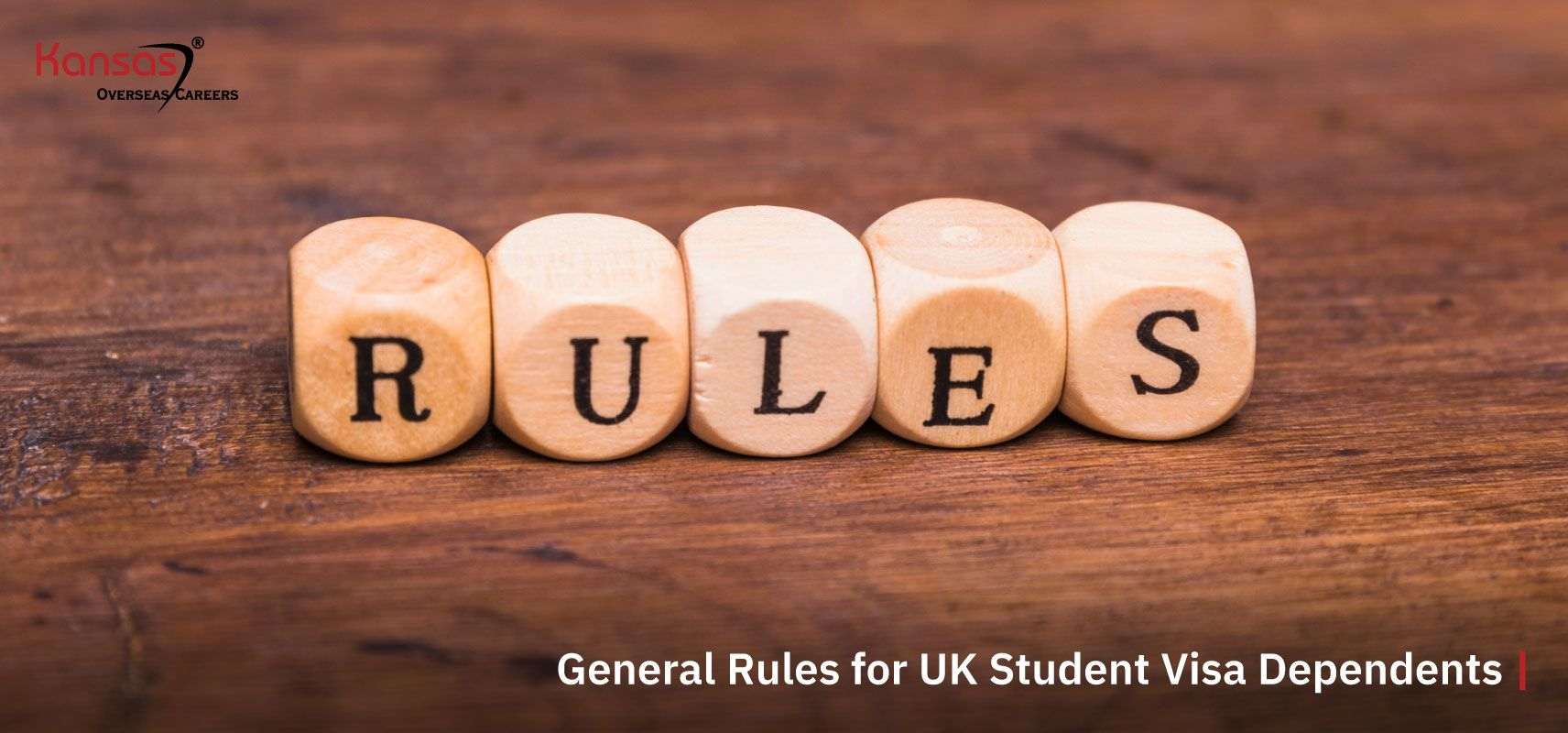 The UK student visa holder has applied for a post-graduate level course for full-time. The time limit is nine months or more. The sponsors under the Register of Student Sponsors include publicly-funded colleges, private providers, HEI, independent schools, etc.
An international or government sponsorship agency awards the UK student visa holder a full-time course.
The dependent has immigration permission for a UK student dependent visa.
A disabled dependent must have housing, travel, and reception already arranged. It is possible with the support of United Kingdom authorities.
The original UK student visa holder has a child after getting student visa permission.
The dependent must apply at the same period as the UK student visa applicant.
Note: Under-18 UK student visa holders cannot bring any dependent with them. It is specific to the UK college or university-level student visa holders only.
They have to follow the United Kingdom visa regulations regarding duration and work permanence.
They cannot stay in the United Kingdom permanently. But a UK student visa dependent can ask for some visa time extension.
Children Born in the UK
Children born in the UK do not have automatic citizenship rights. They are required to have at least one parent in the UK with settled status or British citizenship. However, the baby will not require a visa while he or she is in the UK unless the family travels outside and wants to re-enter the UK.
Note: The primary student visa applicant may be charged for any NHS treatment received in other parts of the UK if the child is 3 months old and the family travels outside of Scotland before they have a visa.
Rules for UK Student Visa Dependents Regarding Occupation
The rules for a UK student visa dependent on working in the UK are:
The student visa holder is taking a 9-months-long-or-more post-graduation course with a "track record of compliance". In that case, their dependent can opt for a part-time job in the UK.
The student visa holder has received a full-time course invite from a sponsorship agency. Only international or government agencies count, and the course timeline is six months minimum.
Dependents of primary student visa holders with permission of 9+ months can work. The primary visa holder should be pursuing a full-time UK college degree level or higher education.
Fields a UK Student Visa Dependent Can Work In
The UK study visa dependents are not under any limitations to work in particular fields. There are some points under this for dependents:
Dependents can search in any sector.
Those with specialist skills need to target fields that need them. Many companies take in employees with multilingual skills.
Fields of Work Which Are Not Applicable
A UK student visa dependent cannot work in the following fields.
Sports
The rules under this are:
They cannot work as a 'sports coach' or other 'professional sportspeople.'
It applies to partner dependents who got visa permission during or after April 6, 2014.
It applies to child dependents who got visa permission during or after November 19, 2015.
It also applies to fresh applicants who are dependents of the new UK student visa holders.
Medical field
The rules under this are:
They cannot work professionally as a dentist or doctor in training.
It applies to former Tier 4 partner dependents who received visa permission on October 5, 2020.
It also applies to newer dependents of the UK student visa holders.
There are some exceptions under the Immigration Rules under paragraph 319D(b)(iii).
The UK study visa dependents who are exempt from this are:
Those who have a prior degree course in dentistry or medicine from British universities
Had a UK visa from before under which they could practice their profession
Duration of Work Time
A UK student visa dependent can stay in the United Kingdom only with the primary visa holder. They need to return to their home country with the primary visa owner. So, they can work only as long as they are in the UK. The duration ranges from 6 months or more.
How Can a UK Student Visa Dependent Get Work in the UK?
The ways for a UK student visa dependent on getting work in the United Kingdom are as follows.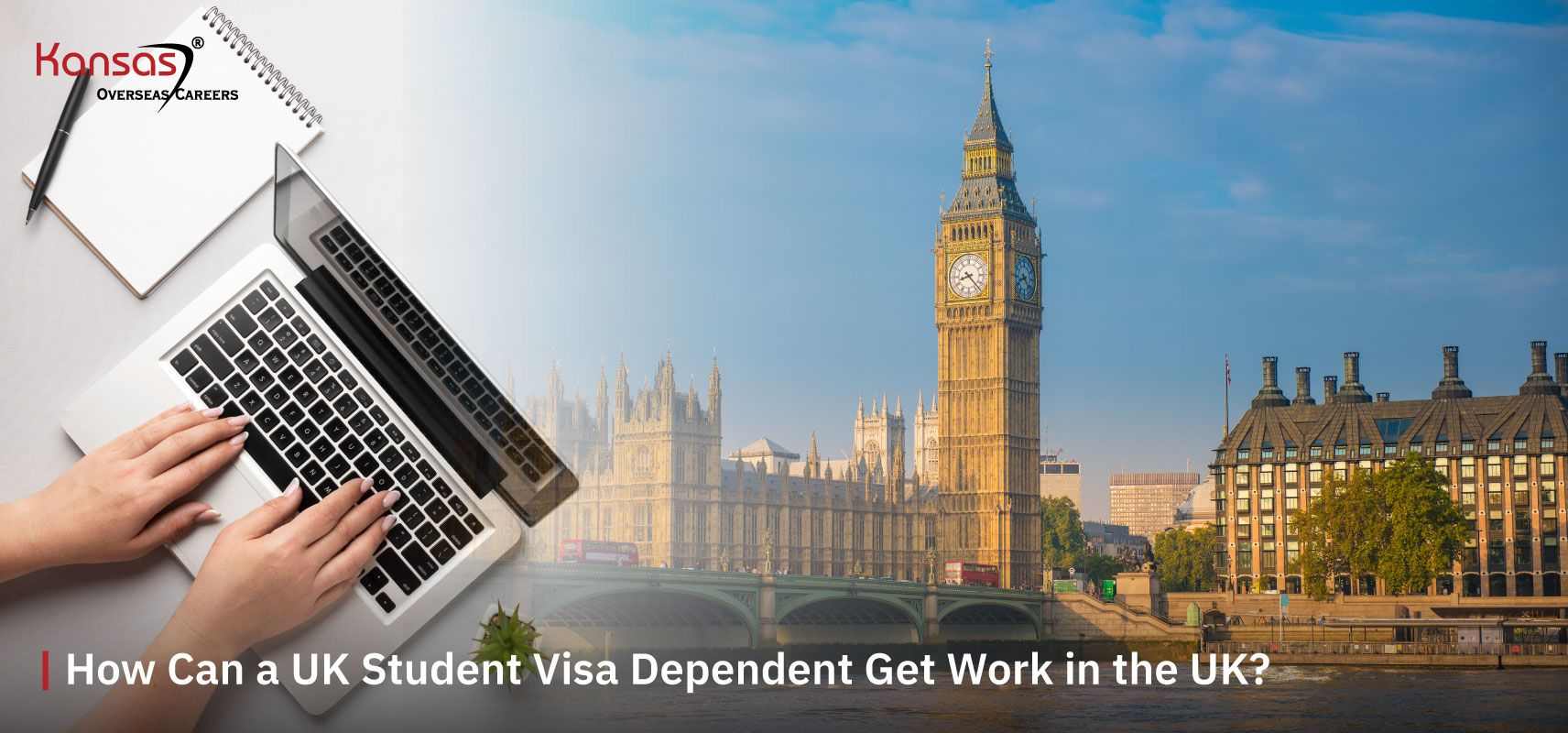 Some companies may not take in UK student visa dependents as workers. Thus, one should apply to more than one place.
There are many openings for jobs online.
Some jobs also mention if they accept UK student visa dependents or not. It is essential to read through the given information carefully.
Note: It is important to mention if you are a UK student visa dependent firsthand.
When to Apply for a UK Dependent Visa?
Student visa dependents should apply for a UK visa either at the same time as the primary student or once the student visa has been granted. Dependents living outside the UK can apply up to 6 months before the programme's starting date.
Primary students planning to extend or switch their student visa in the UK should make their dependents applications either at the same time or wait till their application is approved. In any case, they should make the application before the expiry of the current visa.
Dependents with the following status of visas in the UK will have to file their application within the UK.
Standard Visitor Visa
Short-Term Student Visa
Parent of a Child student Visa
Seasonal Worker Visa
Domestic Worker in Private Household
Leave Outside the Immigration Rules
Dependents holding immigration permission in any of the above categories, or on immigration bail are required to leave the UK and file an application from their home country.
Documents Required for a UK Dependent Visa
Include the following documents along with your visa application.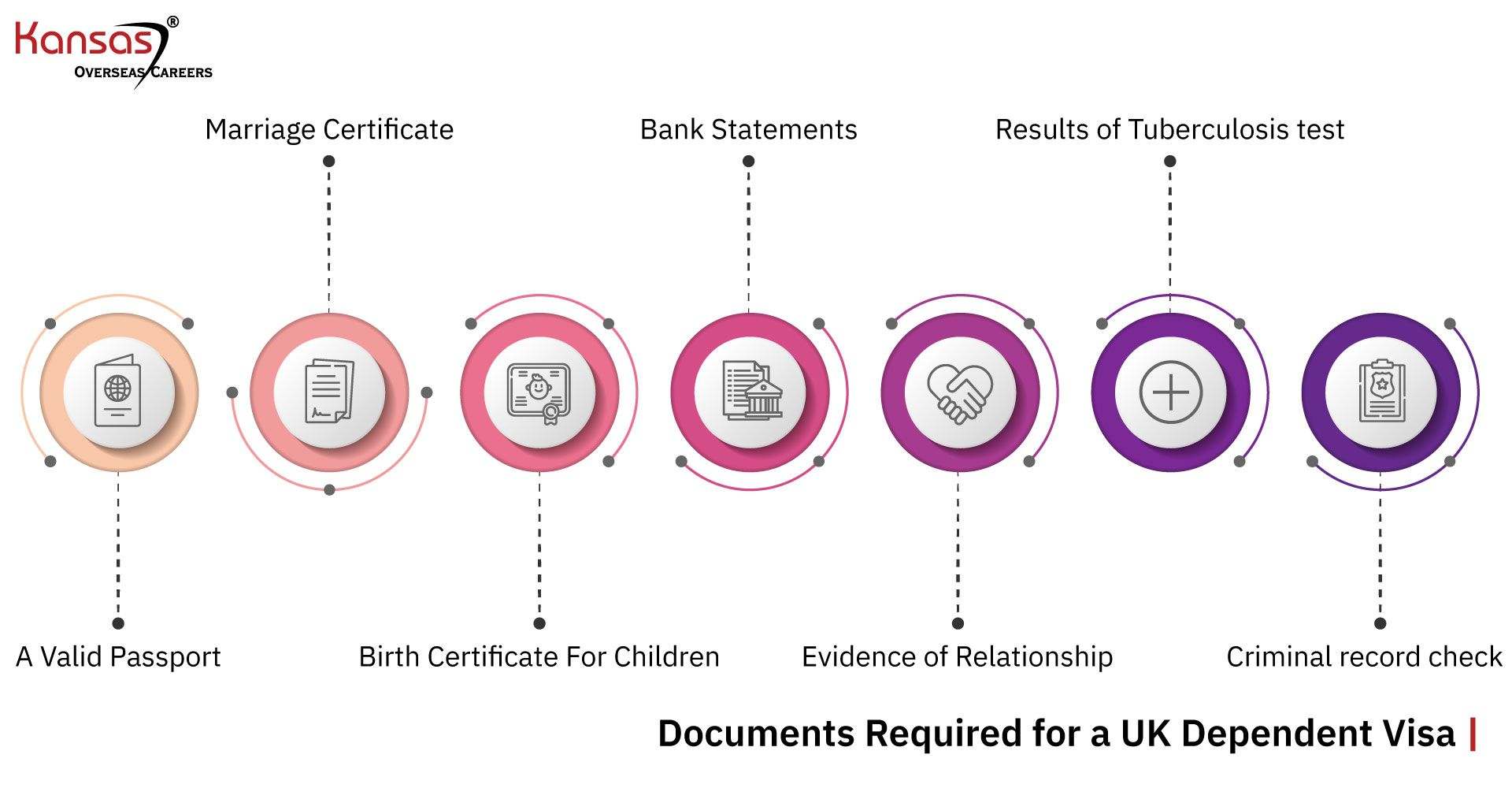 A valid passport or travel document
Marriage certificate for spouse
Birth certificate for children
Bank statements
Evidence of relationship with the principal applicant
Results of tuberculosis test (if applicable)
Result of criminal record check (if applicable)
Note: This is not an exhaustive list.
The UK Visas and Immigration (UKVI) authorities are rigid about documentation. Therefore, be accurate and meet the requirements. Failure to provide can result in rejection of your application.
Documents that are not in the English language or Welsh should be translated by an official translator. Moreover, UKVI can enact checks to verify validity. Any anomalies found can be construed as deception. It can also incur a 10 year ban on the applicant from being granted entry clearance to the UK in future.
Advantages of a PBS Dependent Visa
The PBS dependent with leave to enter or leave to remain will be permitted to do the following.
Work full-time or part-time in the UK
Study full-time or part-time in the university
Leave and re-enter the UK during the validity period
Apply to extend the visa
Apply for UK Indefinite Leave to Remain (ILR)
The indefinite leave to remain or ILR is immigration status. It allows the holder to live and work in the UK for an indefinite period without applying for a visa extension. However, PBS dependents will not be able to claim public benefits.
Other FAQs
Has the UK tier 4 study visa been replaced?
Yes, the tier 4 visa has been replaced by the UK student visa post-Brexit. Moreover, the points-based system (PBS) has now come into effect since the beginning of 2023.
Which Student Visa Dependents Can Work In the UK?
UK study visa dependants who are over 16 years of age, can work full-time. There are no restrictions on the type of work they choose to do, with a few exceptions.
Student route dependents can also study in the UK. However, if the dependent wants to take up a study programme that requires ATAS clearance, they will have to obtain an ATAS certificate before joining the desired programme.
Can Short Term Visa Dependents Work in the UK?
Short Term Study visa holders can bring at least two people with them. But they have to apply for a visa separately. Thus, they are not considered UK study visa dependents. Their companions will fall under their visa regulations if they choose to work.
Note: Short Term Study visa holders are not allowed to work in the UK.
Can Dependents of Post Study Work Visa Holders Work in the UK?
Dependents cannot file a visa application along with the primary Post Study Work visa holder. However, the main rules are not specified for this in detail.
This dependent can work in the UK if they are already a student visa (formerly tier 4 visa) holder. It applies if they entered the UK before the Post Study Work holder.
How long does it take to get a UK dependent visa?
It usually takes about 15 working days to get a UK dependent visa if the application is filed outside the UK. It takes around eight weeks if the application is made from within the UK.
What is the dependent visa fee for the UK?
Here is the UK dependent visa cost table.
| | | |
| --- | --- | --- |
| Dependent Type | Apply Outside the UK | Apply in the UK |
| Cost of joining your partner, parent or child | £1,523 | £1,033 |
| The cost of each dependent added to the application | £1,523 per person | £1,033 per person |
| Cost of an adult who needs to be looked after by a relative | £3,250 | £1,033 |
Is it easy to get a job in the UK on a dependent visa?
Dependent visa holders can work freely in the UK. There is no specific type of job suited to them. They can look for anything in the job search and apply.
Are English language skills required for dependents to work in the UK?
Yes. Taking an English language course is useful for UK immigration as the minimum standard for applying for a spouse visa is A1 in speaking and writing.
Can I join a bachelor degree or diploma course at a UK university with a student dependent visa?
Yes. The UK education system and immigration laws allow you to join a UK institution, provided you are already in the UK and not on a visit visa.
Are Indian students able to bring in their spouses while studying in the UK on scholarship?
Yes. Indian students studying in the UK on scholarship or grant can bring dependents provided you cover their living expenses and are allowed by the sponsor.
Is work experience required to find a job in the UK?
The coalition government of the UK in 2012 abolished the compulsory work experience for students at key stage 4. Business groups, however, are asking to reinstate it.
Can UK visa consultants help my family members join me in the UK?
Sure. Visa consultancy is an ideal option, especially post-Brexit as many of the old rules have changed. A UK study visa consultant would be aware of the kind of changes made to the immigration rules and would successfully guide your dependents to join you in the UK.
Which is the best UK Study Visa consultant for Indian students?
Kansas Overseas Careers is the top study abroad consultant in India. They are the best overseas education consultants providing services right from helping you join the leading university or institution for higher education to assisting you in the visa processing.
Conclusion
Overall, as a UK student visa dependent, you can work in the UK. And there are various sectors where you can search for a job barring a few exceptions. However, there are some rules that dependent visa owners must follow in the UK. Being aware of these will help you chart out a future career path.
It is essential to check the latest Immigration Rules regarding primary student visa applications of dependents. Going to UK student visa consultants would be helpful if you have any doubts regarding the laws post-Brexit. Visa consultants can offer you a better understanding of the whole new procedure in place.
Why Choose Kansas?
Kansas Overseas Careers is the best UK Student Visa Consultant in India.
Kansas Overseas Careers specializes in Permanent Residency Visas (PR Visa), Work Permit, Student Visas, Temporary Visas, and Dependent Visas to the UK, USA, Canada, Germany, Australia, and Hong Kong.
Apart from these services, Kansas offers its clients personalized services such as:
Profile Evaluation:

Professional guidance based on an in-depth assessment of the client profile to determine visa success chances.

Documents & Review: Detailed, error-free documentation based on the visa type drafted to meet specific formats.
Dedicated Case Officer: A dedicated

study abroad consultant

is provided to assist clients throughout the process.
Visa Filing: Kansas ensures that the visa applications meet all the standard requirements of concerned immigration authorities and governing bodies.
Test Preparations: Complimentary online courses are offered to help aspirants improve their Language Proficiency for essential exams like IELTS, French, TOEFL, and PTE.
Visa & Interview: Guidance is provided for aspirants attending visa interviews along with verified documents.
Post-Landing Service: Kansas helps clients settle down in the new country with a comfortable stay after receiving their visas.
Additional services offered to job-seekers:
Resume Writing: Dedicated

team of resume experts

to craft the best resumes that meet immigration authorities' prerequisites and potential employers. It dramatically improves their chances of selection.
Profile Marketing: Kansas is well-known for creating the best-in-class portfolios that boost applicant profiles in job-portals. And yes, this is a complimentary service!
Additional services For students looking for a student visa:
Admission Guidance: Comparisons between the best programs, colleges, and countries to study in, including arranged mentorship from existing students.
Writing Services: Admission Essays, Student CV, Statement of purpose (SOP), Letter of recommendations (LOR), and other vital services offered by a dedicated team.
Scholarships & Financial Aid: Offer help to find the best Scholarships programs, Education loans, Study abroad loans, and also offer support in sourcing paid-Internships.
You can expect a one-stop solution for all your visa needs from profile evaluation, documentation, application drafting to post-visa services with Kansas. We offer personal assistance and a single point of contact between the company and you throughout the immigration process.