Canada gives the best opportunities for migration for skilled workers and businessmen alike.
If you are from Dubai who wants to migrate to Canada and bring your family along, then you have landed on the right blog! Read on.
Why should you move from Dubai to Canada?
Here are 5 reasons why you should migrate to Canada:
Canada has a huge requirement for jobs in engineering, medical, construction and many more. It is a best place for skilled workers to apply under Federal Skilled Workers program
The Government of Canada offers free basic health care facilities for all its citizens. The government pays for medicines, dental care, optometry and others.
Canada has a high standard of living with many public holidays, relaxed working hours and offers a great work-life balance.
Tolerant Towards Immigrants
Canada has a welcoming attitude towards migrants. In a survey conducted by HSBC Expat explore Survey, Canada has ranked itself as Number 1 in the world tolerance level for immigrants.
Freedom to Start a Business
Permanent residents in Canada can also legally start their own enterprise following Canadian immigration.
You can invest in a franchise or start a new business with sole proprietorship, partnership, or corporation without being a Canadian citizen.
Start you Journey to Canada Now
Is it easy to migrate to Canada from the UAE?
Yes, it is. One of the best benefits of Canada immigration programs is that the nationals of any country can apply for them.
What are the options to Migrate to Canada from Dubai?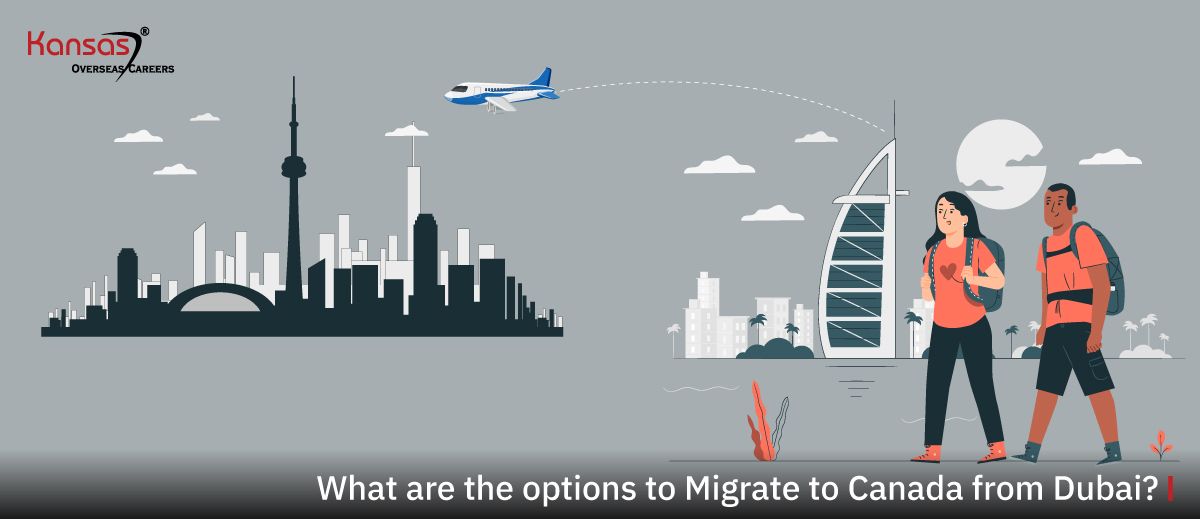 Here are the following programs to migrate canada from Dubai
1. Federal Economic Class
Federal economic class program consists of:
Federal skilled workers
Federal skilled Trades
Canada Experience Class
2. Provincial Economic Class
Provincial Economic class program consists of Canada Provinces that have their own immigration programs and job offers. These provinces are:
Ontario Immigration
Quebec Immigration
Alberta Immigration
British Columbia Immigration
Manitoba Immigration
New Brunswick Immigration
Newfoundland Immigration
Nova Scotia Immigration
Saskatchewan Immigration
Prince Edward Island Immigration
3. Quebec Immigration Program
It is the only program that provides you direct Canadian Permanent Resident
4. Business Immigration
Canadian Federal Law permits a candidate to buy a business and move to Canada on temporary work permit.
5. Temporary Resident First Program
With this program immigrants come to Canada on temporary residents and then convert it into permanent residents after living in Canada for a period of 3 years.
6. Family Class Sponsorship
Immigrants from UAE with family members can apply for this program.
Want to immigrate from the UAE to Canada?
What are the Eligibility Requirements to Migrate to Canada from Dubai?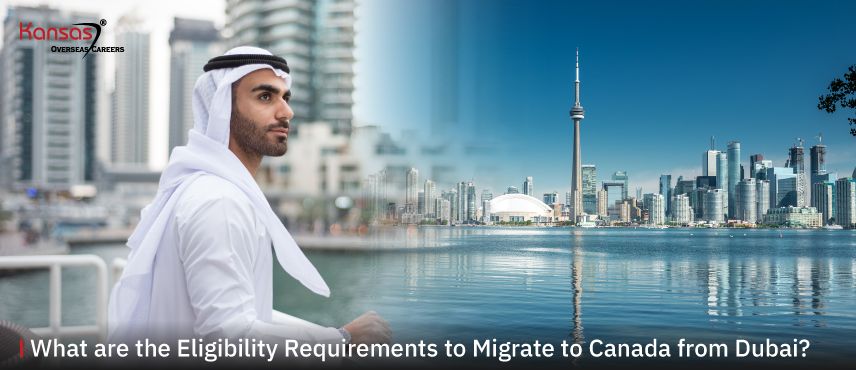 The essential requirements to be focused on while applying for the Canada PR application process are:
Need a minimum of

67 points

to be eligible for Canada's Express Entry program.
Have good English language skills or French language.
Full-time work experience for a minimum of at least 2 years.
The work experience must be under the skill types:

Skill Type 0 (Managerial Occupations)
Skill Level A (Professional Occupations)
Skill Level B (Technical Occupations and Skilled Trades)
Sufficient funds to support your immigration application.
Health and character certificates.
Educational credential assessment.
How to Apply for a Canada Permanent Residency Visa from Dubai?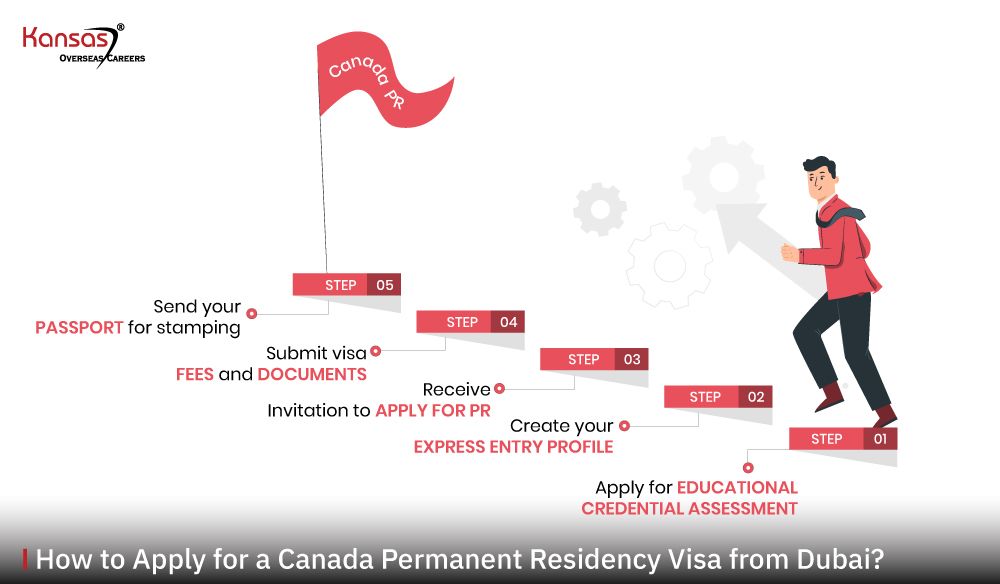 These are the steps to apply for permanent residency:
Step 1: Gather all relevant educational documents and apply for the Educational Credential Assessment.
Step 2: Create a profile with Express Entry by filling in all the details about your profile.
Step 3: Strive to reach the latest Express Entry Draw Score and receive an Invitation to Apply for a Canada PR visa.
Step 4: Submit visa fees and all required documents in the allotted 60 days' time.
Step 5: After receiving your visa approval notification, send your passport for stamping to the nearest Embassy.
Whom Can I Sponsor for Canada Immigration From the UAE?
Spouse
Common-Law partner
Conjugal partner
Dependent children
Parents
Grandparents
Brothers or sisters
Dubai to Canada immigration: How much does it cost?
Here's the cost breakdown for immigrating to Canada:
Category

Fees

ECA Fees

250-500 Canadian Dollars (714-1429 AED approx)*

Visa

Primary Applicant

850 CAD (2429 AED)*

Secondary Applicant

850 CAD (2429 AED)*

Right of Permanent Residence permit Visa

Primary Applicant

515 CAD( 1472 AED approx)*

Secondary Applicant

515 CAD (1472 AED approx)*

Children less than 22 years

230 CAD (657 AED approx)*

IELTS Fee (in Dubai)

AED 1260*

Medical Fee

900 AED and 500 AED per kid
*conversion rates as of January 2020
Other Important FAQs
What are the Minimum Points Required for Express Entry?
You need a minimum score of 67 points out of 100 to be eligible to apply for a immigration Canada PR under the Express Entry system.
The maximum points you can obtain are as follows:
Canada Express Entry Eligibility | 67 points on 6 factors
| | |
| --- | --- |
| Factor | Maximum Points Available |
| Language skills - in English & French | 28 |
| Education | 25 |
| Work experience | 15 |
| Age | 12 |
| Arranged employment (job offer in Canada) | 10 |
| Adaptability | 10 |
| TOTAL POINTS AVAILABLE | 100 |
Scoring 67 points does not grant you the PR visa but makes you eligible to apply to the Canada PR through the Express Entry system.
Can I Migrate to Canada Without a Job Offer or Sponsorship?
Yes, you can migrate to Canada without an existing job offer or sponsorship. A few Canadian immigration application pathways allow candidates to do so.
Can I Calculate my Express Entry Eligibility Points Well Before the Application?
Yes, you can. We have a point calculator to help you. Check your points right away.
(Point Calculator)
How can you increase your CRS Points to obtain 'Invitation to Apply'?
These are the following ways you can improve your CRS points
Language: If you are fluent in English and French then you have ability to score 160 CRS points
Work: Minimum 3 years of experience will get you 80 CRS point
Education: A higher degree of education will give you 150 points
Spouse: Spouse level of education will give you 10 CRS points and language proficiency will give 20 points
Provincial Nominee Program: It will provide you a massive 600 CRS points
Job Offer: A Canadian job offer will increase your CRS points.
What are the Other Prominent Programs (if you have an eligible relative residing in Canada)?
The Spousal and Family Sponsorship helps immigrants reunite with their families. If you are a Canadian citizen or have a Canada Pr, you could qualify to sponsor members of your family to immigrate to Canada wou.
Conclusion
Canada is an ideal destination for immigration from Dubai. It has ideal immigrant-friendly laws that make it a perfect country to reside with your family.
Having a canadian PR lets you to enjoy all benefits that are provided by Canadian Government like:
Great Job Opportunities
Free Health Care
Good Quality of Life
Immigrant-friendly and welcoming country
Freedom to Start a Business
If you are planning to migrate to Canada,
How can Kansas Help you?
You can expect a one-stop solution for all your visa needs from profile evaluation, documentation, application drafting to post-visa services with Kansas.
Profile Evaluation:

Based on your unique work history, qualifications and skills, our experts offer professional guidance for the visas you can apply for.

Test Preparations:

We offer complimentary online training to help you improve your Language Test results in IELTS, French, TOEFL, and PTE.

Documents & Review:

We draft a detailed document checklist based on your visa type and verify for document authenticity and correctness.

Dedicated Case Officer:

Your case-officer will assist you at every step of your visa process. You can also opt to request a change of officer, if you're not satisfied.

Resume Writing:

Our resume experts craft the best resumes that meet prerequisites of immigration authorities and potential employers. This greatly improves your chances of success.

Visa Filing:

Kansas ensures that your visa application meets all the standard requirements as per the immigration authorities of the country that you are applying for.

Visa & Interview:

We inform you about all the do's and don't when attending a visa interview and also keep all your documentation ready for you.

Post Landing Service:

After you've received your visa, we help you settle down in the country with a comfortable stay and also offer other customized services
Don't wait. Begin your visa application today!