Canada has received a significant influx of immigrants in the last decade. People from different countries are now moving to Canada, including Qatar.
Read along to know how you can migrate to Canada from Qatar in this blog..
9 Benefits of Migrating to Canada from Qatar
1. Excellent Job opportunities
Canada has excellent job offers for skilled workers. Hence, it has become an ideal place for skilled workers to immigrate to Canada
2. Right to live and work in Canada
Once your PR visa is valid you will get a legal right to live in Canada and enjoy benefits of a canadian citizen.
3. Freedom to do Business
With a Canadian PR, you have the freedom to become a business entrepreneur and invest in canadian economy.
4. Valid for 5 years
A canadian PR visa comes with a validity period of five years. You can also renew or extend your PR visa.
5. Citizenship
If you are staying in Canada for a period of three years out of the five years of validity, you become eligible to apply for Canadian citizenship.
6. Universal Healthcare
The Canadian government offers universal healthcare to all permanent residents. It covers the costs of medical care and prescription drugs
7. Free Education
All the students who are permanent residents get free education up to Grade 12 for free.
8. Social Benefits
A permanent resident of Canada also enjoys best social benefits such as tax rebates, pension upon retirement, and subsidized housing facilities.
9. Freedom to Travel
Once you become a permanent resident. You can travel freely and use your PR card as a travel document or as visitor visa
Thousands of Qataris have made Canada their new home. Join them.
How to Immigrate to Canada through Express Entry Pool?
The Express Entry system is a comprehensive online system that manages applications for Federal Immigration Programs and immigration laws.
Follow these steps of canadian immigration to migrate to Canada through Express Entry from Qatar:
Step 1: Check Your Eligibility
To check if you can apply for the canada immigration process, you must be eligible in either of the following immigration programs:
Federal Skilled Worker Class
Federal Skilled Trades Class
Canadian Experience Class
The Entry Entry system can also include some Provincial Nominee Programs (PNP). The eligibility requirements can differ between programs.
Create an Express Entry profile, when you submit your profile for the Express Entry pool, it serves as an Expression of Interest (EOI) in migrating to Canada.
The ranking in the Express Entry program is determined by the unique point-based system called the Comprehensive Ranking System (CRS). It gives points to every applicant out of a total of 1,200 based on the eligibility criteria.
Step 4: Express Entry Draw
The authorities conduct an Express Entry draw after regular intervals. The CRS score serves as the cut-off rank in Express Entry draw , and all the candidates who are above a specific rank are selected.
Step 5: Receive an Invitation To Apply (ITA)
If you have the required CRS score and get selected in the draw, you will Receive an Invitation to Apply (ITA).
Step 6: Final PR application
A candidate who gets an Invitation to Apply (ITA) has 60 days to submit their complete application for PR in Canada.
If your application gets an approval from the immigration authorities, then you will get an authorization for the Canada visa.
What are the Minimum Eligibility Requirements to Apply for Canada from Qatar?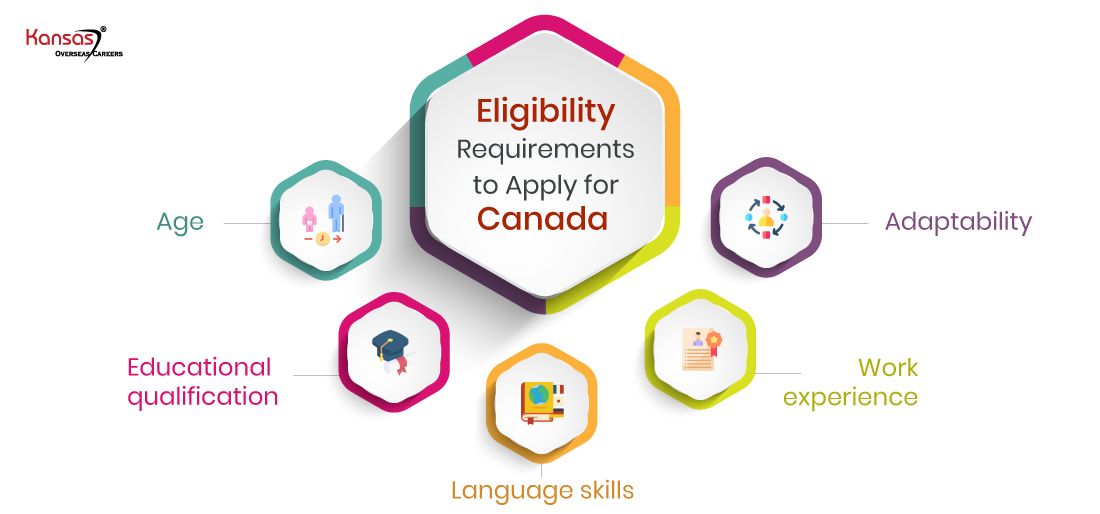 Here are some parameters that decide your eligibility to migrate to Canada from Qatar:
Canada does not have a specified age limit on immigration.
If you are applying for the unique Federal Skilled Worker Class in the Express Entry system, you get more points if you are in the age group of 20 to 29 years.
For a Business Immigration Program, a candidate over the age of 65 can also apply.
Similarly, the Family Class Immigration allows applicants who are younger than 18 as well.
Educational qualification
Every candidate must have at least a senior-secondary education level or bachelor's or master's degree to become eligible for immigration programs.
Canada has two primary languages and they are English and French. The candidate must have at least a score of CLB 7 for IELTS, score of 5 CELPIP for English and TEF score of 151 for French.
A candidate must have a minimum one year of full-time work experience to become eligible for permanent resident status.
A candidate's ability to adapt to the country can also help them win points. They get points for having a spouse with a valid IELTS score or a blood relative in Canada.
Documents Needed
Basic documents required to immigrate to Canada from Qatar in 2023 are:
Passport
Birth certificate
Medical Certificate
Results from IELTS or TEF
Police clearance document
Biometrics
ECA (Educational Credential Assessment)
Is IELTS required for Candidates Migrating from Qatar?
Yes, it is required.
Every Qatari citizen aspiring to migrate to Canada from Qatar must prove their English or French language proficiency skills.
Here is the IELTS requirement for each CLB Level:
| | | | | |
| --- | --- | --- | --- | --- |
| CLB Level | Reading | Writing | Listening | Speaking |
| 10 | 8 | 7.5 | 8.5 | 7.5 |
| 9 | 7 | 7 | 8 | 7 |
| 8 | 6.5 | 6.5 | 7.5 | 6.5 |
| 7 | 6 | 6 | 6 | 6 |
| 6 | 5 | 5.5 | 5.5 | 5.5 |
| 5 | 4 | 5 | 5 | 5 |
| 4 | 3.5 | 4 | 4.5 | 4 |
What is the Cost of Canada Permanent Residency?
You need to pay $490 for the right to permanent residency once you receive the ITA ( Invitation to Apply).
The express entry profile does not require an additional charge.
Other Important FAQs
What is the easiest pathway for obtaining a Canada PR Visa?
The Express Entry system is the easiest pathway to securing a permanent resident visa. The comprehensive system allows skilled workers and students to move to Canada and fulfill the labor market shortages.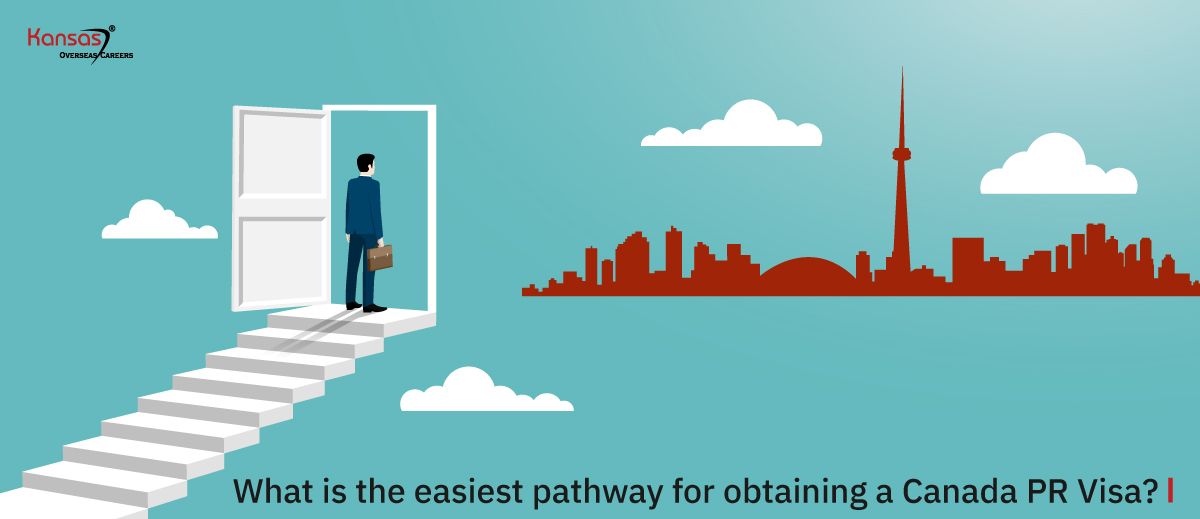 There are 3 different programs offered under the Express Entry system. They are:
1. Federal Skilled Worker Program
The Federal Skilled Worker Program, which is also known as the Federal Skilled Worker Class, is a flagship immigration work permit program aimed at skilled workers. It helps to make foreign nationals a part of the workforce of Canada.
The immigration authorities use a 100 points system, especially for the Federal Skilled Worker program. A candidate must have a minimum of 67 points to become eligible for it.
2. Federal Skilled Trades Program
If you have qualifications in a skilled trade, you can immigrate to Canada through the Federal Skilled Trades program. You can get a certificate of qualification in your skilled trade as per the National Occupation Classification from a territory, province, or federal authority.
3. Canadian Experience Class (CEC)
The Canadian Experience Class is a program for permanent residence permit for people who have skilled work experience in Canada. It targets foreign graduates and temporary foreign workers with Canadian work experience.
Why is the Express Entry Method so Popular?
Express Entry method of immigrating to Canada is popular because of how easy it is. In 2019, 110,000 International Migrants moved to Canada via the Express Entry Program.
Canada has also set a 4 million immigrant target for 2022!
Conclusion
So, to migrate to Canada from Qatar,
You need:
A valid passport
Educational Documents
Birth certificate
National ID proof
Recent Photos
And once you are in Canada,
You will get:
The chance to take your family along
A pass to travel to nearby countries
Immense job-opportunities
Citizen-Benefits
Social Benefits
Healthcare Benefits
And so much more!
You're just a click away from migrating to Canada. Get in touch with our immigration consultant now!
How Can Kansas Help?
Kansas Overseas Careers is the best visa consultant in India with a high success rate. Served 20K+ customers and over 3K+ active cases.
Visit Visa: Travel for leisure or business to any part of the world with Kansas.
Study Visa: Study in Globally-recognized Universities.
Work Visa: Work & settle in the World's Best Cities!
Immigration: We are your one-stop solution for all your visa and immigration needs
Permanent Residence: Become a Permanent Resident and enjoy special benefits.
Customized services:
Profile Evaluation:

Based on your purpose of travel, profile history, and current travel policies, our experts offer you guidance on the visas you can apply for.

Visa Filing: Kansas ensures that your visa application meets all the standard requirements as per the immigration authorities of the country that you are applying for.
Documents & Review: Our team of experts will assist you with all the documents you need to apply for a visit visa.
Visa & Interview: We help you prepare with the best answers and assist you with the documents to be presented at the time of your interview.
Dedicated Case Officer: We assign a case-officer who will guide through every step of the process. This way, you will always have a point-of-contact, when in doubt.
Post Landing Service: After you've received your visa, we help you settle down in the country with a comfortable stay and also offer other customized services.
You can expect a one-stop solution for all your visa needs from profile evaluation, documentation, application drafting to post-visa services with Kansas.