Want to take your spouse along with you to Canada?
Read on to find out all about the Canada Spouse visa - the process, requirements, and the perks of moving to the country with your spouse. And, how to get a permanent residence in Canada for your spouse.
Apart from that, we will also discuss if your family can get the same. Read along.
The Two Types of Canada's Spousal Sponsorships
Broadly, the spousal sponsorships can be classified into two types
Outland Sponsorship

The person should be living

outside

Canada in another country.
Takes 8-10 months for the outland sponsorship application to be processed.
You will have to live without your spouse at this time or bring them in on a temporary visa.

Inland Sponsorship

The person should be living in Canada on a full-time permanent resident visa or a visitor-visa.
Takes just about 2-3 weeks to be processed.
You can

live with your spouse

during the application process
Eligibility requirements of the Spousal Sponsorship Program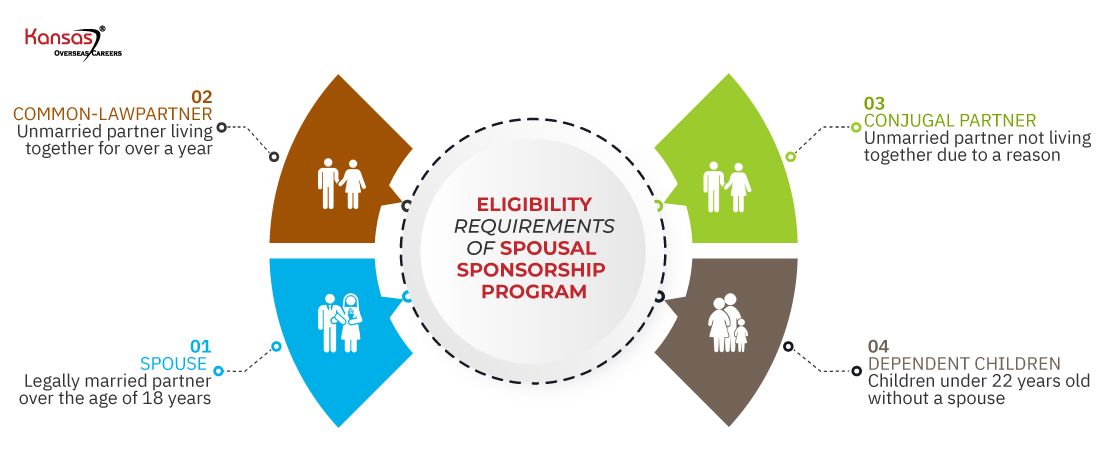 Requirements for different spousal sponsorship programs:
1. Spouse
Your spouse can be either sex and must be:
Legally married to you
At least

18 years old
2. Common-law partner
Isn't legally married to you

Can be either sex

Is at least 18 years old
Has been living with you for at least 12 consecutive months, meaning you've been living together continuously for 1 year in a conjugal relationship, without any long periods apart
Any time spent away from each other should have been
Short
Temporary
If you or your common-law partner choose to end the relationship, we consider the relationship to be over.
3. Your conjugal partner
The conjugal partner

isn't legally married to you

or in a common-law relationship with you
Can be either sex
Is at least 18 years old
Has been in a relationship with you for at least 1 year
Lives outside Canada
Your conjugal partner can't live with you in their country of residence or marry you because of significant legal and immigration reasons
You'll need to give proof that you could not live together or get married in your conjugal partner's country (for example, proof of refused long-term stays in each other's country).
4. Dependent children
Children qualify as dependants if they meet both of these requirements:
They're

under 22 years

old
They don't have a spouse or common law partner
Children 22 years old or older qualify as dependants if they meet both of these requirements:
They are unable to financially support themselves because of a mental or physical condition
They have depended on their parents for financial support since before the age of 22
With the exception of age, your child must continue to meet these requirements until we finish processing your application.
If they qualify as a dependent child, you can sponsor:
Your own child
Your spouse and their child
Let a visa expert help you know more about getting a spouse visa for Canada!
Documents required to sponsor your spouse in Canada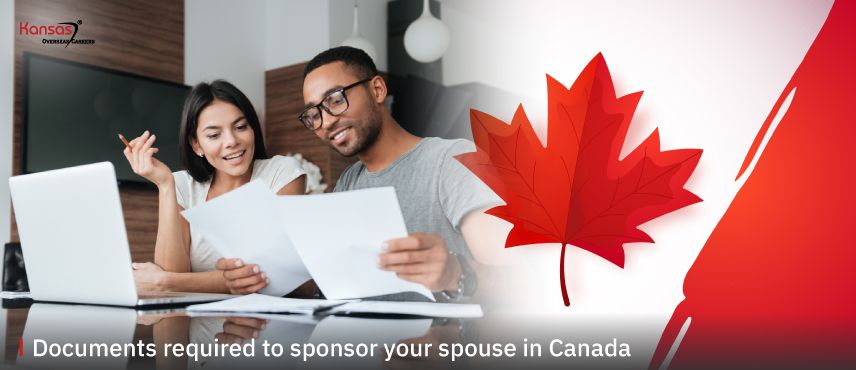 Here are the documents required to submit at embassy or consulate for your sponsored spouse in Canada:
| | |
| --- | --- |
| Documents | Mandatory documents |
| The immigration officers will see the Relationship Information and Sponsorship Evaluation questionnaire to be filled by you and signed by your spouse. | Proof of a shared property, either residential or commercial, bought together. It might also be a joint business you run together. |
| You'll need to show the marriage certificate for traditional or same-sex marriage. For a Common-law relationship, you need to deliver relevant documents to prove your relation. | Details of joint bank account and relevant transactions. |
| Images of your wedding, invitation, video and any relevant evidence that you both have married either inside or outside Canada | Utility bills like credit card bills, electricity bills, shopping bills testifying that you are interdependent for these |
| If you have a child, you would need to show a birth certificate, schooling record, or adoption certificate of all the children. | Copies of original government-issued IDs, driving licenses and so on. |
| Proof of marriage registration signed by relevant authorities at the place of marriage. | House, car, and life insurance involving both parties. |
Additionally:
You might be asked to show tax records or other evidence proving that you live together.
Testimonials from neighbours and relatives can also go a long way in establishing your relationship in front of the authorities.
Let a visa expert help you know more about the documentation required to attain a spouse visa for Canada!
How to Apply for a Spouse Visa?
Step 1: Log in to your IRCC account
Step 2: Click on

'Apply for Spouse Visa'

and you'll be redirected to the application form.
Step 3: Upload your documents like passport and others, upload it on the portal.
Step 4: Pay the application fee
What is the fee of the Canada Spouse Visa?
The total fee of the Canada Spouse Visa is $ 1050. And if you take a dependent child along, there will be an additional fee of $ 150.
What is the Processing time for a Canadian Spouse Visa?
The processing time for a Canadian Spouse Visa to get an application is 12 months.
How does Applying with a Spouse Increase Your CRS Score?
Applicants with spouses have a chance of earning extra points. You can gain at least 40 more points from your spouse's qualification.
The below table specifies how having a spouse can improve your CRS points:
Factors

With Spouse/ common-law partner

Without Spouse/ common-law partner

Age

110

100

Education level

150

140

Official

languages proficiency (IELTS)

160

150

Canadian working experience

80

70

Spouse - Level of education

10

Spouse - Official language proficiency

20

Spouse Required IELTS Score (General)

10

Total

500

460
Adaptability:
You and your accompanying spouse/partner can receive a maximum of 10 points based on any combination of the elements listed below:
Adaptability Factor

Points

The applicant have achieved CLB 4 on all 4 components in an approved English or French language test

5

The applicant has completed a minimum of 2 years of full time study (more than 15 hours per week) at a Canadian secondary school or post-secondary education

5

They has previously worked for at least 1 year in Canada on a valid work permit

5

The applicant have one of the following family members, aged 18 or over, living in Canada as a Canadian Citizen or permanent resident:

Parent
Grandparent
Child
Grandchild
Sibling
Aunt or Uncle
Niece or Nephew

5
Unsure about your CRS score? Let a visa expert help you know more about getting a spouse visa for Canada!
Other Spouse Visa Benefits
Your spouse can work and get job offers in Canada
Your spouse can study in Canada
You can take a dependant child along
Marital benefits of the Canada Government
No need to take the IELTS
Other Important FAQs
What can be considered for Proof of Relationship?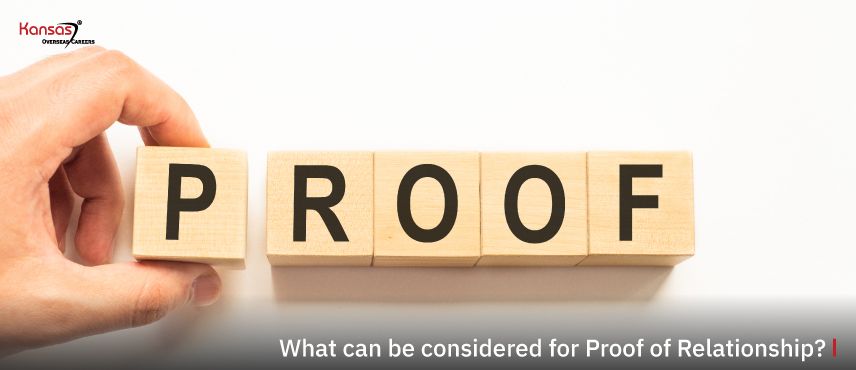 Sharing the

same residence

for a substantial period
Your relatives, colleagues, and other closed ones should attest to you two being in an interdependent relationship
Financial and household support and documents testify it like electricity bills, rent, joint bank accounts, investments, and more.
The officers will look to ensure that you have a relationship fruitful enough to last long.
How long does it take to get a spouse visa for Canada from India?
Once you have submitted the required documents for Spouse Visa, it takes approximately 8-10 months for the process to be completed.
Does Your Spouse get a Visa in Canada When You are Doing a PhD there?
No, your spouse can't get a visa even if you are doing a PhD in Canada. However, they can always apply for a temporary resident visa for visitors.
Who can't sponsor their spouse, partner or child?
Sponsors less than

18 years of age

If the sponsor is not going to stay in Canada
If the sponsor is not a Canadian citizen or mentioned under the Canada Indian Act.
If the sponsor can't prove funds.
How can your spouse obtain a work permit if he/she is already in Canada as a visitor?
Here is all you need to know about it:
Any international student or Permanent Resident studying or working on a full-time job can apply for an open work permit and submit a fee for their spouse as well as common-law partners.
Once obtained, they can take up any full time or part-time jobs.
If you are a permanent resident, You can apply for an open work permit for your spouse both before or after they enter the borders.
Since the work permits are of the same length or your study or job duration, you can even apply for it when you are entering the airport.
Is Canada Still Accepting Spousal Immigration Applications despite Coronavirus?
Yes, Canada is striving through the global distress of coronavirus, Canada Immigration has not stopped accepting spousal immigration.
Conclusion:
We hope that you have found everything you needed to know about getting your spouse a Canada visa to stay with you. Your spouse can even apply for a study permit to study further.
With a host of employment opportunities and elite quality of living, getting your spouse to live with you would be ideal.
If you are planning to take your spouse with you, then contact our experts for a hassle-free visa process.
How can Kansas Help?
You can expect a one-stop solution for all your visa needs from profile evaluation, documentation, application drafting to post-visa services with Kansas Overseas Careers.
Our dependent visa services include:
Profile Evaluation: An in-depth analysis of you and your primary applicant's profile ensures a 100 % Visa Approval.
Professional Guidance: Our experts will help you fill in any incomplete aspects of your profile and fast-track it 4X for the visa application.
Visa Filing: Kansas ensures that your visa application meets all the standard requirements as per the immigration authorities of the country that you are applying for.
Documents & Review: We will verify all documents, including that of your family members, making sure that no document is incomplete, unverified, incomplete or missing.
Interview Training: We let you and your families answer important Interview Questions that verify your relationship with them, their intentions behind moving with you, and so on.

Post-Landing Services:

We help you settle down in the country after you've received your visa. These services are specifically customized as per your requirements.
Don't wait. Begin your visa application today!