Studying in Canada is a dream for many. The world-class education system, multicultural and tolerant society, and immigration-friendly policies have made the maple leaf country a major player in higher education globally.
Master's (MS) in Canada is a 1-2 year postgraduate course offered as an academic or a professional degree. A Master's in Canada is either a course-based program or a thesis-based program for higher studies in Canada. However, some universities offer it as a mixture of two. The average tuition fee for postgraduate studies in Canada ranges from INR 11.11 lakhs to 16.6 lakhs.
This article will walk you through the top 10 universities to pursue your Master's (MS) in Canada, their location, fees and eligibility criteria.
Why Study Masters in Canada?
There are multiple reasons why Canada is sought after by students.
The universities of Canada are well known for their excellent teaching and top-notch quality controls. What they are also famous for is their research-focused curriculum. Most universities offer on-field experience by providing industry-based projects or internships.
Secondly, the cost of studying in Canada is way more affordable than in other countries. They even have a few scholarship schemes for students searching for financial aid.
Apart from this, the rules and policies regarding student visas, post-study work permits, and PR are easy to obtain, making Canada one of the best places to study and live in.
Top 10 Universities of Canada to Study Master's (MS) in Canada
Here is a list of Top 10 universities of Canada where you can study for your Masters.
| | | | | |
| --- | --- | --- | --- | --- |
| University | Times Higher Education 2021 | QS World Rank 2021 | Tuition Fee ( 1st Year) | Location |
| University of Toronto | 18 | 25 | 14.61L-36.01L | 27 King's College Cir, Toronto, ON M5S 1A1, Canada. |
| University of British Columbia | 34 | 45 | 5.34L-35.24L | Vancouver, BC V6T 1Z4, Canada |
| McGill University | 40 | 31 | 10.51L-15.05L | 845 Sherbrooke St W, Montreal, Quebec H3A 0G4, Canada |
| McMaster University | 69 | 144 | 6.67L-27.16L | 4350 S Service Rd, Burlington, ON L7L 4X5, Canada |
| University of Montreal | 73 | 118 | 15.12L-16.38L | 2900 Edouard Montpetit Blvd, Montreal, Quebec H3T 1J4, Canada |
| University of Alberta | 131 | 119 | 4.99L-14.5L | 116 St & 85 Ave, Edmonton, AB T6G 2R3, Canada |
| University of Ottawa | 145 | 279 | 14.91L-17.51L | 75 Laurier Ave. E, Ottawa, ON K1N 6N5, Canada |
| University of Calgary | 200 | 246 | 4.73L-15.07L | 2500 University Dr NW, Calgary, AB T2N 1N4, Canada |
| University of Waterloo | 201-250 | 166 | 12.74L-27.83L | 200 University Ave W, Waterloo, ON N2L 3G1, Canada |
| Western University | 201-250 | 203 | 8.52L-27.4L | 1151 Richmond St, London, ON N6A 3K7, Canada |
Key Research Areas and Top Subjects to Pursue in Canada for MS
Computer Science/IT: Computer Science and IT graduates are always in demand everywhere across the globe, and Canada is not an exception.
The Canadian tech industry has around 4,88,000 IT professionals, ranging from analysts to management, software development, and information security.
The average salary of the IT industry in Canada is approximately $76,000 to $ 81,500 per annum.
Engineering/ Engineering Management: Core engineering and technology have always been a candidate-driven field. Mechanical, civil, EE, chemical, and engineering management are the top on-demand engineering fields.
The average salary of engineering graduates in Canada is about $81,700 per annum.
Medicine and Healthcare: Medicine, bioscience, and healthcare are fields that will never get out of demand until life is on our planet. In 2019 there were around 6,44,000 healthcare professionals in Canada ranging from physicians, dentists, nurses, and midwives.
Psychology and Human Resources: Employers are always eager to hire talented and skilled professionals, but hiring and remuneration such professionals may become a challenge.
Hence companies strive to upgrade the skills and training of their existing employees. This, in turn, puts HR professionals, industrial psychologists, career advisors in huge demand globally.
Agricultural Science and Forestry: The increasing problems like climate change, global warming and food security may be solved by Agricultural Science. Hence countries like India and Canada have excellent job prospects for agricultural scientists, agronomists, forest consultants etc.
Top Scholarship Schemes in Canada
Below are a few scholarships that you can opt for while studying for your Masters in Canada.
Canada Asia-Pacific Awards (CAPA): This award will help you with direct costs related to the research project. In case of a research trip to Canada is warranted, this will assist with international air tickets and a flat rate allowance for almost five weeks. The value of the award lies from 5,000 to 10,000 CAD.
Shastri Indo-Canadian Institute: The value of this fellowship is 500-1,000 CAD. This will cover the expenses not provided by the applicant's institution. It will help with costs for internet connection, subscription of online meeting software, affiliation fee, telephone bills or registration fee to access library or lab facility.
Vanier Canada Graduate Scholarships: The Vanier Canada Graduate Scholarships (Vanier CGS) was made to attract and retain the best doctoral students. This scholarship aims to establish Canada as a global hub of excellence in research and higher learning. The scholarships are for postgraduate degrees (or combined MA/Ph.D. or MD/Ph.D.).
Process of Application
Follow these steps to apply for MS in Canada: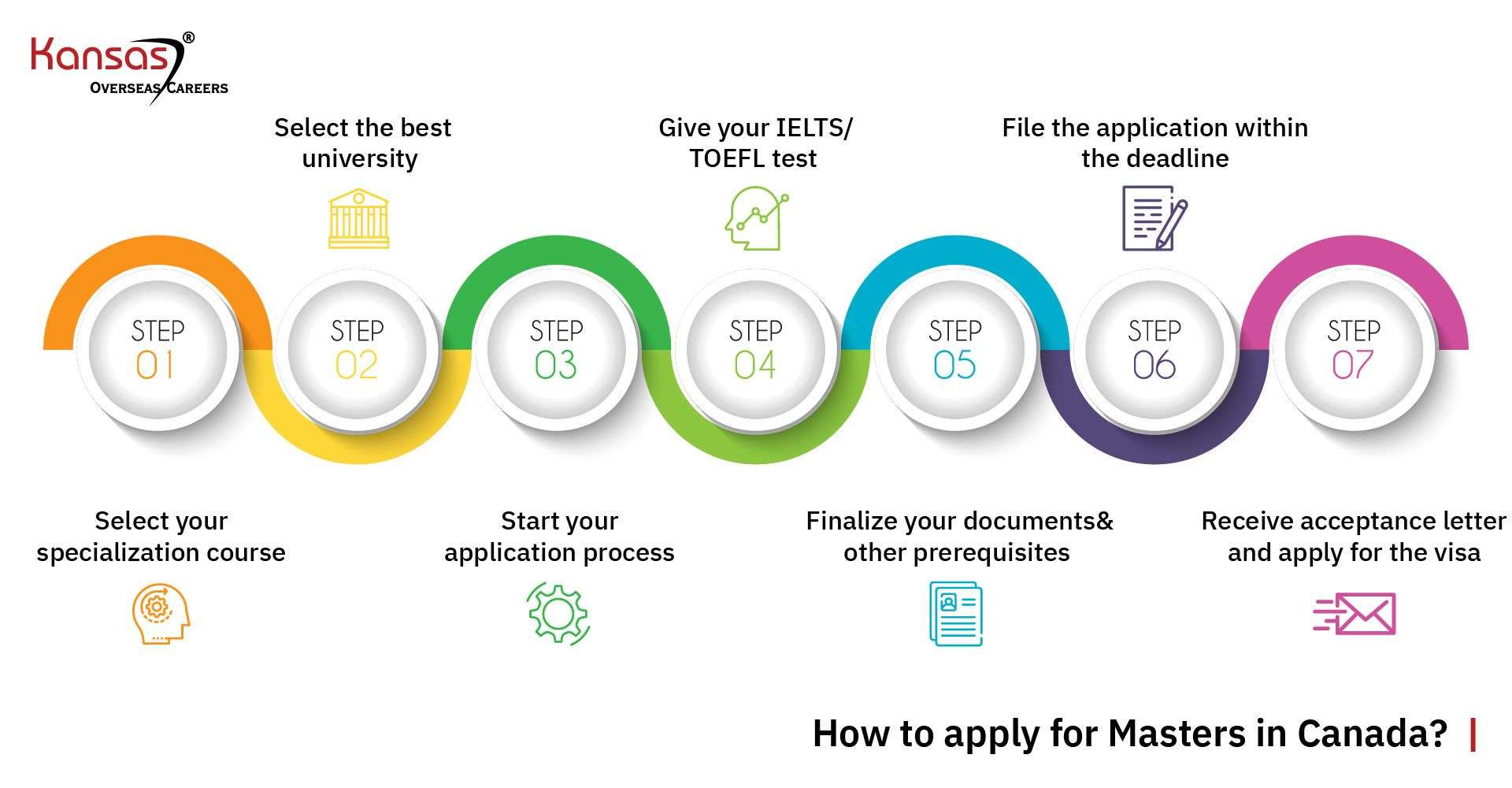 Step 1: Select your course
Select the best course according to your qualifications, depending upon your area of interest and field of study.
Step 2: Select a suitable university for your course
Research or consult an immigration expert to select an appropriate university to pursue your course.
Step 3: Start with your application process.
Get the university application form online and carefully fill in all the details. Pay the application fee and check the documents that are to be submitted.
Step 4: Give your language proficiency test
It is compulsory to have decent proficiency in English to be eligible for admission to Canadian Universities. Therefore, you need to give an IELTS or TOEFL test to meet the CLB (Canada Language Benchmark) requirements. A minimum of 6.5 is mandatory in the IELTS.
Step 5: Gather all the documents and prerequisites
Ask your immigration case officer to give you a list of all the original documents you need to provide copies of. Write a convincing Statement of Purpose (SOP) to the Dean of Admissions of the university you have chosen.
Complete the criminal clearance processes and biometrics.
Step 6: Apply within the deadline
Submit the completed and attested application on time. Being late may result in the rejection of your application.
Step 7: Get your acceptance letter and apply for the visa
You need an Offer Letter from the university to apply for the SDS Visa application.
Jobs After Master's (MS) in Canada
Graduates from the best universities of Canada can secure a 3-year work permit, which then helps obtain a permanent residency. With a long history targeting highly skilled immigrants, about 70% of international candidates in Canada had a master's degree
The scope of landing a job in Canada after completing MS majorly depends on the program completed.
Computer Science graduates are among the

highest-paid professionals

in Canada.

Healthcare, bioscience, and medical industry are the 3rd largest industry with the most employment options.

People with a Master's degree can

earn 29% more

than bachelor graduates.

Employees in Canada receive a salary increase of about 9% every 15 months.
FAQs
1. What are the eligibility criteria for studying MS in Canada?
The eligibility criteria of each institute vary with stream and course you want to pursue, but the most common requirements include:
Minimum

16 years of education

with at least a 3.0 GPA in Bachelors is required. Some universities accept a three-year bachelor's course and 15 years of education.

At least an overall score of 6.5 in IELTS.

A GRE score of 260 minimum is required.
2. What jobs are in demand in Canada?
| | |
| --- | --- |
| Job | Average Salary |
| Primary Production Managers | C$69,653 |
| Doctors and Dentists | C$142,000 |
| HR Recruiters | C$44,000 to C$52,000. |
| Nurses | C$58,831.50 |
| Information Security Analysis | C$68,411 |
| Marketing Analysis | C$60,000 |
| Engineers | C$60,200 to C$90,000 |
| Financial Analysts | C$56,128 |
| Education | C$55,477 |
| Accountants | C$56,000 |
| Office managers and administrative assistants | C$35,000 to $46,000 |
3. What are the eligibility criteria for PGWP?
Complete a

full-time course

in Canada (minimum 8 months)

Apply within 6 months of finishing the course.
4. Is SOP required for applying to Canadian Universities?
A compelling SOP can add value to your application and help it stand out from other applications. Find how to write a good SOP here.
5. What should be your minimum score in Bachelors to get admission for Masters in Canada?
A minimum of 65-75% percentile is required to get admission in Canada for Masters.
6. Which companies are the top recruiters in Canada?
| | |
| --- | --- |
| Top Employers | Average salary |
| Golder Associate | 52000-175000 CAD |
| WSP Global Inc. | 49000-103000 CAD |
| Amazon .com Inc | 84000-144000 CAD |
| Deloitte | 61000-100000 CAD |
| StemCell Technology Inc | 46000-86000 CAD |
| IBM Canada Ltd. | 79000 CAD |
| Ericsson Inc. | 73000 CAD |
Conclusion
Canada is among the safest countries for immigrants and is home to nearly 6 lac international students. Its world-class universities, practical-based curriculum and easy obtain postgraduate work permit has made it a student magnet.
However, thinking of completing your Master's (MS) in Canada may be easy, but it is easier said than done. For ensuring that you successfully get admission to your dream college, it is best to consult an immigration consultant.
We help you through all the application process steps at Kansas, right from choosing the college to getting your student visa. Contact us today to eliminate the chance of your application getting rejected otherwise.