Canada's high availability of jobs, great family-policies for immigrants and high quality of life, many citizens of Saudi Arabia have preferred to settle in Canada over the past decade.
Read along to know more about how you can migrate to Canada from Saudi Arabia in 2023 in this blog.
What is the Canada PR visa?
Canada's permanent residency is one of the most commonly applied visas. This visa comes with a validity of 5 years and can be applied by skilled professionals.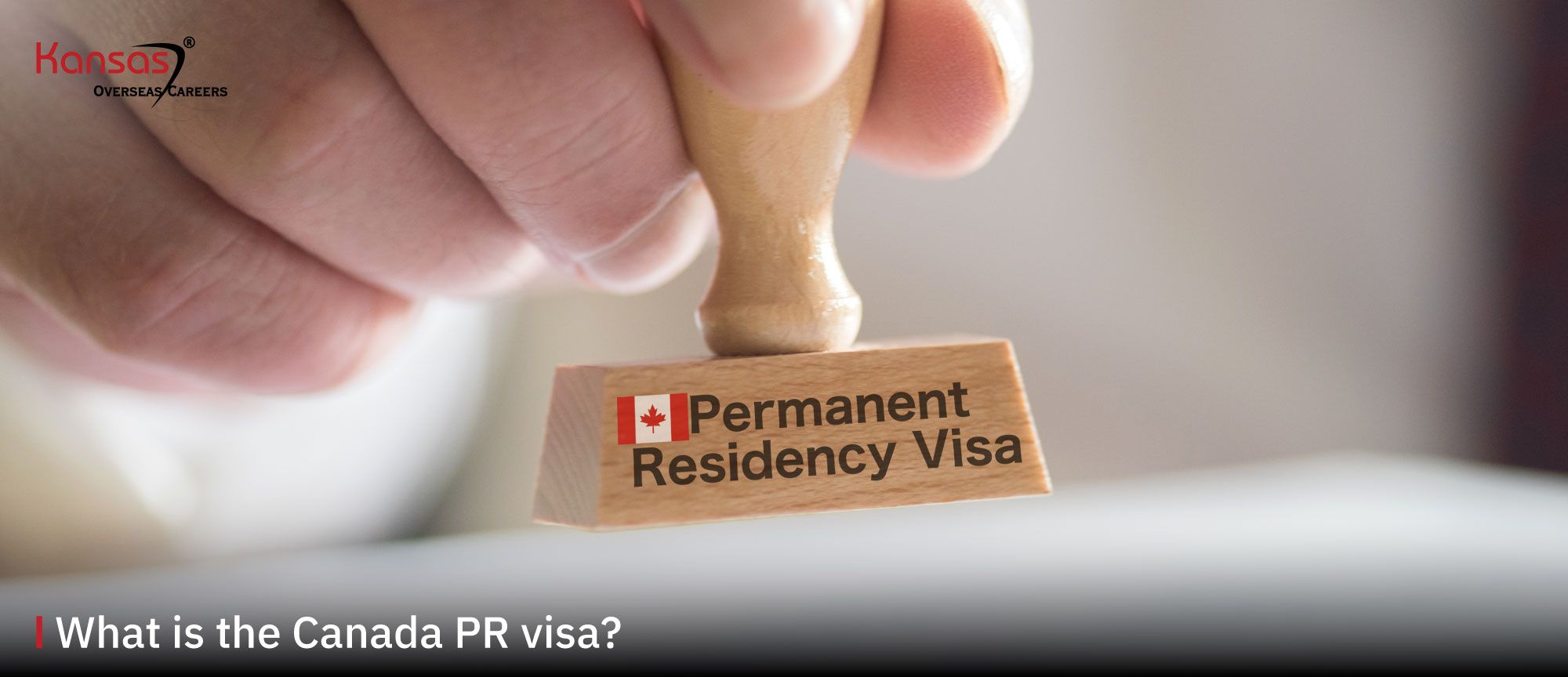 Unlike the Saudi work permit that demands a job offer, a Canada PR visa doesn't demand a job offer while applying.
What are the benefits of a Canada Immigration visa from Saudi Arabia?
The five different benefits of moving to Canada for Saudi Citizens are:
Family Benefits with canada permanent residence
Free education for kids up to adulthood
Free healthcare for the entire family
Right to sponsor parents or grandparents after you settle
No Restriction of Employment
In Canada, you can enjoy permanent residency even without a job.
The spouse also gets the right to work full-time in any company.
You can switch between jobs and change companies as per your desire.
No Racial Discrimination
Canada promotes diversity and gives equal respect to all religions.
No matter which nationality you represent or what religion you follow, the country lets you dwell in peace, without any discrimination.
Quick Citizenship Canada
Migrating to Canada can get your Canadian citizenship only in 3 years. Your child born during your phase of permanent residency, is given the status of natural citizenship.
Trade relations
As Canada imports oil from Saudi Arabia, the countries share good trade relations with each other. Saudi Arabia represents Canada's second-largest trading partner in the Middle East.
Hence, candidates who possess work experience from Saudi are often regarded as assets or canada's ambassador to the Canadian economy.
You do not need a job offer to apply for Canada PR from Saudi.
What are the possible visa categories of Canada from Saudi Arabia?
To move to Canada from Saudi Arabia as temporary foreign worker or temporary resident, you can find many visa categories:
Other Visa Programs:
1. Business Visa
This Canada visa category is for professionals who are in a plan of setting up a business in Canada. The subcategories of the visa are:
Quebec Business Immigration Program
Immigrants Investor Venture Capital Pilot (IIVC) Program
Business, Entrepreneur and Investment Programs (PNP categories)
2. Study Visa
If you are aiming to study in a Canadian government institution, then you can apply for this visa. The Canadian Study visa helps you to get an education from top universities by providing enough proof of funds to reside and tuition fees.
3. Super Visa for Parents and Grandparents
With Super visa, your parents or grandparents can live with you in Canada for the long term and enjoy several benefits of Canadian permanent residence.
Are there any eligibility requirements for Canadian immigration?
Yes, here's a list of the eligibility requirements:
Your age at the time of application must not be more than 44 years (younger to claim points).
You must be a graduate from a recognized University while applying for canadian immigration.
You must have at least 1 year of work experience.
You must be able to pass the IELTS examination with at least CLB 7.
You must be financially stable to manage your and your family's stay in Canada.
You must be of sound health and moral character before you are ready for canadian immigration.
You must be able to score 67 points for all factors that are considered by Canada Express Entry.
If you fail to prove your eligibility under the Canada point's calculator, then you may not be able to move ahead.
How Can You Immigrate to Canada from Saudi Arabia in 2023?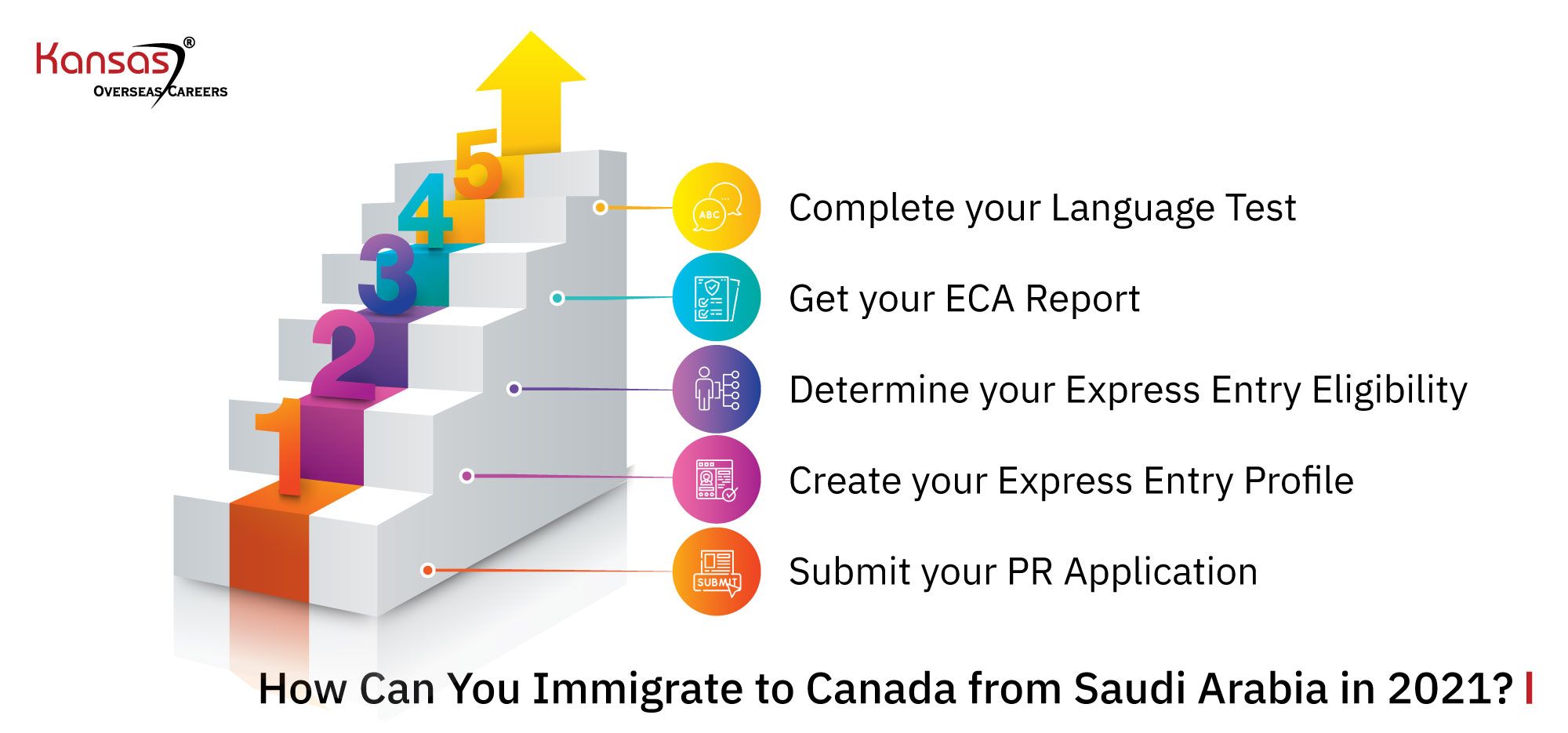 Express Entry Pathway is the best way to migrate to Canada from Saudi Arabia. Just follow these 5 steps:
Step 1: Complete your Language Test
You must have an IELTS Score of minimum 5 to be eligible for Express Entry Canada.
Step 2: Get your ECA Report
All your Educational Transcripts must undergo an Educational Credential Assessment (ECA). This is a mandatory requirement for applicants who have completed their education outside Canada.
Applicants who are applying for the Federal Skilled Worker Program or the Canada Experience Class (CEC) Program, do not require ECA Reports.
Step 3: Determine your Express Entry Eligibility
The first step to creating your profile is to check whether your occupation is listed in the NOC List. Your occupation profile has to be under the O,A or B category.
A candidate must then score a minimum of 67 points in the WES assessment to be eligible to apply for Express Entry.
Step 4: Create your Express Entry Profile
Fill in all your details accurately and select the program you're interested in.
Ensure that you're eligible for the program you have selected to avoid rejection and file your Expression of Interest (EOI).
Step 5: Submit your PR Application
Submit your PR Application after reviewing all your details. Keep in mind that all the details here will be verified by the IRCC and it needs to be accurate.
Wait to receive your ITA (Invitation to Apply) to finalize your application.
At Kansas, we have nearly a decade of experience with handling PR Applications. If you want to know more about the application process, you can book a free consultation with us.
What is the Cost for a Canada PR?
Canada PR Process

CAD

INR

Step 1: Educational Credential Assessment fee

CAD 240

INR 14,568

Courier charges approx

CAD 10

INR 607

Fast Express courier charges

CAD 85

INR 5159

Step 2: Express Entry Application

This is free of cost

Step 3: Pay the application fees.

Main applicant

Application processing fee

CAD 850

INR 51,596

Right of Permanent Residence Fee (RPRF)

CAD 515

INR 31,261

Spouse/partner

Application processing fee

CAD 850

INR 51,596

RPRF

CAD 515

INR 31,261

Dependent child

CAD 230 (per child)

INR 13,961 (per child)

Step 4: Complete your biometrics

For a single applicant

CAD 85

INR 5159

For two or more applicants

CAD 170

INR 10,319

Step 5: Send your passport details

INR 1,000 to 2,500

If you already have a valid passport

Free of cost

Other Costs

Provincial Nomination Program

CAD

INR

Ontario Immigration Process Nominee Program (OINP)

CAD 1500

INR 91,050

Saskatchewan Immigration Nominee Program (SINP)

CAD 350

INR 21,245

Manitoba Provincial Nominee Program (MPNP)

CAD 500

INR 30,350

British Columbia Provincial Nominee Program (BCPNP)

CAD 1150

INR 69,805

Quebec Skilled Workers Program (QSWP)

Primary applicant: CAD 785

Spouse or Partner: CAD 168

Dependent Child: CAD 168

Primary applicant: INR 47,649

Spouse or Partner: INR 10,197

Dependent Child: INR 10,197

Language exam fees (IELTS)

INR 15,500

Medical exam (varies depending on city)

INR 3,000

Police certificate(varies depending on your city)

INR 500
Proof of funds required for a Canada PR Visa:
IRCC Express Entry Proof of Funds Requirement in 2023
| | | |
| --- | --- | --- |
| Number of family members | Funds required in Canadian dollars (CAD) | Approximate in Indian Rupees (INR) ( **Approx. 1 CAD - INR 60.7) |
| 1 | CAD 13,310 | INR 8,07,931 |
| 2 | CAD 16,570 | INR 10,05,810 |
| 3 | CAD 20,371 | INR 12,36,539 |
| 4 | CAD 24,733 | INR 15,01,317 |
| 5 | CAD 28,052 | INR 17,02,787 |
| 6 | CAD 31,638 | INR 19,20,467 |
| 7 | CAD 35,224 | INR 21,38,136 |
| For each additional family member | CAD 3,586 | INR 2,17,674 |
Note: Scoring 67 points does not grant you the PR visa but makes you eligible to apply to the Canada PR through the Express Entry system.
You are then required to choose the right immigration program for yourself based on your profile traits.
Immigration programs under the Express Entry system are:
Federal Skilled Trades Program
Federal Skilled Workers Program
Canadian Experience Class
Provincial Nominee Program
Conclusion
Immigrating to Canada from Saudi isn't a difficult process. However, there are quite a few steps involved.
Document Verification and Translation

: Canadian Authorities take around 2-3 months' time to verify the documents of a candidate. If the documents are printed in regional language, it needs to be translated to English or French by authorized interpreters.

Eligibility Requirements

: All candidates are evaluated based on their CRS Ranking. Depending on how much a candidate scores in his/her assessment, he/she will be regarded as eligible for Express Entry.

Language Proficiency

: IELTS or TOEFL Scores are an indicator of an applicant's English Proficiency. However, Canadian Authorities also accept French Proficiency via TEF.

Skilled Professional

: If you are a skilled professional under

NOC Category O,A or B

, you have higher chances of acceptance.

Professional Help

: Kansas is a visa consultancy specializing in Canada Immigration. If you're facing any trouble with your application, we'd be glad to assist you.
How Can Kansas Help?
Kansas Overseas Careers specializes in Permanent Residency Visas, Work Visas, Study Visas, Temporary visas, and Dependent Visas to Canada, UK, USA, Germany, and Hong Kong.
Apart from these services, Kansas offers its clients personalized services such as:
Profile Evaluation

: Professional guidance based on an in-depth assessment of the client profile to determine the chances of visa success.

Documents & Review

: Detailed, error-free documentation based on the visa type drafted to meet specific formats.

Dedicated Case Officer

: A dedicated consultant to assist clients throughout the process.

Visa Filing

: Kansas ensures that the visa applications meet all the standard requirements of concerned immigration authorities and governing bodies.

Test Preparations

: Complimentary online courses are offered to help aspirants improve their Language Proficiency for important exams like IELTS, French, TOEFL, and PTE.

Visa & Interview

: Guidance is provided for aspirants attending visa interviews along with verified documents.

Post-Landing Service

: Kansas helps clients settle down in the new country with a comfortable stay after they have received their visas.
Additional services offered to job-seekers:
Resume Writing

: Dedicated team of resume experts to craft the best resumes that meet prerequisites of immigration authorities and potential employers. This greatly improves their chances of selection.

Profile Marketing

: Kansas is well-known for creating the best-in-class portfolios that boost applicant profiles in job-portals. And yes, this is a complimentary service!
Get started with your migration to Canada from Saudi Arabia today!