Australia is one of the top choices for Indian immigrants, and for a good reason. It has some of the best universities in the world and multiple employment options, making it a popular choice for Indians.
Know the Australian PR score, what it means and how it impacts your application for Permanent Residence in this read.
Australia PR Score: Immigration through the Points-Based System
Australia facilitates the immigration of skilled workers through a point-based system that is used to assess the eligibility of applicants. The point system may sound confusing at first, but it isn't too complicated.
To be eligible to apply for a subclass 189 ( Skilled Independent visa) or a subclass 190 (Skilled Nominated visa), you must:
80 points are the average score for getting an Australian PR.
Australia Points Calculator
Calculate your Australia PR Points here:
Australia PR Score Eligibility Criteria (65-Point Calculation Method)
The Australia PR point calculator is based on several different factors.
Each factor has a score assigned to it. Your points will be the culmination of the score of the number of boxes you can tick off.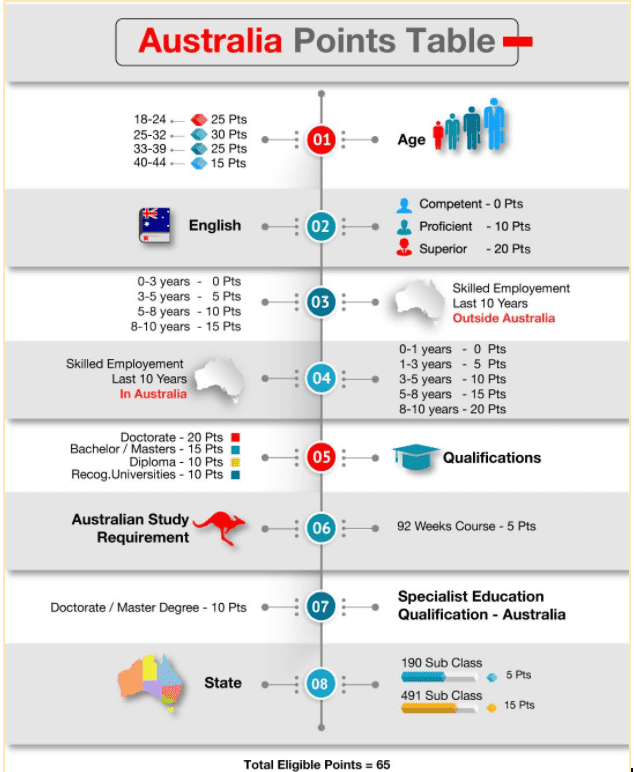 | | |
| --- | --- |
| Age Bracket (Years) | PR Points |
| 18 - 24 | 25 |
| 25 - 32 | 30 |
| 33 - 39 | 25 |
| 40 - 44 | 15 |
| 45 - 49 | 0 |
The level of education of the applicant is also a major contributor. If you have an Australian educational background, it could earn you bonus points. The higher your educational qualification, the higher your points are.
| | |
| --- | --- |
| Education Qualification | PR Points |
| Doctorate Degree | 20 |
| Master's/Bachelor Degree | 15 |
| Advanced Diploma or trade qualification from Australia | 10 |
| Skills Assessment Certificate | 10 |
The number of years of work experience you have will also decide how many points you get. The maximum points for 'Overseas Work Experience' and 'Australian Work Experience' is 20 points.
Work experience in Australia accounts for more than overseas experience. Nonetheless, the number of working years contributes significantly to your Australian PR points, and people with experience of 10+ years benefit the most.
| | |
| --- | --- |
| Work Experience (Years) | PR Points |
| 8 - 10+ | 15 |
| 5 - 7 | 10 |
| 3 - 4 | 5 |
How much you score on your proficiency tests (IELTS, TOEFL iBT, CAE, OET or PTE Academic) holds certain points under the Australian PR points calculator.
Your English language skills are rated as superior, proficient, and competent. Points are assigned accordingly in decreasing order. There are no points for anyone with a skill level that's less than proficient.
| | |
| --- | --- |
| Language Skills | PR Points |
| Superior (IELTS Band 8) | 20 |
| Proficient (IELTS Band 7) | 10 |
| Competent (IELTS Band 6) | 0 |
If you have a family member in Australia who could sponsor you, it can add on to your points. There are also cases where the state itself sponsors a candidate based on their occupation.
| | |
| --- | --- |
| Nomination/Sponsorship | PR Points |
| Nomination by a Family Member | 10 |
| Sponsorship by the State | 5 |
Do you want to check your score? Our Australia PR point calculator will give you the best results that are in-line with the latest Australian immigration requirements.
Partner Skills (Maximum 10 points)
Your spouse can help you gain points but only under certain conditions.
If you are single (no spouse or de facto partner) , you get 10 points
If your partner is an Australian Citizen or PR holder, you get 10 points
If your spouse is under 45 years of age, has a 'competent' score on the English proficiency test, is under the same occupational code and under the same visa subclass, and also has a positive skills assessment, then you get 10 PR points.
If your partner is competent in English but does not match the same skills as yours or does not fall under the same visa subclass as yours, you get 5 points.
Australian Specialist Education (5 points)
Master's by research or Doctorate from Australian educational institution will earn you 5 points with at least two academic years in a relevant field.
Study in Regional or Metropolitan Area (5 points)
If you intend to study in regional Australia or a low population area, you are granted 5 points, probably in an attempt to encourage people to settle in regional areas by the Australian Government.
A few other factors can earn you a extra points, like if you:
Know a community language, you get 5 Australian PR Points.
Completed a professional year in Australia in your nominated skilled occupation for at least 12 months before you received your invitation to apply, you get 5 points.
Are a holder of a State Nomination (190 visa), you get 5 points.
After you've understood the scoring system, you can calculate your PR score yourself, using an Australian PR points calculator.
Documents Required
Here are the mandatory documents required for your Australia PR:
Duly filled PR Application form
Valid Passport
IELTS or TOEFL Test Result
2 Passport size photographs
Medical Certificate
Police Clearance Certificate
Company Offer Letters
Character Certificate
Nomination (If any)
How to apply for an Australian PR?
Follow these steps to get an Australian PR
Step 1: Check the eligibility requirements of the specific program.
Depending on the subclass you select, there may be specific eligibility requirements.
Ensuring that you meet all the criteria will save you a lot of time.
You have 3 options for the programs to select from:
Subclass 189
Subclass 190
Step 2: Attend the English Proficiency Test from an accepted body.
Australian Authorities accept the IELTS, TOEFL and PTE are valid English Language Tests.
Step 3: Get your skills verified by an accredited institution
Verify your educational documents and work certificates as per Australian Standards.
Step 4: Submit your EOI in Skill Select
This step is to submit your Expression of Interest on Australia's PR platform: SkillSelect. It involves submitting your statement of purpose, along with all the mandatory documents.
If you have successfully completed the above steps, you will receive an Invitation to Apply from the Australian Immigration Authorities.
Step 6: Submit your final PR Application
Now, you need to submit your final application along with the police clearance certificate and good character certificate.
Step 7: Gather the documents for travelling
Make a suitable travel itinerary by keeping in mind the settling time and post-landing processes. Get your medical checkup done as per the requirements mentioned by the Authorities.
And now, all you need to do is wait for your PR Visa.
How much does it Cost to Apply for an Australian PR?
According to the Australian Department of Home Affairs, the permanent visa application charges are approximately AUD 3500-4000.
Additional costs include:
The charges for IELTS, for example, is about INR 13,000 in 2023
Medical examination fee, as applicable
Police Clearance Certificate Fee, a mere AUD 20 per person
Document translation and certification charges estimated at AUD 500
Skills Assessment Application Fee: 300-$1200T
How long does the Australia PR Process Take?
On average, the PR process takes from about 6 months to 1 year, depending on the type of skilled visa you have applied for.
First, you get an invitation call to apply for a skilled nominated visa, depending on your PR score. Following an invitation call, add another 4+ months to get the Australian visa grant.
How does my score on Australia PR Points Calculator affect wait time?
Well, there's a direct correlation. The higher you score on the Australia PR points calculator, the quicker you'll get an invitation call.
For applicants who secure 80 points, the waiting time could be as low as 1 or 2 months, while people with a score of 70 can be left waiting for 8-10 months.
Can I do anything to score higher points?
To apply for an Australia PR in 2023, you require 65 points under SkillSelect for Subclass 189 and Subclass 190 visas.
There are a couple of things you can do to raise your PR points if you didn't cut the first try.
Earn a higher Degree in STEM (science, technology, engineering, mathematics)
Retake IELTS and earn a higher band
Increase your Partner Skills
Get Additional work experience
Get a state nomination/sponsorship
Learn the local community language
Study in regional Australia for extra 5 points
A Word of Advice Here: A well-informed, experienced visa and immigration consultant who has worked on Australian PR applications before can become your greatest asset and help you improve your PR points for Australia.
Top 5 Benefits of becoming an Australian Permanent Resident
1. Healthcare Entitlement
As an Australian permanent resident, you will be eligible for all the healthcare benefits that are offered to Australia's citizens.
2. Social Security Benefits
After 2 professional years of being a permanent resident, you are entitled to all the social security benefits.
3. Privilege for the Children of Permanent Residents
Children of permanent residents born in Australia are considered Australian citizens and are entitled to every privilege that Australian citizens are awarded.
This makes their education and healthcare extremely convenient and affordable.
4. Access to Student Loans
When you're an Australian Permanent resident, you have the liberty to apply for student loans.
5. Eligible to Apply for Australian Citizenship
After 4 professional years of living in Australia as a permanent resident, you can apply for Australian citizenship.
What are my chances of getting an Australian PR?
Once you clear the cut-off of 65 points in the Australian PR points calculator, the duration or difficulty of you getting a skilled visa largely depends on the nominated skilled occupation you chose.
Other Important FAQs
What kind of skilled workers can apply for Australian PR visa?
There is a great demand for skilled workers in Australia, and you can often get a nomination from the Australian Government if your profession is something that is of value to them. Many skills have a high demand in Australia.
What factors affect your PR score when applying for Permanent Residency in Australia?
Australia relies on these points to assess if you can proceed with your application or not. The benchmark is set at 65 points. The more points you have, the stronger your application, and the greater your chances of being approved by the Australian Department of Home Affairs.
Does a high number of points guarantee approval for an Australia PR visa?
No, but it does boost the chances of your application getting accepted and reduce waiting time by half if your score is better than the average.
What points are required for an Australian skilled migration visa?
The applicant should at least score 65 points on the Australian immigration points calculator under subclass 189 and subclass 190. This is the minimum requirement for Australian immigration under skilled occupation.
Is Australian work experience required for a skilled independent visa?
Yes, you must have a minimum of 20 hours of paid work experience per week in the nominated occupation or a closely related skilled occupation. It should also not be voluntary work.
Is the English language ability essential to Australian study requirements?
Yes. International students seeking admission into any Australian educational institution should be competent in English. Competent English is a prerequisite to join a course or to obtain a student visa.
What educational qualifications are required for skilled employment in Australia?
International students should have at least one diploma, degree or trade qualification from a recognized Australian institution for skilled employment.
Can full-time study students in Australia to meet their educational expenses?
Yes and no, if you are graduating. Graduate students can work up to 40 hours in a fortnight during semesters. However, they can work full time during course vacations. Only Masters and Ph.D. research students are permitted to work full time while studying.
Is it easy to find jobs in regional Australia?
Territory governments across regional Australia put efforts to boost businesses and create employment opportunities. But these are low population growth areas comprising the mining and farming sectors. There is scope depending upon your precise skill. Give it a try only if you are qualified in these fields.
Are immigration consultants useful for migrating to Australia?
Yes. Registered migration agents are one of the best options to tackle problems that arise during immigration to Australia. They have extensive experience and are well versed in the regulations that are to be followed.
Conclusion
The following factors will help you get maximum PR points:
Age: If you are aged between 25 to 32
Education: If you have a Ph.D. or a Master's Degree in the relevant field.
Work Experience: If you have a work experience of 5-10 years.
English Language Proficiency: If you have an IELTS score of 8 or higher.
An applicant also gets additional points for a state nomination.
If you're facing any trouble calculating your Australia PR Points, our experts can help you.
How can Kansas Help?
Kansas Overseas Careers specializes in Permanent Residency Visas, Work Visas, Study Visas, Temporary visas, and Dependent Visas to Canada, UK, USA, Germany, and Hong Kong.
Apart from these services, Kansas offers its clients personalized services such as:
Profile Evaluation: Professional guidance based on an in-depth assessment of the client profile to determine the chances of visa success.
Documents & Review: Detailed, error-free documentation based on the visa type drafted to meet specific formats.
Dedicated Case Officer: A dedicated consultant to assist clients throughout the process.
Visa Filing: Kansas ensures that the visa applications meet all the standard requirements of concerned immigration authorities and governing bodies.
Test Preparations: Complimentary online courses are offered to help aspirants improve their Language Proficiency for important exams like IELTS, French, TOEFL, and PTE.
Visa & Interview: Guidance is provided for aspirants attending visa interviews along with verified documents.
Post-Landing Service: Kansas helps clients settle down in the new country with a comfortable stay after they have received their visas.
Additional services offered to job-seekers:
Resume Writing: Dedicated team of resume experts to craft the best resumes that meet the prerequisites of immigration authorities and potential employers. This greatly improves their chances of selection.
Profile Marketing: Kansas is well-known for creating the best-in-class portfolios that boost applicant profiles in job-portals. And yes, this is a complimentary service!
Additional services For students looking for a study visa:
Admission Guidance: Comparisons between the best programs, colleges, and countries to study in, including arranged mentorship from existing students.
Writing Services: Admission Essays, Student CV, Statement of purpose (SOP), Letter of recommendations (LOR), and other important services offered by a dedicated team.
Scholarships & Financial Aid: Offer help to find the best Scholarships programs, Education loans, Study abroad loans, and also offer help in sourcing paid-Internships.
You can expect a one-stop solution for all your visa needs with us.