A good Canada immigration consultant will make your visa process as easy and stress-free as possible. Even if you choose to immigrate to Canada and complete the visa application process by yourself, it is important that you know how a legally authorized representative can benefit you.
A minor miss in the documentation, the wrong choice of visa type or simply a wrong format in your application can lead to delays and rejection of your application. Canada has a point-based immigration system that allots your profile with points when you meet specific requirements.
A reliable visa consultant can not only help you improve your application and documentation, but also advise you on how to improve your score for higher chances at visa approvals. Read on to know more about choosing the right immigration consultant.
Who are the Best Canada Immigration Consultants for Indians?
Kansas Overseas Careers is one of India Top 3 visa consultants. Served 20K+ customers and over 3K+ active cases.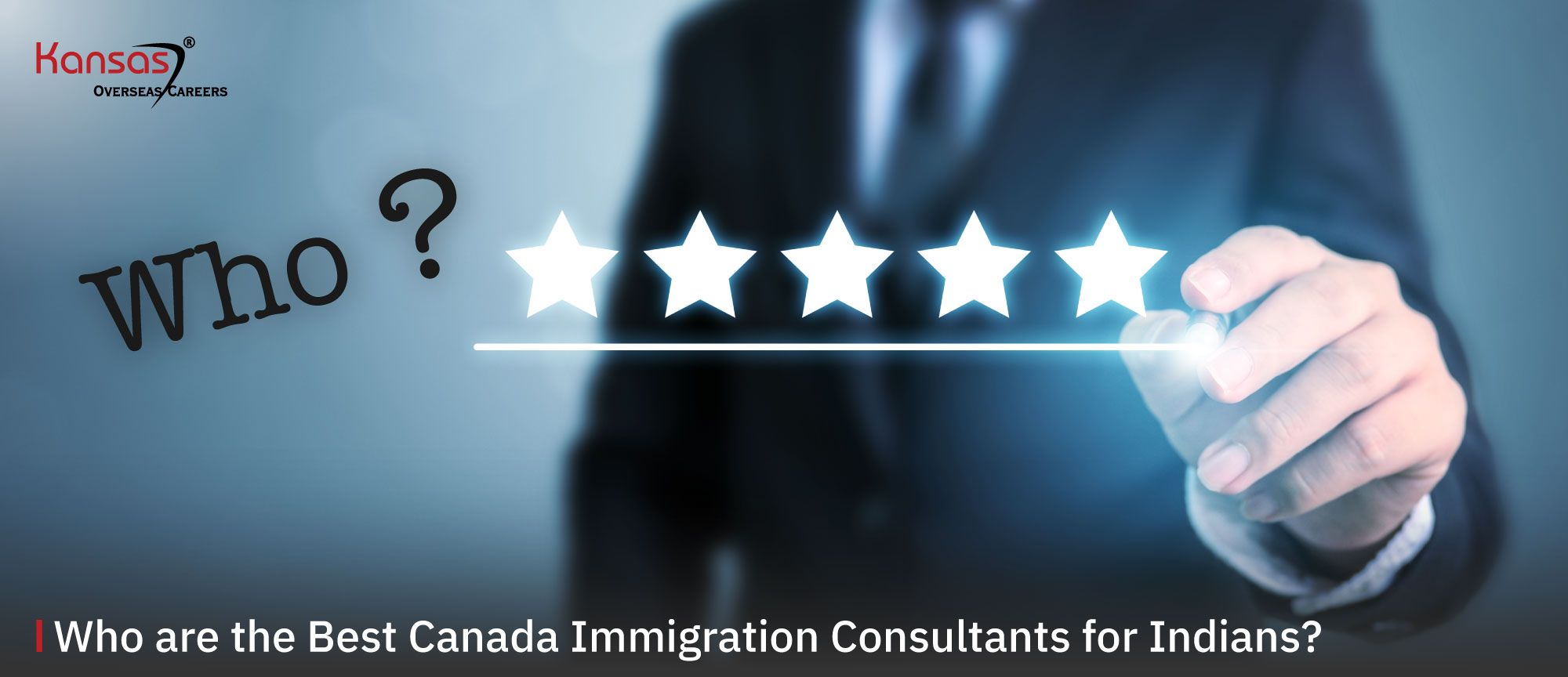 We provide our clients with:
With over 1500 successful applications and a whopping 98% success rate, Kansas Overseas has been touching new heights. All formalities of visa application are conducted on your behalf and dedicated case managers assigned to you as per your profile.
Qualified & Experienced Staff
Our team of experienced professionals have undergone rigorous training and are experts to approach the authority professionally. With the experience of dealing through various cases, our immigration experts adhere to all latest processes and rules of immigration.
Kansas Overseas will provide you with online materials to improve your proficiency in English language. This is meant to prepare you for the IELTS test and pass out with a better CRS score to be successful.
Your resume needs to be impressive. Resumes prepared by professional writers at Kansas will eventually influence not only the immigration officer, but also increase responses from potential employers abroad as well.
As a responsive consultant, Kansas will provide you customized support post-landing in settling abroad after your immigration process is complete. This is essentially meant to enable you to transit to a foreign country in a smooth way. You can choose the services you require.
Flexible Payments Options
Instead of charging you in cash, Kansas provides online payment options for secure transactions. The cost breakup is made clear on the first interaction and all other terms and conditions, including refunds are intimidated.
We abide by a stringent code of conduct that helps us keep the client's objectives as the priority. All immigration laws are promptly followed in guiding you a smooth way forward. Transparent communication and in-depth assessment by experts is the key to our high success rates.
Kansas Overseas can get you customized solutions for study visa, work visa, visit visa, Canada tourist visa, temporary visa, dependent visas and permanent resident visas. We also offer personal assistance where you have a single point of contact who will guide you throughout your visa process.
Be it providing you interview training, French/English courses or working samples for resumes, cover letters or assisting with application forms, including medical or police clearance certificates or preparing for visa interviews, Kansas will always be by your side.
Kansas has processed over 10,000+ Canada PR applications successfully.
How to Immigrate to Canada from India?
There are different immigration programs through which applicants can apply for PR.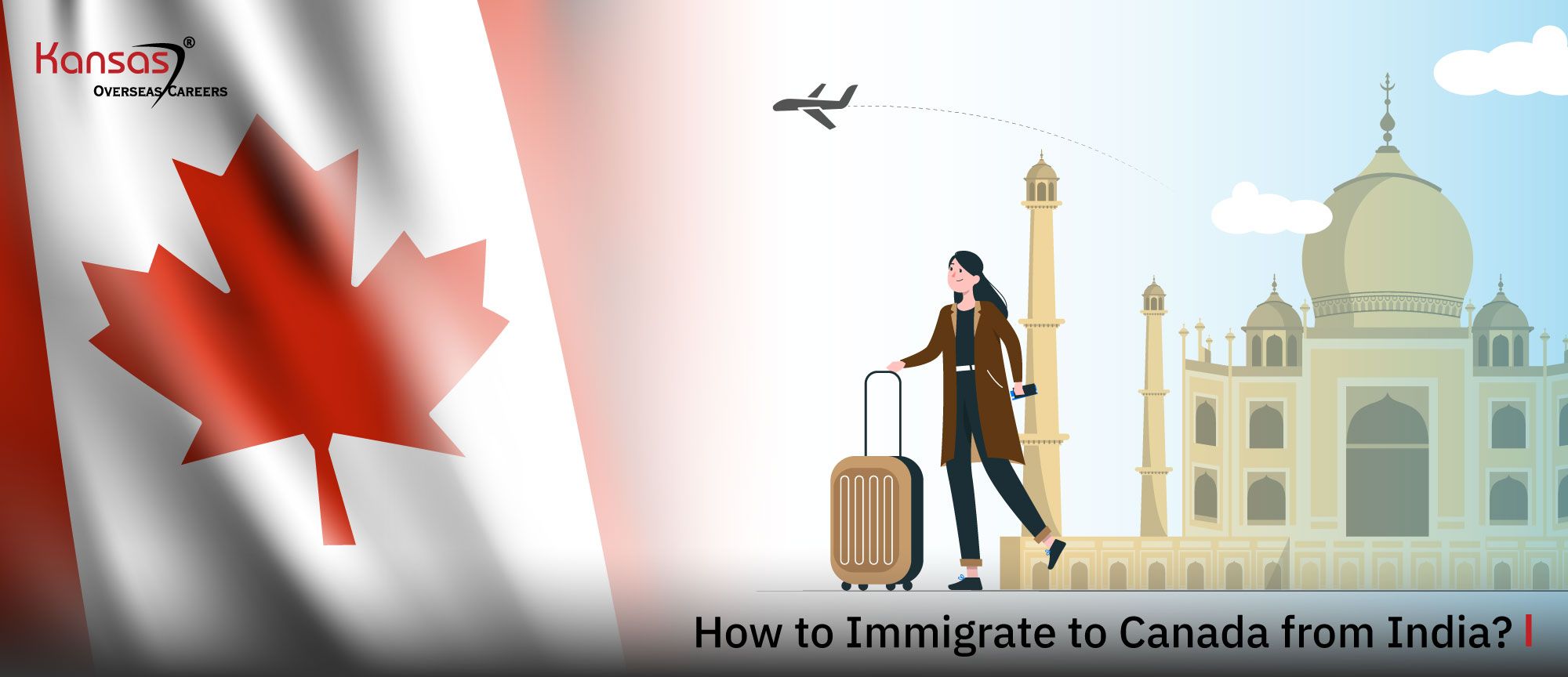 1. Express Entry Program
Express Entry is easily the fastest and the most accessible program. Federal Skilled Workers can receive their visa approval in as little as six months through an easy application process. Here is a list of the 3 types of Express Entry Programs.
2. Atlantic Immigration Pilot
The Atlantic region of Canada comprises Prince Edward Island, Newfoundland, Labrador, New Brunswick, and New Scotia. The Atlantic Pilot program is specifically for Canadian immigration to these provinces or regions.
3. The Quebec Skilled Worker Program
This is a Canada immigration program that does not require a job offer from an employer. This program selects candidates for permanent residency based upon the intention of the candidate of becoming economically established and permanently residing in Quebec.
4. Work Permits and Student Visas
You can also get work or study permits to live in Canada. Without a permanent residency. Having such permits and working and studying in Canada can increase your chances of getting a Canada PR visa.
5. Agri-Food Pilot
People who have worked on a farm in Canada and have a full-time job offer to work there can apply for a permanent residency. Living and work experience in Canada adds quite a few valuable points to the CRS score.
Kansas is the one-stop solution for all your visa needs!
Why Immigrate to Canada from India in 2023?
Booming Economy with a Plethora of Jobs
Canada is one of the fastest-growing economies in the world. And has many times better job opportunities. Unemployment is at an all-time low. Which has opened up a world of job opportunities.
Free Medical & Health Care
Citizens and permanent residents of Canada have access to free health care. That covers all kinds of prescription drugs and most diagnostics.
High-Quality Free Education
It's not just the free health care that has been attracting Indians to Canada over the years. It's also the free education offered to children below 18 years.
Multicultural Space & Safety
Canada is easily one of the world's safest and most secure places for living. Perhaps the 2019 Global Peace Index ranked Canada as the sixth safest country in the world.
How does an Immigration Consultant help you Immigrate to Canada from India?
Understanding the process of immigration, collecting all the documents, going through educational as well as language assessments are just some of the aspects of submitting a visa application. You need to weigh in all the options, your skills, and then apply for a suitable program.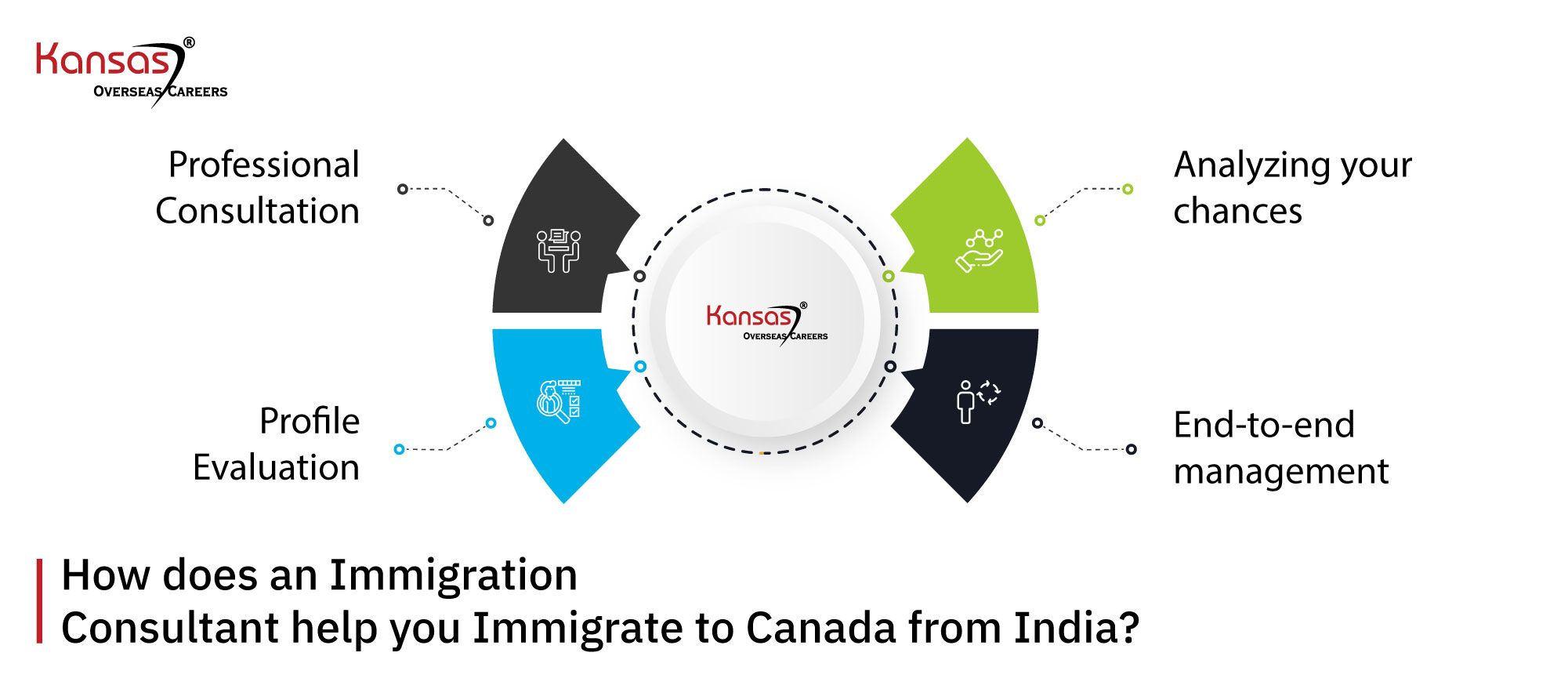 The assistance of a reputable immigration consultant becomes crucial in deciding whether you'll get that prized ITA or not. Moreover, experts help streamline the process and save you a lot of time and stress.
You can indeed concentrate on other preparations you want to do before traveling to Canada at that time. Here are a few ways in which we can help you immigrate:
The foremost step is the evaluation of your profile. Our experts would carefully analyze your profile, compare it with the current demands of the authorities, and possibly pinpoint weaknesses that can lead to low score or rejection.
After understanding the weaknesses, we will customize a plan suited for you. The project would consist of the program you'll register to, the career you should choose, apt visa application options, and more.
Professional Consultation
Consultation is the heart of working with team Kansas. We provide free of cost consultation that would help clear all your doubts and let you understand the costs you'd incur, ways you can increase your chances of getting selected, why you should choose us, and more.
You can also get a technical evaluation from us at a very nominal cost. Here we'll analyze and discuss the strengths and weaknesses in your applications, ways you can improve it, and what should be your next step. We'll also help verify your information at this stage.
If you opt to go full throttle and select our full service, you just need to sit back and relax. We'll start accumulating the paperwork, communicating with you about whatever we need like police verification, medical clearance, and more. Rejected applications after sending documents will receive a 50% refund, which is unlike any other consultant.
You can apply for a student visa, change your visa status from temporary to permanent residency, apply for higher education, or more with us. We cover all aspects of immigration from India to Canada.
Costs for Canada PR
Application Fee for Canada PR
| | |
| --- | --- |
| Application Fee for Canada PR | CAD 850 |
| Secondary Application Fee for Canada PR | CAD 850 |
| Dependent Child PR Visa Fee | CAD 230 |
| Application Cost for Right to PR | CAD 515 |
Other Important FAQs
How much do consultants charge?
Consultant Charges vary in between INR 49,000 to INR 1,50,000.
What is the maximum age to immigrate to Canada?
There's no particular age limit for your immigration process to Canada. Although you won't get any points in the CRS score after the age of 45.
Do I need an Immigration Consultancy for Canadian visa?
No, it's not necessary to have an immigration consultancy, or Canadian immigration lawyer to submit your Canada visa application on your behalf. Immigration, Refugees, and Citizenship Canada (IRCC) don't require any consultants.
What is the breakdown of costs for Canada immigration?
Here is a breakdown of costs involved for Canada immigration from India.
Medical Tests: INR 5,500/-
Police Verification: INR 500/-
Canada Permanent Resident Fee: INR 28,000/-
RPRF Fee: INR 25,000/-
Always go with trusted immigration consultants. They will charge you reasonably for immigration services availed.
Can immigration consultants help me for both Express Entry and Provincial Nominee Programs?
Yes. They are experts on Canadian immigration laws. They would also let you know of the latest updates and whether you can apply for both the Express Entry and the Provincial Nominee programs. Along with this consultants will guide you through the application process.
Do immigration consultancy firms help international students seek admissions?
Yes professional immigration consultancy firms help you find out the best course or program to address your interest area. They also provide international students with a list of universities offering them the subjects you desire. Immigration consultants assist you to make informed decisions to enjoy a better tomorrow.
How is Express Entry which is the Canada regulatory council overseeing immigration?
The ICCRC (Immigration Consultants of Canada Regulatory Council) is the national regulatory body promoting and protecting public interest for Canada citizenship and immigration consultants activities.
Conclusion
Regulated Canadian immigration consultants are highly qualified for details and organization skills to ensure that your application is complete and properly presented to the immigration officer.
You should also always choose a consultant because it's easier and quicker. Because when you do, you can relax until the date you have to move!
Our visa experts:
Assess your visa requirement
Assist you with documentation
Offer quality assistance and personalized services
Make sure your application is error free
Served 20K+ customers and over 3K+ active cases, many years of experience and a resourceful team of expert lawyers and visa consultants, we can provide you with a one-stop solution for all your visa needs.
How Can Kansas Overseas Help You Migrate to Canada?
Kansas Overseas Careers specializes in Permanent Residency Visas, Work Visas, Study Visas, Temporary visas, and Dependent Visas to Canada, UK, USA, Germany, and Hong Kong.
Apart from these services, Kansas offers its clients personalized services such as:
Profile Evaluation

: Professional guidance based on an in-depth assessment of the client profile to determine chances of visa success.

Documents & Review

: Detailed, error-free documentation based on the visa type drafted to meet specific formats.

Dedicated Case Officer

: A dedicated consultant to assist clients throughout the process.

Visa Filing

: Kansas ensures that the visa applications meet all the standard requirements of concerned immigration authorities and governing bodies.

Test Preparations

: Complimentary online courses are offered to help aspirants improve their Language Proficiency for important exams like IELTS, French, TOEFL, and PTE.

Visa & Interview

: Guidance is provided for aspirants attending visa interviews along with verified documents.

Post-Landing Service

: Kansas helps clients settle down in the new country with a comfortable stay after they have received their visas.
Additional services offered to job-seekers:
Resume Writing

: Dedicated team of resume experts to craft the best resumes that meet prerequisites of immigration authorities and potential employers. This greatly improves their chances of selection.

Profile Marketing

: Kansas is well-known for creating the best-in-class portfolios that boost applicant profiles in job-portals. And yes, this is a complimentary service!
Additional services For students looking for a study visa:
Admission Guidance

: Comparisons between the best programs, colleges, and countries to study in, including arranged mentorship from existing students.

Writing Services

: Admission Essays, Student CV, Statement of purpose (SOP), Letter of recommendations (LOR), and other important services offered by a dedicated team.

Scholarships & Financial Aid

: Offer help to find the best Scholarships programs, Education loans, Study abroad loans, and also offer help in sourcing paid-Internships.
You can expect a one-stop solution for all your visa needs with us.