For people who aspire to migrate to a world of opportunities, Canada is their first choice as there are plenty of benefits of moving to the maple country with a permanent residence.
This blog will guide you to choose among the Best Immigration Consultants for Canada, and the different ways to migrate there. Read along.
How to Choose the Best Immigration Consultant in Hyderabad?
Wondering about how to choose the best Canada immigration consultants? Here are some things to keep in mind:
Visit their office and

check the services

they offer.
Read the online reviews and get testimonials from previous clients.
Check their website to analyze the quality of their services.
Go through their service agreement carefully.
Ask about the costs and other details beforehand.
Hiring the right consultant can help you avoid costly mistakes.
Who is the Best Canada Immigration Consultant in Hyderabad?
Kansas Overseas Careers is the Best Canada Visa Consultant in Hyderabad. Don't take our word for it. We have the numbers to prove it. Served 20K+ customers and over 3K+ active cases.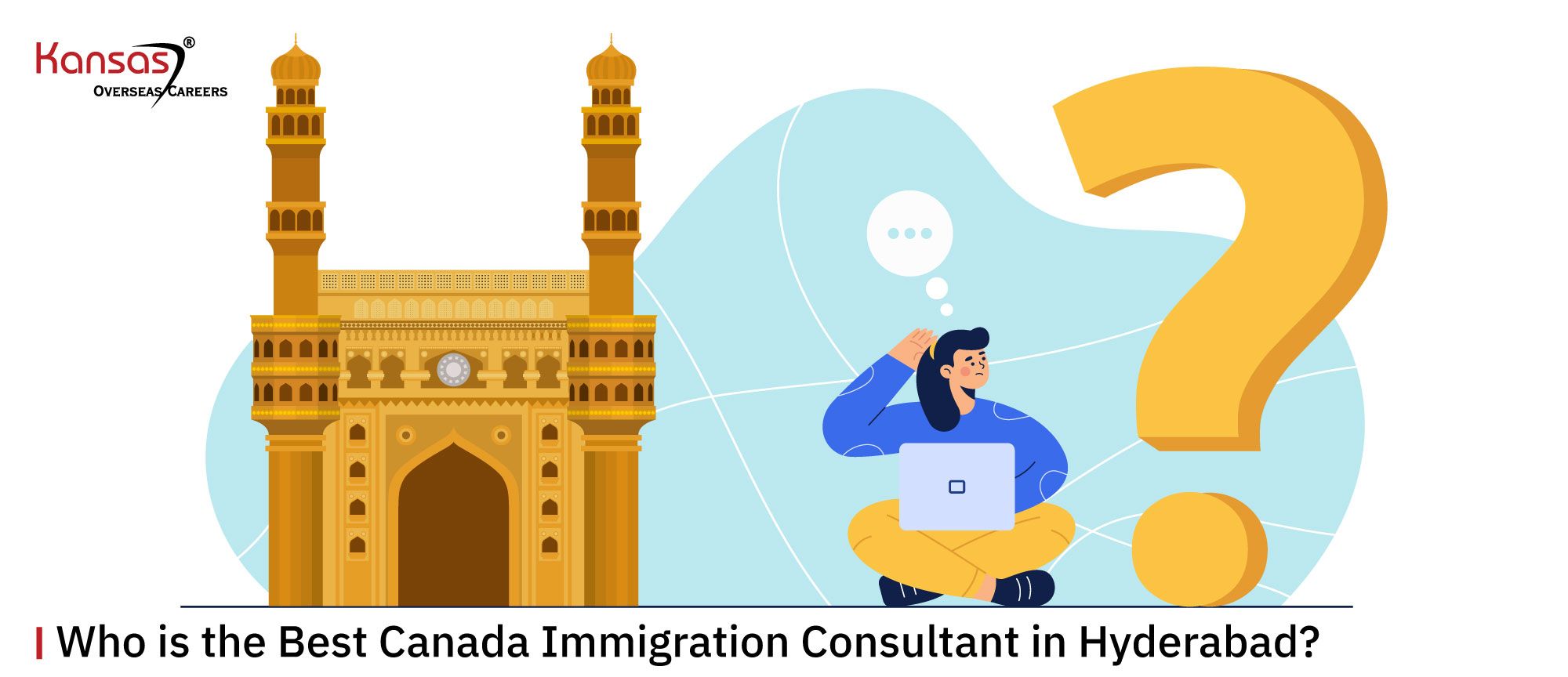 Here are a few more reasons that make Kansas Overseas Careers the Best Visa Consultants in Hyderabad:
Detailed Assessment of Profile:

With Kansas Overseas Careers, you can get a free assessment of your profile.

We aim to maximize your potential and ensure you lead a comfortable life in Canada.

Evaluation of Programs:

You may be eligible for two or more immigration programs.

You must choose the right program that will maximize your chances of visa approval.

360-degree Visa Help:

The application process of Canada immigration is highly detailed.

You must submit documents, transcripts, financial records, and even medical examination reports along with your application.

We help you prepare:

Be it a Language proficiency test, visa interviews, or a well-presented and complete visa application file, we offer complimentary courses to help you excel.

Systematic and transparent working:

We offer complete transparency throughout the visa process, always putting your demands ahead of ours.

Post landing services:

Our services don't end with visa approval but stretches beyond that.

To ensure you get settled in the new country, we offer post-landing services as well.
What is the Canada PR program?
The IRCC (Immigration, Refugees, and Citizenship Canada) has developed a system with multiple pathways for migrants called Canadian Immigration Programs.
A permanent resident (PR) is a person holding the citizenship of another country who is given a permanent resident status on immigrating to Canada and is not a Canadian citizen.
How Can You Get a Canada PR visa?
Getting a Permanent Residency status in Canada is ideal for a comfortable and bountiful life. The country offers immigrants over 60 immigration programs through which they can apply for.
It is pivotal to find the most suitable program that you are eligible for as it increases the chances of selection.
Express Entry:
The Express Entry System system aims to fulfill the labor market shortage in the country by bringing in skilled employees and students.
There are 3 different programs under this system. They are:
Federal Skilled Worker Program
Federal Skilled Trades Program
Canadian Experience Class
Provincial Nominee Program:
The most sought after Canadian immigration program PR is the Provincial Nominee Program. The government of Canada and provinces have agreed to devise and modify the migration policies that suit them best.
Each province and territory in Canada offers a unique nomination program. They offer nomination to skilled workers who can help contribute towards the economic growth of the territory or province.
Business Class Immigration:
Canada not only invites skilled employees but has a multitude of opportunities for business entrepreneurs. Any candidate with experience in owning, running, or investing in a business can move to Canada through the Business Class Immigration program.
Family Class Immigration:
A permanent resident of Canada can also bring their family members to Canada. The Family Class Immigration program helps unite families in India. As per this program, a Canadian citizen or permanent resident can sponsor their family members.
How do you Determine your Eligibility for Canada Immigration?
You need a minimum score of 67 points out of 100 to be eligible for the Canada Express Entry Visa. Both FSW and CRS (Comprehensive Ranking Score) determine your chance of getting a visa.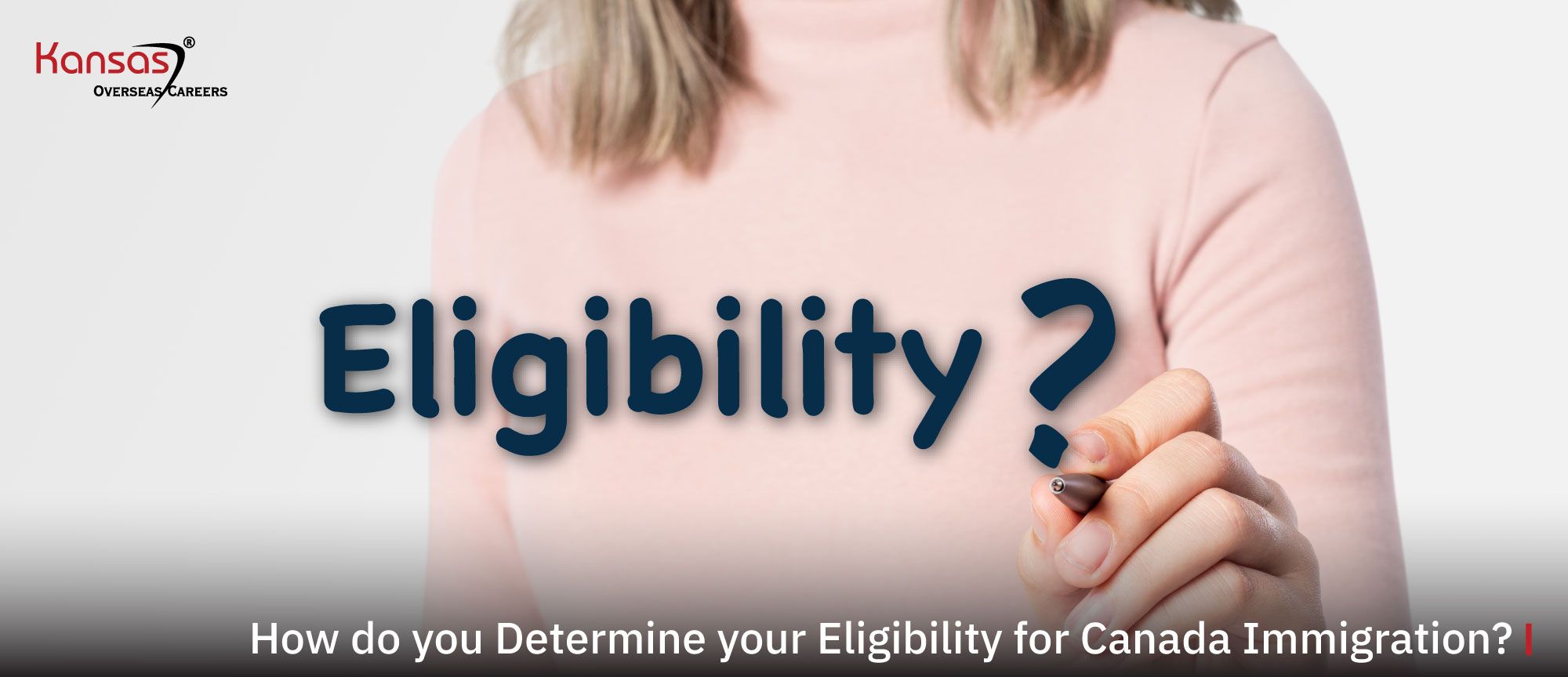 In 2023 it is advisable to have a score above 460 to get a Canada PR Visa.
The CRS fluctuates with every IRCC (Immigration, Refugees, and Citizenship Canada) draw.
To get a better understanding of your FSW points and current CRS score, check your score now!
What is the Cost for Canada PR?
Here's a cost breakdown for Canada PR:
| | |
| --- | --- |
| Applicant | Fees |
| Primary Applicant | $ 1,365 |
| Spouse | $ 1,365 |
| Dependent Child | $ 230 |
How can You Migrate to Canada?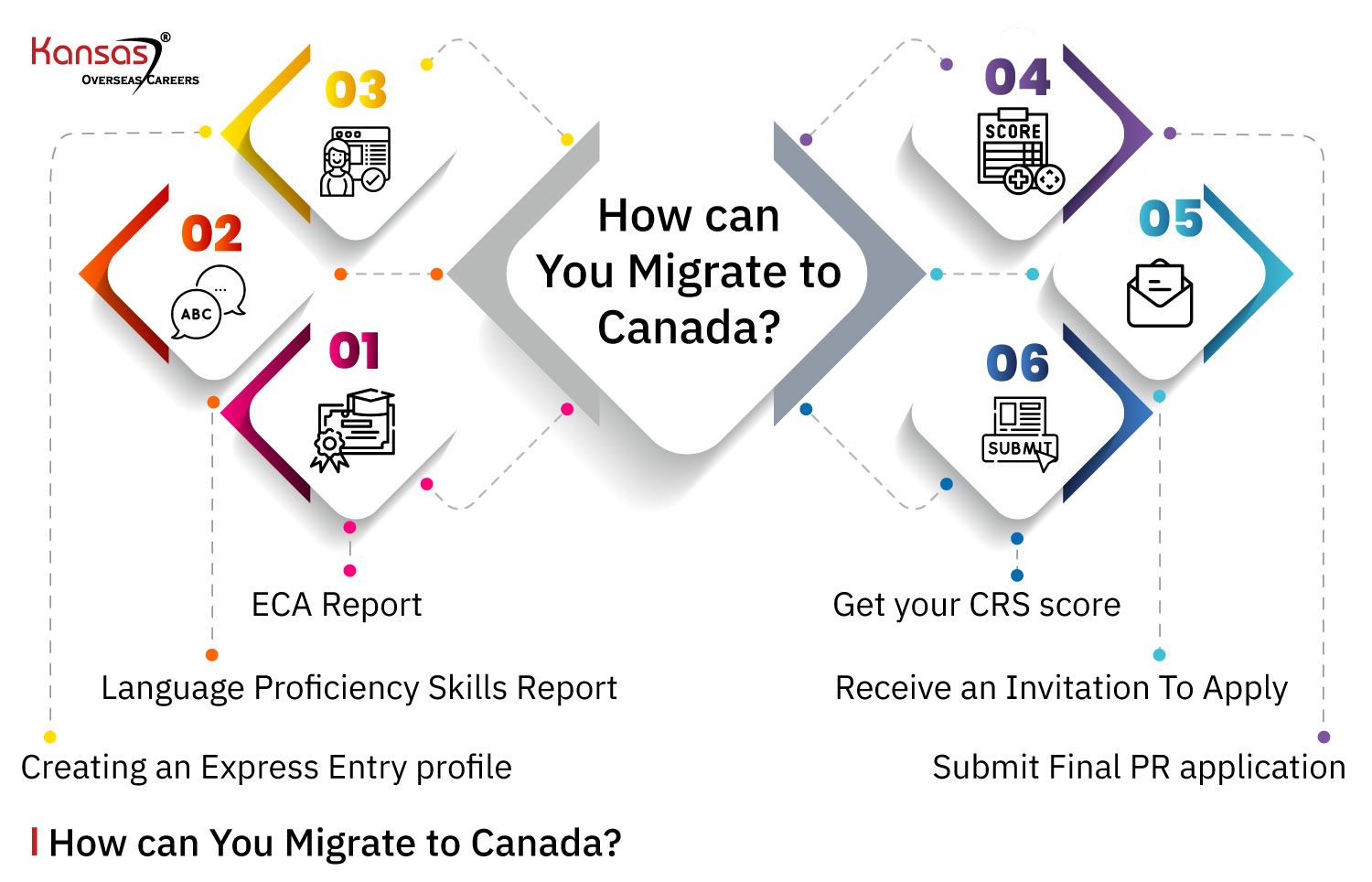 For immigrating to Canada, every candidate must have an Educational Credential Assessment report or ECA.
The report establishes that the education of the candidate is on par with the Canadian level.
Step 2: Language Proficiency Skills Report
The candidate also needs a report of their language ability in either English or French.
IELTS and CELPIP score is valid English, whereas TEF is for French.
Step 3: Creating an Express Entry profile
Once you have the documents, you can make an Express Entry profile, and your profile is added to the Express Entry pool.
Creating a profile shows the Expression of Interest (EOI) in immigrating to Canada.
Step 4: Get your CRS score
Upon creating the profile, you will get a Comprehensive Ranking Score (CRS) score based on the eligibility factors.
The authorities conduct regular draws, and candidates above the mentioned cut-off are selected.
Step 5: Receive an Invitation To Apply (ITA)
If your score is above the cut-off rank, you will receive an Invitation To Apply (ITA) from the migration authorities.
Step 6: Submit Final PR application
You have 60 days after receiving the ITA to submit a complete Canada PR application, along with all the documents.
How can Kansas help you?
Kansas Overseas Careers is the best visa consultant in India.
We are the best immigration agents because,
We are an authorized Visa Consultant.

Dedicated Case Officer

: We offer personal assistance and a single point of contact between the company and you, throughout the process

Decade-long Expertise

: We have an experienced team with a proven track of success

Guided documentation

: Right from evaluation to Visa application and documentation, followed by post-landing services.

Highlighting opportunities

: Highlighting high-potential opportunities across global industries

Helping you succeed

: Be it providing you interview training, French/English courses or working samples for resumes, cover letters or assisting with application forms, medical or police clearance certificates - we will always be there for you.
Other FAQs
Who is a Visa Consultant?
A visa consultant is an individual or firm that helps people relocate globally.
Common Services include:
Expertise
Documentation
Interview training
Legal Guidance
We offer a lot more than the average visa consultant. Take a look at the exclusive services offered by our immigration experts at Kansas!
Why Choose a Regulated Canadian Immigration Consultant?
Here are a few reasons why you should choose regulated immigration consultants for Canada:
The immigration process can get complicated at times, and many people are intimidated by the technicalities of it. If you feel the same, you can hire an authorized immigration consultant to guide you through it.
Offer simplified solutions:
While there is plenty of information available online about the immigration process, it can leave you confused. A consultant has years of experience and expertise in the field to offer you simplified visa solutions.
Set you on the right path:
Canada has almost 60 different routes for immigrants to move there. While you may have picked one that you are eligible for, it might not be the suitable one for you.
Staying on top of the immigration process:
There are many deadlines and documents that a candidate has to take care of during the immigration process. An immigration consultant can help you stay on top of the process and ensure you complete it on time.
Is IELTS mandatory for Canada PR?
Yes, it is.
The IELTS exam tests the English language skills of the candidate and ensures they can adapt to Canada. It has 4 different modules, and band scores are given to each candidate.
Why is Canada the Best Country?
With the multitude of opportunities available, Canada is a paradise for migrants from many foreign countries.
You can create a comfortable life for yourself and your family by getting a permanent resident visa to Canada.
What are the Point Requirements for Migrating to Canada?
To be eligible to apply for a Canada PR under the Express Entry system, you will need a minimum score of 67 points out of 100.
These points are calculated on various factors: your age, work experience, education, language skills, adaptability, etc.
The maximum points you can obtain for these factors are as follows:
| | |
| --- | --- |
| Factor | Maximum Points Available |
| Language skills - in English & French | 28 |
| Education | 25 |
| Work experience | 15 |
| Age | 12 |
| Arranged employment (job offer in Canada) | 10 |
| Adaptability | 10 |
| TOTAL POINTS AVAILABLE | 100 |