If you want to work and settle in one of the world's best and most livable countries, then Canada is undoubtedly the ideal place to be as it is one of the most immigrant-friendly nations of the world.
Express Entry, as the name suggests, is the fastest way to immigrate to Canada. Read on to know how you can achieve the minimum points required for Express Entry program.
Minimum Points Required for Express Entry System
Indians skilled in IT, medical and other in-demand professions in Canada can easily move to Canada. To get a PR status in Canada,
Provincial Nominee Program (PNP) and,
Quebec Skilled Workers Program (QSWP) are the popular pathways.
For a Express Entry candidate, a minimum score of 67 points out of 100 is required for Express Entry Profile. These points are calculated on various factors.
The maximum points you can obtain for these factors are as follows:
Canada Express Entry Eligibility | 67 points on 6 factors
| | |
| --- | --- |
| Factor | Maximum Points Available |
| Language skills - in English & French | 28 |
| Education | 25 |
| Work experience | 15 |
| Age | 12 |
| Arranged employment (job offer in Canada) | 10 |
| Adaptability | 10 |
| TOTAL POINTS AVAILABLE | 100 |
Scoring 67 points does not grant you the Canadian Permanent Residence visa, but makes you eligible to apply to the Canada PR visa through the Express Entry System.
You are then required to choose the right immigration program for yourself based on your profile traits.
Immigration programs under the Express Entry system.
If you are accepted into the Express Entry pool, you are not guaranteed to receive an Invitation to Apply for permanent residence. For an invitation, you need to have a high CRS Score.
Don't wait. You can begin working on ways to improve your score today!
What is the CRS Score cut off for Canadian Immigration?
You require a score of 67 out of 100 to first be eligible to obtain a PR visa via the Express Entry system. Once you are proved to be eligible, you then need to have a great CRS score too.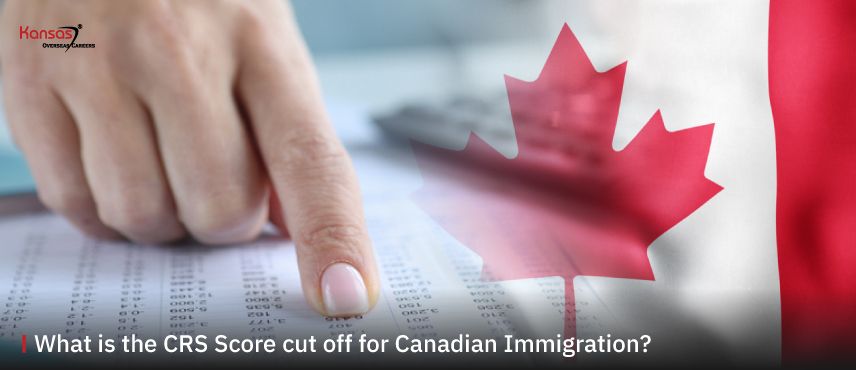 Read on to know how you can achieve this.
The

maximum points in the CRS system is 1200

.
Every Express Entry draw announces a cut-off score.
Those with a CRS score above the cut-off, receive an invite to apply(ITA) for a PR visa by the Canadian government.
Applications with a CRS score below 450 can be at risk. You may need a PNP nomination to get through.
The estimated minimum CRS score points can reduce even further if the need for skilled workers continues to increase, and if the number of applications for permanent residents decreases.
Note: In the latest Express Entry draw that took place on April 13th, 2022, Canadian Immigration Authorities have invited 787 eligible candidates for Permanent Resident visa through Express Entry.
The number of applications is expected to rise in the next draw.
What's my CRS Score?
There are at least four different ways to increase your chances in 2023.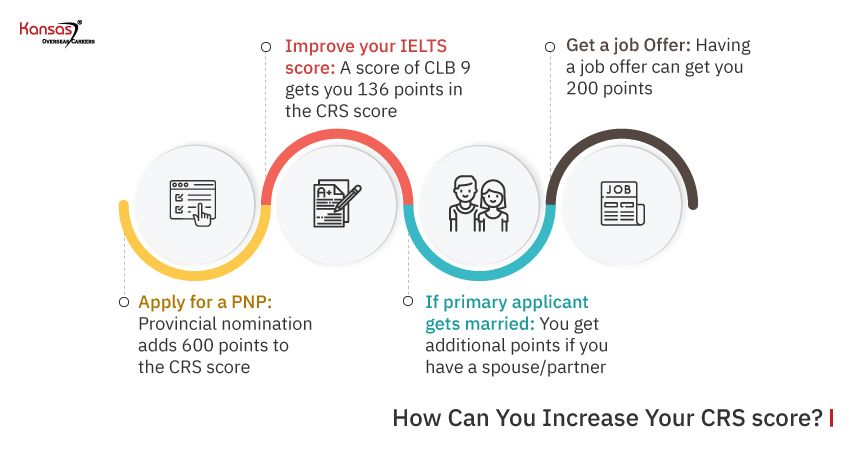 1. Apply for a PNP
A provincial nomination will help you get 600 points for canadian immigration.
To get a provincial nomination (PNP), you need to first lodge your application in the Express Entry Pool. Many provinces have an automated selection process based on your CRS Points or your NOC code.
However, you can apply for at least three different options outside the Express Entry Pool:
2. Improve your IELTS score
A score of 9 in the

Canadian Language Benchmark (CLB)

wins you 136 CRS points under this language test section.
Tests like these can fetch you an additional 100 points under the

Skill Transferability Section

.
A French-language test can fetch you an additional 24 points.
3. If primary applicant gets married (Common law partner factors)
Additional points are awarded

if you have a spouse or a common-law partner.
Make your partner the primary applicant if he/she has more chances to get a better score than you do in Express Entry profile.
If your process in the Express Entry pool has already begun, you cannot change the primary applicant.
4. Get a job Offer
An existing job offer can get up to an additional 200 points.
The

Labour Market Impact Assessment

must recognize the job offer.
Have a low CRS score? Increase your score with help from experts.
How are the CRS Points Calculated?
The major factors that determine the CRS Points for canadian permanent resident include: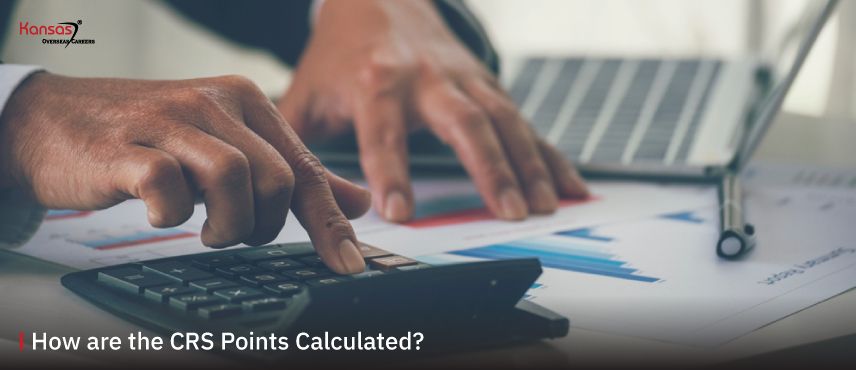 1. Core Human Capital Factors
The maximum points you can get based on your skills are:
100 points for age
140 points on your qualification
150 points in language test proficiency
70 points if you have prior Skilled work experience within the province of Canada
2. Spouse or Common-law partner
This factor adds an edge to your application if you make your accompanying spouse the primary applicant and she has work experience. Under this category, you can gain maximum points of:
10 for your level of education
20 points for language proficiency
10 points for prior work experience
3. Skill Transferability Factors
This includes several proficiency levels to be considered.
50 points for language proficiency and post-secondary education.
50 additional points for a post-secondary degree and work experience in Canada.
50 points for official language proficiency and foreign work experience.
50 points If you have a certificate of qualification along with language proficiency.
Bonus Tips!
The government of Canada provides some additional bonus to increase the points for permanent resident:
You can gain up to 600 points if a province of Canada has nominated you.
You get 200 points if you arrange a temporary job before applying
30 points for French language proficiency and an additional

30 points

is given for a bachelor's degree or a post-secondary degree
Having a sibling residing in Canada fetches you another

50 points

to become citizenship of Canada
To know the detailed point breakdown of your CRS Score, read: Canada CRS Calculator: Know if you're in demand in 2023
Other Important FAQs
What is a Good CRS score?
The CRS score is extremely important for the Canada Express Entry Program
A score of 450 to 500 is considered as a good score
An principal applicant with a CRS score between

400 and 450

can expect an Invitation to Apply (ITA)
For a CRS score below 400, you need to earn additional options
Experts think that the CRS score might further reduce in the upcoming years.
Why Express Entry is considered the Best Immigration Program?
The Express Entry Draw is one of the most famous programs that determine the fate of immigration of foreign citizens.
The system is based on points and profile rankings.
Express Entry Pool point's grid analyzes the applications received.
This score is known as the

Comprehensive Ranking System Score

or the CRS score of Express Entry Draw.
Be it the Federal Skilled Worker program, the Federal Skilled Trades Program, the Provincial Nominee Program, or the Canadian Experience Class, all applications are selected based on occupations demand, and the CRS score cut off.
Which jobs in Canada do not require Labour Market Impact Assessment?
Jobs that are generally exempt from Labour Market Impact Assessment (LMIA) are: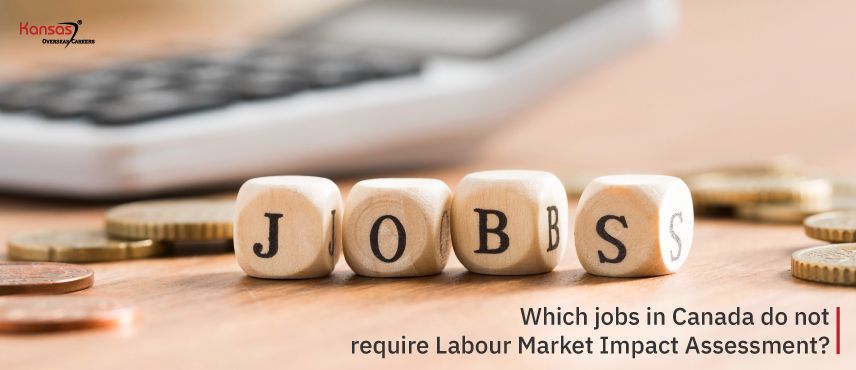 Self-employed engineers, technical workers, creative and performing artists, etc.
Intra-company transferees with specialized educational qualification and capable of benefitting Canada with their skills & experience.
Workers under

Mobilité francophone.
Conclusion:
You can learn more about the 67 points system to be eligible to apply for the Express Entry system.
The express entry draw is held by

Canadian government

regularly. They set the CRS cut off score of the express entry draw.
This determines if an applicant would be invited to apply. Even if it's a lowest ranked candidate they are still considered eligible.
The government of Canada provides some additional bonus to increase your CRS score:
You can gain up to

600 points

If a province of Canada has nominated you
You can get 200 points if you arrange a temporary job before applying
30 points for French language proficiency
Additional 30 points is awarded given for a bachelor's degree or a post-secondary degree
Having a sibling residing in Canada fetches you another 50 points
All of these points can add up to 1200 points.
We can help you improve your score!
How can Kansas Help?
Kansas Overseas Careers is the best immigration consultant in India with a high success rate. Served 20K+ customers and over 3K+ active cases.
You can expect a one-stop solution for all your visa needs from profile evaluation, documentation, application drafting to post-visa services with Kansas.
Our services include, but are not limited to:
Profile Evaluation: Based on your unique profile history, we make matches with the visa eligibility requirements, and advise you with the visas you must apply for.
Test Preparations: We offer complimentary online training to help you improve your Language Test results in IELTS, French, TOEFL, and PTE.
Visa Filing: Kansas ensures that your visa application meets all the standard requirements as per the immigration authorities of the country that you are applying for.
Procuring documents: Help you arrange documents needed before applying for a visa.
Professional guidance: Be it providing you with interview training, French/English courses or working samples for resumes, cover letters or assisting with application forms, medical or police clearance certificates - we will always be there for you.
Dedicated Case-Officer: We offer personal assistance and a single point-of-contact between the company and you, throughout the process
Visa & Interview: We inform you about all the do's and don't when attending a visa interview and also keep all your documentation ready for you.
Post-Landing Services: We help you settle down in the country after you've received your visa. These services are specifically customized as per your requirements.
Don't wait. Begin your visa application today!