Immigration has become an essential part of Canadian Culture. Migrating to Canada depends upon various factors such age, education, previous work history and others.
Points are allotted on these factors that determine your eligibility to immigrate to Canada. Read along to know more about all the requirements for Canada immigration in this read.
How can you Immigrate to Canada for permanent residency in 2023?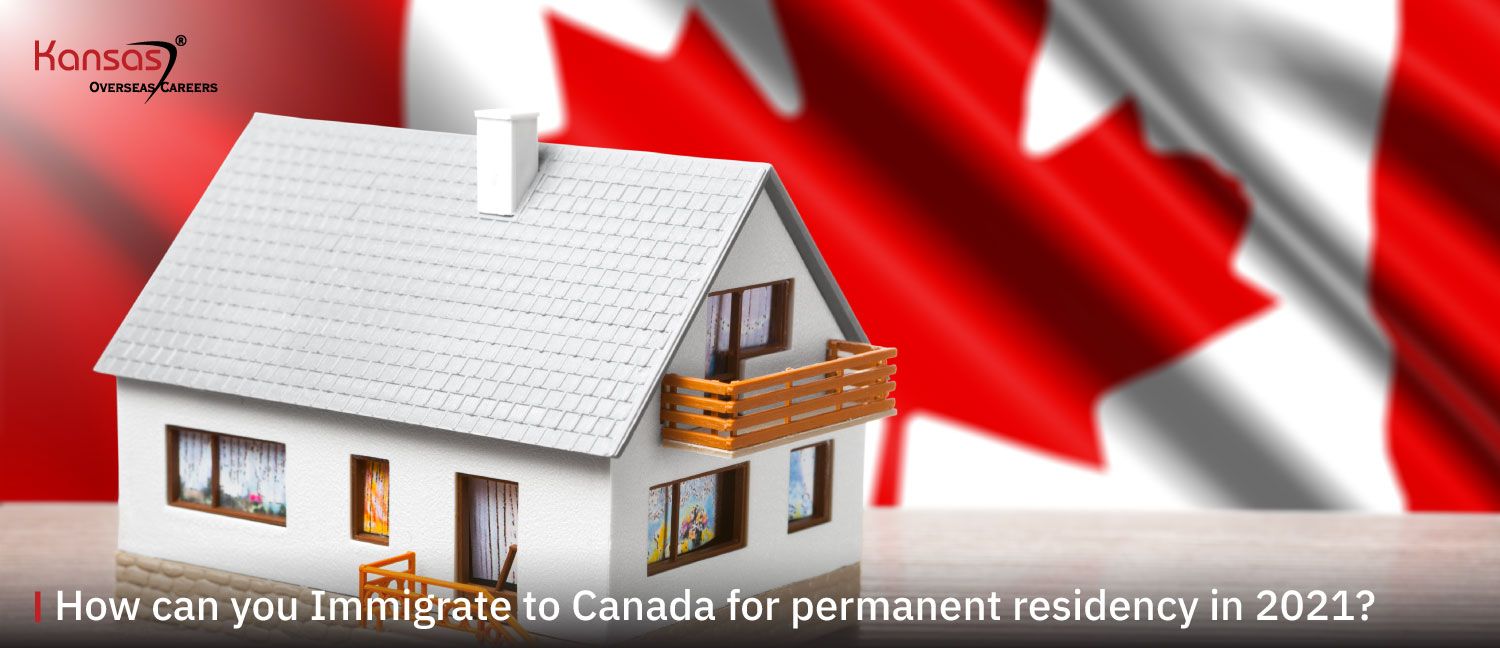 You can get a Permanent Residence of Canada by migrating through following ways:
1. Express Entry
It is the best option for skilled workers to move to Canada. A minimum score of 67 points is required to qualify for Express Entry.
Three federal economic programs under Express Entry are:
Federal Skilled Worker Program
This program is mainly for skilled workers having work experience in the professional field.
Federal Skilled Trades Program
This program is for applicants having experience in the trading and Industrial Sector.
Canadian Experience Class (CEC)
This program is for candidates having work experience in Canada. With this program, the applicant can quickly move ahead to apply for a Canada PR.
The best way to immigrate to Canada is through the Express Entry profile. To be eligible to apply for a Canada PR under the Express Entry program, you will need a minimum score of 67 points out of 100.
Not sure if you are fulfill the requirements for Canada immigration?
2. Provincial Nomination Program (PNP)
Canada has given its provinces the authority to conduct immigration draws. Provinces can nominate immigration candidates that fulfill their labour market needs. Then the Canadian government goes ahead with the procedure of the permanent residence.
Basic Requirements for the PNP Program:
To apply for the PNP program, the candidate should meet the minimum requirements under the provinces Non- Express Entry or the candidate should be selected under the stream
If the candidate doesn't receive any important information, then he/she must directly contact the province.
3. Family Class Immigration
If an applicant has any family member residing in Canada, they can help you get permanent residence in Canada. Around 40 % of immigrants are sponsored by their respective family members in Canada
Some basic requirements for Family class immigration:
The sponsor who wishes to immigrate his family to Canada should be 18 years or more. Or
A Canadian Citizen or
A person who is registered in Canada as an Indian under the Canadian Indian Act or
He/ she should be a permanent resident of Canada.
4. Business Class Immigration
Business Class immigration is mainly for entrepreneurs, Investors and Self Employed people
The basic requirements to get Business Class Immigration:
Letter of Support from the sponsor or a selected entity by the Government
Fulfill the language requirements
Enough sufficient funds (free of debts and other issues)
5. Quebec - Selected Immigration
Quebec has its own immigration program. It selects applicants who suit best according to their Labor market requirements.
Basic requirements for Quebec- Selected Immigration:
Education Qualification
Work Experience
Age
Fluency in French and English
Permanent Employment Offer legalized by the Ministry of Canada
Characteristics of your accompanying spouse
Financially Self-Sufficient
6. Startup-Visa
Start-up visa mainly attracts entrepreneurs who are planning to start or set up their business in Canada. It has a different selection criterion from other pathways.
Applicants need to be approved or sponsored by an investor or firm allotted by the Canadian government before coming to Canada.
Basic Requirements for Start-up Visa:
Application stating your business requirements
Letter of Support
Language Fluency
Settlement money to prove that the applicant has enough money to support himself and his family.
7. Global Talent Stream
This is one of the most famous temporary visa options. With this visa option, Canadian employers can hire an international worker within 4 weeks.
Since 2017, 40,000 technical works have been employed through Global Talent Stream, a part of Canada's Global Skills Strategy.
Basic requirements for Global Talent Visa
The applicant is eligible for Category A of Global Talent Stream if referred by a designated partner of Global Talent Stream. Or
The applicant is eligible for Category B of the Global Talent Stream if they seek to hire skilled workers to fill vacancies available in the Global Talent occupation List. If the applicant is applying as an employer, then he must follow the requirements under Global Talent Stream.
This year is the best time to immigrate to Canada! Want to know why?
Canada aims to welcome over 4 Million immigrants in 2023. It has already issued a record-breaking number of invitations over the last few months, and will continue doing so until they have reached their annual immigration targets.
Don't wait anymore. Our visa experts can help you.
What are the Key Requirements of Canada Immigration in 2023?
To be eligible for a Canadian permanent resident or Canadian immigration status , you are initially required to meet the below requirements:
Your age must be under 40 years
You must be a Graduate
You must have at least

1 year of work experience

You must be proficient in the English Language
You must be free of any criminal history
You must be in good health
You must be financially stable
Basic Requirements to Immigrate to Canada in 2023
The maximum points you can obtain for these factors are as follows:
Age

Maximum 12 points

Up to 12 points will be allotted to candidates between the ages of 18 and 35 years.

Education

Maximum 25 points

Maximum points are awarded to applicants with doctoral degrees.




Foreign education will be checked against the Canadian equivalent and points will be awarded based on that equivalence.

Language Proficiency

Minimum of 16 points, Maximum 24 points

High level of language proficiency is required for one of Canada's official languages: English and French.

The new point system limits points for a second official language to a maximum of 4.

Work Experience




Minimum of 9 points, Maximum of 15 points




You must have a minimum of 1-year work experience to qualify. The maximum consideration for work experience is 6-years.

Adaptability

Maximum of 10 points

Applicants who have at least 1 year of full time Canadian work experience in a managerial, professional, technical or skilled trade occupation will be awarded maximum points.




Other factors include:

A close adult relative living in Canada;

Applicant or spouse has studied in Canada;

Spouse has previous Canadian work experience;

Spouse has knowledge of one of Canada's official languages.

Arranged employment

Additional 10 points (not mandatory)

Points are allotted to individuals with a validated job offer of employment in Canada.




Candidates with a validated employment job offer will gain 10 points under this factor, and an additional 5 points in the Adaptability selection factor for a total of 15 points.
Note: On October 27, 2020, IRCC announced that French-speaking and bilingual candidates will receive additional points under Express Entry.
Not sure if you are fulfil the requirements for Canada immigration?
There are many requirements to apply for Canada PR.
Application Process of the Federal Skilled Worker Visa
The process to obtain a Federal Skilled Worker Visa is well-structured and simple:
Step 1: Check your eligibility and reach a

score of 67 points

Step 2: Send your sealed transcripts to World Education Services for ECA
Step 3: Create an online application (Expression of Interest)
Step 4: Strive to reach the highest CRS score.
Step 5: Let your application rest in the pool of application until you receive your ITA.
Step 6: File the final Canada PR visa application and the

PR visa fee and other related fee

.
Step 7: Receive your visa and go for passport stamping at the nearest Canadian embassy.
Get started with your Canada PR visa application today!
What is the Processing Time for Canada Immigration Program?
Education Credentials Assessment: 15-30 days
Express Entry Pool: Till score is reached
Passport Stamping: 7 days
Invitation to apply: 60 days
Other Important FAQs
What is the Easiest Way to Immigrate to Canada?
In 2023, the Federal Skilled Worker Program (immigrant visa) and the Provincial Nominee Programs are considered the easiest ways to migrate to Canada (for skilled workers) and gain permanent residency.
How many Express Entry points are required to migrate to Canada in the pool?
You can qualify for the Federal Skilled Worker program through the Express Entry pool with 67 points or more to gain an invitation for Canadian permanent residency.
What is the Maximum Age to Immigrate to Canada?
There is no age bar to immigrate to Canada. However, candidates who are above 46 years neither get Express Entry points nor may be accepted by Canadian employers.
What is the temporary Canadian Experience Class?
The Canadian Experience Class (CEC) is one of the 3 immigration programs to gain permanent residence. The CEC is designed for Canadian permanent residence applicants having work experience in the country through a temporary work permit.
Can temporary residents apply for permanent residence status in Canada?
Yes. Temporary residents in Canada can apply for permanent residence as members of the permit holder class. However, with a rider that they have not become inadmissible on any grounds. They should also now be holding a valid Temporary Resident Permit (TRP) and adhere to the guidelines.
Can I try for Canadian citizenship through a student visa without a work permit?
No. You must first apply for a work permit after graduation. Subsequently, creating an Express Entry profile is the first step towards gaining a Canadian permanent resident status as a skilled worker.
Conclusion
If you want to migrate to Canada, you must:
Be aged under 40
Graduation Degree
1 year of foreign worker experience
Proficiency in English (Average to Excellent)
Good health
Financial Stability
Clean background (Criminal History)
These are points associated with immigrating to Canada
Age: Maximum 12 points
Education: Maximum 25 points
Language Proficiency: Maximum 28 points
Work Experience: Maximum 15 points
Adaptability: Maximum 10 points
Arranged Employment: Maximum 10 points
We have experts to fast track your visa process. Feel free to get in touch with us
How can Kansas Help you?
Kansas Overseas Careers is the best Canada visa consultant in India.
Kansas Overseas Careers specializes in Permanent Residency Visas, Work Visas, Study Visas, Temporary visas, and Dependent Visas to Canada, UK, USA, Germany, and Hong Kong.
Apart from these services, Kansas offers its clients personalized services such as:
Profile Evaluation

: Professional guidance based on an in-depth assessment of the client profile to determine chances of visa success.

Documents & Review

: Detailed, error-free documentation based on the visa type drafted to meet specific formats.

Dedicated Case Officer

: A dedicated consultant to assist clients throughout the process.

Visa Filing

: Kansas ensures that the visa applications meet all the standard requirements of concerned immigration authorities and governing bodies.

Test Preparations

: Complimentary online courses are offered to help aspirants improve their Language Proficiency for important exams like IELTS, French, TOEFL, and PTE.

Visa & Interview

: Guidance is provided for aspirants attending visa interviews along with verified documents.

Post-Landing Service

: Kansas helps clients settle down in the new country with a comfortable stay after they have received their visas.
Additional services offered to job-seekers:
Resume Writing

: Dedicated team of resume experts to craft the best resumes that meet prerequisites of immigration authorities and potential employers. This greatly improves their chances of selection.

Profile Marketing

: Kansas is well-known for creating the best-in-class portfolios that boost applicant profiles in job-portals. And yes, this is a complimentary service!
Additional services For students looking for a study visa:
Admission Guidance

: Comparisons between the best programs, colleges, and countries to study in, including arranged mentorship from existing students.

Writing Services:

Admission Essays, Student CV, Statement of purpose (SOP), Letter of recommendations (LOR), and other important services offered by a dedicated team.

Scholarships & Financial Aid

: Offer help to find the best Scholarships programs, Education loans, Study abroad loans, and also offer help in sourcing paid-Internships.
You can expect a one-stop solution for all your visa needs from profile evaluation, documentation, application drafting to post-visa services with Kansas.