Choosing between Canada and Australia can be a tough choice! This read will give you a better insight into the immigration possibilities, the cost of living, job opportunities, and various other key deciding factors to help you make your decision.
Which is the better country to settle permanently?
| | | |
| --- | --- | --- |
| Factors | Australia | Canada |
| Visa grants plan | 28,900 for 2021 | Over 400,000 |
| Profiles in-demand | IT profiles, Engineers, Managers, Navy, etc. | Skilled workers from all many sectors are in-demand |
| Expenditure | The Australian lifestyle is pretty expensive. | The cost of living is reasonable |
| PR Procedure | The application process is somewhat more tricky than Canadian PR. | It is easier and faster. |
| Healthcare facilities | Decent health maintenance system. | Better healthcare facilities than Australia. |
How is the Point System of Canada and Australia PR measured?
The point system of Canada and Australian PR is measured in:
| | | |
| --- | --- | --- |
| Factor | Canada | Australia |
| Age | 12 | 30 |
| Education | 25 | 25 |
| Regional Working Experience | 10 | 20 |
| Foreign Working Experience | 15 | 15 |
| Language | 28 | 20 |
| Other Factors | 10 | 20 |
| Total Passing Score | 67 | 65 |
Immigration Policies for Australia and Canada:
| | | | |
| --- | --- | --- | --- |
| Aspects | Canada Immigration | Australian Immigration | Additional Details |
| Family Status | Available | Available | Dependents can go with the main candidate |
| Citizen Benefits | Yes | Yes | Free education, social security services, free healthcare facilities, etc. |
| Entire Process Period | 80% of candidates in six months | 75% aspirants in eight months | Might vary in some cases |
| Total Demand List | 300 occupations | 200 occupations | |
| Visa Expenses | CAD 1325 (around 70,000 INR) | $4,100 AUD (around INR 2,20,00) | |
| Visa Validity | Five years | Five years | |
| Job Opportunities | High | High | |
People choose Australia to emigrate because

Access to New Zealand
Public Education
Better Economy
Organized Immigration Procedure
The passing score in Australian PR is lower than in Canada.
Higher Salary for the federal skilled worker
Canada is popular among immigrants because:

Flexible Immigration Policies
Low-cost Accommodation
Ideal Family Settings
Easy PR System
Average Costs Associated with Canada & Australia PR
The average cost of living in Australia and Canada are as follows:
| | | |
| --- | --- | --- |
| Commodity | Canada (CAD/INR) (approximately) | Australia (AUD/INR) (Approximately) |
| Grocery | 76 (INR 4,200) | 71 (INR 3,800) |
| Phone and Internet | 127 (INR 7,090) | 120 (INR 6,415) |
| Fuel Cost | 1.25 (INR 70) | 1.48 (INR 79.12) |
| Public Transport (monthly) | 95 (INR 5,300) | 150 (INR 8020) |
| Fundamental Utilities | 149 (INR 8,300) | 207 (INR 11070) |
| House Rent – 1 to 3 BHK | 1300 – 2000 (INR 72,500 – INR 1,11,160) | 1700 – 2700 (INR 90,900 – INR 1,44,350) |
| Pre-school | 952 (INR 53,110) | 1800 (INR 96,200) |
| Fitness Club | 49 (INR 2,730) | 65 (INR 3,474) |
Cost of a Canada PR application:
The fees required for Canada PR application are:
Applicant/Application

Fees (Approximately)

Primary Applicant and Spouse

CAD 825/ INR 45,980 (without permanent resident rights)

CAD 1,325/ INR 73,846 (with permanent residence rights)

Child (under 22)

CAD 225/ INR 12,540

PCC Fees

CAD 20/person (INR 1,114)

IELTS Examination Fees

CAD 259/person (INR 14,434)

Medical Test

CAD 60/person (INR 3,344)

ECA Fees

CAD 305/person (INR 16,998)
Cost of an Australian PR:
The price of Australian PR is as follows:
Primary Applicant: $4,045 Australian Dollar (INR 2,16,480)
Children (Dependant - aged less than 18 years): $1,010 Australian Dollar (INR 54,050)
Spouse or Parents (Dependant – aged above 18 years): $2,025 Australian Dollar (INR 1,08,400)
Canada vs Australia: A general comparison
| | | |
| --- | --- | --- |
| Aspects | Canada | Australia |
| Cars | Cars are relatively cheaper in this country. | Can be expensive, especially in Melbourne or Sydney. |
| Interest Rate | Banking interest rates are lower in Canada. | The Australian banking interest rate is comparatively higher. |
| Labour | Canada has a diversified labor market. | The diversification is not decent enough in Australia. |
| Weather | The weather in Canada can be quite cold. | The weather in the Australian province stays pretty warm and favorable. |
| Privileges and Rights | The rights and privileges for immigrants are well-constructed in Canada. | Not encouraging for the migrants. |
| Liveable Aspects | It is ideal for families. | This country is Perfect for active workers. |
| Better Community | Slightly more tolerant of new immigrants. | Less open-minded in the case of the migrants. |
| Geographical Assets | Filled with beautiful mountains. | Has a lot of lakes, seas, etc. |
Eligibility Criteria Comparison for Canada & Australia PR
Eligibility criteria for Canadian PR
The primary applicant must be 18 years old.
You must score at least 67 points.
Your occupation is enrolled under Canada Demand List.
You need to have a 12-month work experience.
You must have an educational degree, which is applicable in Canada.
You will have to pass the IELTS Canadian language benchmark.
The candidate should provide fund-related paperwork.
You must have a decent CRS score.
You need to provide a referral letter from your employer.
You have not made a refugee application.
You have a relative or family member living in Canada (not mandatory).
Key qualifications for Australian PR
The key eligibility for Australian PR has been listed below
Age: The age of the immigrants must be within 45 years.
Language Proficiency: You should clear the IELTS language exam with passing marks.
Job Experience: You must have a decent experience in ROL, MLTSSL, or STSOL.
Point Test: You should score 65 points in the selection exam.
Educational Qualification: You would require a globally-acknowledged educational degree.
Medical Status: You must be mentally and physically fit.
Visa Category: You should select an appropriate visa category as per your PR program.
Canada Vs Australia: Documents Required for Canada & Australia PR
What are the crucial documents that the applicants should provide while applying for Canadian PR?
The documents that the applicants should provide while applying for Canadian PR are:
Educational credential papers
Proofs of adequate income source
Result of language assessment examination
Sponsorship or referral letter
Skill assessment examination report
Recommendation letter (if applicable) and other similar documentation
Personal identification document
Police clearance certificate
Valid passport
Documents required for permanent residency in Australia?
The paperwork required for permanent residency in Australia are:
Educational certificates
Travel documentation (passports, skilled migration processing papers)
Police and medical verification certification
Evidence of settlement fund (bank account, bonds, shares, cash, etc.)
Certificates of work experience (if available)
English proficiency test results
How does the Application process differ for Canada & Australia PR?
How to apply for Canada PR?
To apply for Canada PR, you must undergo the following procedures:
You should complete your ECA (Education Credentials Assessment).
You must attain the passing score in IELTS.
You should Express Entry profile.
You may register with a Job Bank (non-compulsory).
You must provide a medical and police clearance certificate.
You may submit an application for the Provincial Nomination Program.
Acquire your ITA (Invitation to Apply).
Get your PR status confirmation.
Provide your passport and other documents for the visa stamping process.
What is the entire process of applying for an Australian Visa?
The entire process of application procedure of Australian visa includes:
You must verify your eligibility criteria.
Applying for migration skill assessment is necessary.
Make sure to provide your EOI.
Apply for the visa online after the acceptance of EOI.
Provide all of your documents alongside it.
How to complete the application process of Australian PR?
To complete the application process of Australian PR, you will have to:
Check your eligibility.
Score of at least 65 points to qualify.
Apply for a working skill assessment procedure.
Provide your documents and submit your application online.
How Can Kansas Overseas be Helpful?
If you have any confusion about citizenship and immigration, then make sure to get in touch with the Kansas team. We can help to push your dilemmas away.
Fast-Track Your Visa Process: With us, there is no room for error. Our years of expertise as India's best immigration consultants, we assure you a visa process that's three times faster and fool-proof than the industry standards.
Dedicated Case Officer: We assign you a personal assistant (a single point of contact) between the company and you, throughout the process
Legal Expertise: We have an experienced team with a proven track of success with the best minds working for you behind the scenes.
Guided Documentation Process: Right from the moment you walk-in to our office and until the moment you get your Visa, we will always have your back. We also provide post-visa assistance on-demand that allows you to comfortably move and settle overseas too!
Highlighting Job Opportunities: Highlighting high-potential opportunities globally while connecting you to a pool of employment opportunities
Increasing Your Chances of Selection: Be it providing you with working samples for resumes, cover letters, or assisting with application forms, medical or Police clearance certificates, we will always be there for you.
Click here for a free consultation with experts at Kansas Overseas.
Other FAQS:
Types of Canada & Australia Visas
The most popular types of Canada visas
The most popular types of Canada visas are:
Student Visa
Express Entry Program Visa
Work Visa
Visitor Visa
Business Immigrant Visa
Permanent Residence Visa
Different types of visa categories available in Australian permanent residence
The different types of visa categories available in Australian permanent residence are:
Major Benefits of Having a Canada or Australia PR Card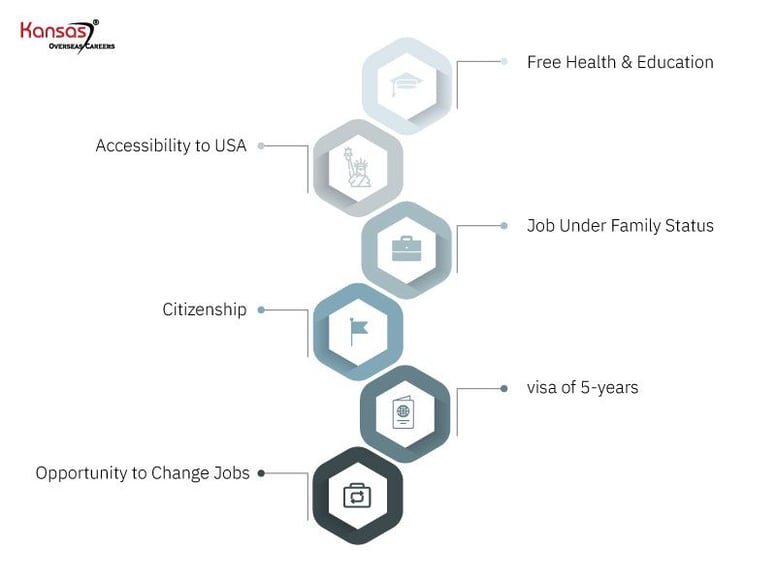 What are the benefits of having a Canadian pr card?
The benefits of having a Canadian pr card are:
Free-of-cost education for children. (if any)
Accessibility to the United States of America.
Both applicants can get a job under 'family status'.
A visa of 5-year with several entries.
Opportunity to change jobs at will.
Eligibility to become an official Canadian citizen.
Protection under Canadian Rights and Freedoms.
Free social and health provision for the family. (if any)
What are the benefits of having an Australian PR card?
The benefits of having an Australian PR card are:
Full working rights in Australia and New Zealand
Right apply for the citizenship of Australia
Access to different student loans and personal loans
Benefits of social security
Medicare health coverage
Eligibility for FHOG (First Home Owner Grant)
Freedom to attain higher education
The privilege of sponsoring relatives
Popular Occupations Enlisted in Canada's Demand List
The popular occupations enlisted in Canada's Demand List are:
| | |
| --- | --- |
| Job Title | NOC Code |
| Purchasing Managers | 0113 |
| Credit or Banking Manager | 0122 |
| Human Resources Manager | 0112 |
| Administrative Officer | 1221 |
| Utility Manager | 0912 |
| Engineering Manager | 0211 |
| Manufacturing Manager | 0911 |
| Administrative Assistants | 1241 |
| Mechanical Engineer | 2132 |
| Civil Engineer | 2131 |
| Purchasing Officers and Agents | 1225 |
| Web developer and designer | 2175 |
| User Support Technician | 2282 |
| Commissioned Police Officer | 0431 |
| Corporate Sales Manager | 0601 |
| Construction Manager | 0711 |
For an Indian IT professional, which country is better to live in, Canada or Australia?
For an Indian IT professional, Canada would be a better country to live in. The reason behind this is:
Canada offers better job opportunities for skilled workers
Provides government benefits for low-earning individuals or families
The immigration process for skilled migrants is easy
Lower cost of domestic flights
Decent pay scale for foreign workers
The Canadian business sector is growing rapidly
The employers do not give much importance to regional working experience
The accommodation cost is less expensive
Better working holiday setup
What are the different options available for immigrating to Canada?
Different options available for immigrating to Canada are:
Quebec immigration.
Provincial Economic Class.
Family Class Sponsorship.
Federal Economic Class.
Business Immigration.
Transitional Immigration.
Conclusion
You can apply for both Canada and Australia PR simultaneously. Canada is a better option than Australia when it comes to costs. The banking interest rates are lower in Canada. But then, even if the interest rates are higher in Australia, the points required are less. The IELTS passing score however is essential for both Canada and Australia PR.