A lot of immigrants from the U.S, U.K and other developed nations are gradually moving to Canada because of its immigrant-friendly laws and policies.
If you want to move to Canada from Oman, read along to find out the 3 easy ways you can do so, and how you can bag a Permanent Resident Status in Canada.
Why is Canada a great choice to Immigrate from Oman?
Canada has hit a record number of annual immigrant intake targets (of over 4 million immigrants) making it one of the fastest growing, highly diverse and most popular destinations for immigrants in the world.
Here are few aspects of Canada that make for people migrating from Oman to this country, it a popular choice:
Multiculturalism

is one of the core morals of Canada
Canadian laws don't discriminate based on religion, gender and nationality
Canada supports and promotes anti-racism, multiculturalism and community-support initiatives
Canada has an unbiased points-based immigration plan that give equal opportunities
Three times higher per capita newcomer immigrant intake than in the United States
Low crime rate, free healthcare and great job opportunities
Free education for children of Permanent Residents and Canadian Citizens
High scope for immigrants to get Canadian Citizenship if you have lived in Canada as a PR holder for 3 years
Canadian city, Vancouver has been ranked as one of the 'Most Livable Cities in the World'
Also read: The Top 10 Benefits of a Canada PR Visa
Immigrants from Oman living in Canada feel safe, welcomed and respected due to Canada's immigrant-friendly environment and great quality of life.
To do so, you first need to choose which immigration pathway of Canada you must apply for.
Want to migrate to Canada from Oman?
3 Easy Ways to Migrate to Canada from Oman (Apply for Canada PR)
If you want to immigrate to Canada from Oman and acquire a Permanent Resident Status in the country, there are 3 simple pathways you can choose from.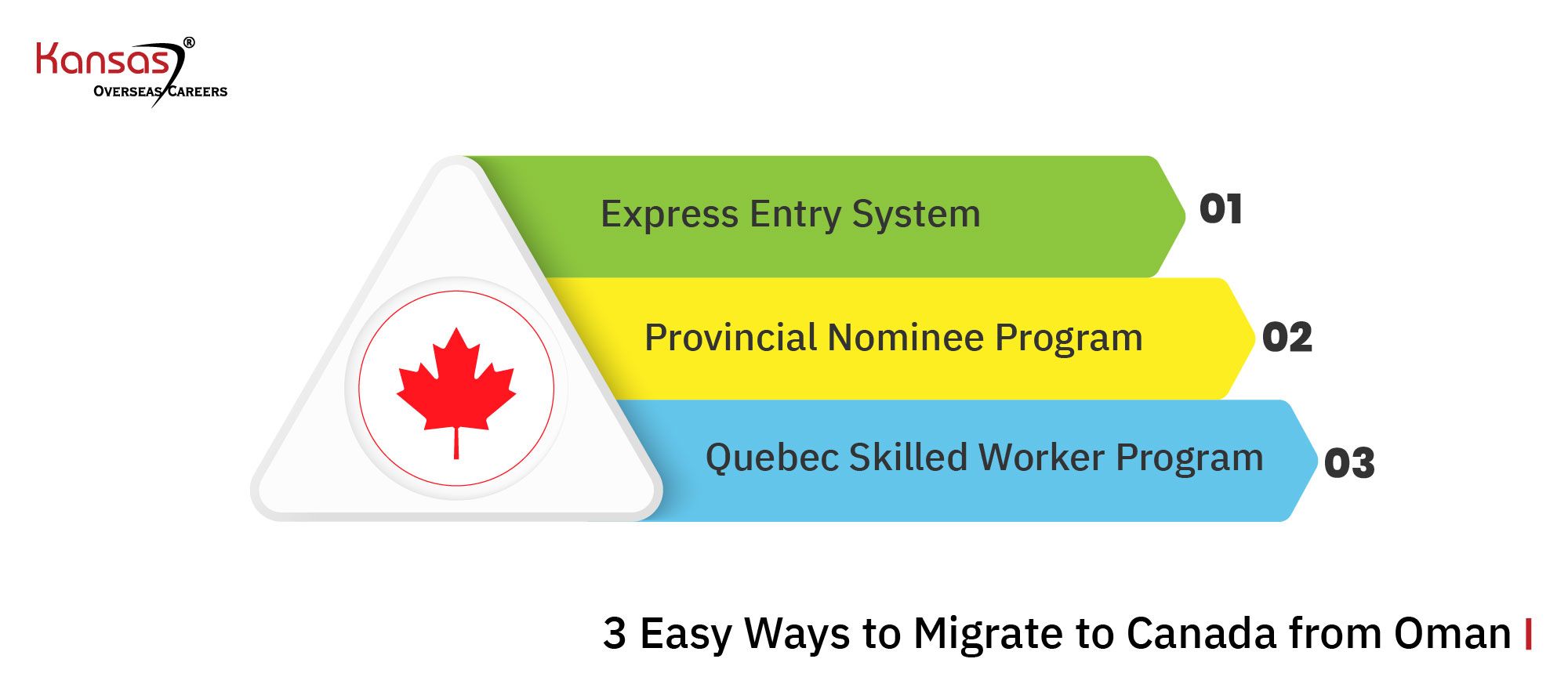 1. Express Entry System
It is an electronic platform introduced by the Canadian government. Express Entry program follows a point's based system.
Hence, for a skilled professional looking onto this has to score at least 67 points for eligibility. it is the fastest route with lesser processing time to avail the residence permit.
However, you should qualify under three economic programs under Express Entry:
Federal Skilled Worker Program (FSWP)
Federal Skilled Trades Program (FSTP)
Canadian Experience Class (CEC)
After qualifying, you need to obtain an Invitation to Apply (ITA) for Canada Visa. Through the Express Entry pool draws. An ITA or the Invitation to Apply helps you to submit your application for Canada PR.
2. Provincial Nominee Program
Provinces and Territories of Canada have their PNP programs to welcome skilled immigrants. And settle in the province as a permanent resident.
A few of the popular Provincial Nominee Programs of Canada are:
Ontario Immigrant Nominee Program (OINP)
Alberta Immigrant Nominee Program (AINP)
Manitoba Provincial Nominee Program (MPNP)
Nova Scotia Nominee Program (NPNP)
Saskatchewan Immigrant Nominee Program (SINP)
3. Quebec Skilled Worker Program
By migrating through the Quebec Skilled Worker Program, you can live, work and settle in this province.
However, you are even allowed to apply for a Canadian citizenship or permanent residence by applying to the canadian Immigration, Refugees, and Citizenship Canada (IRCC).
Canada is targeting skilled professionals from around the world.
Eligibility Requirements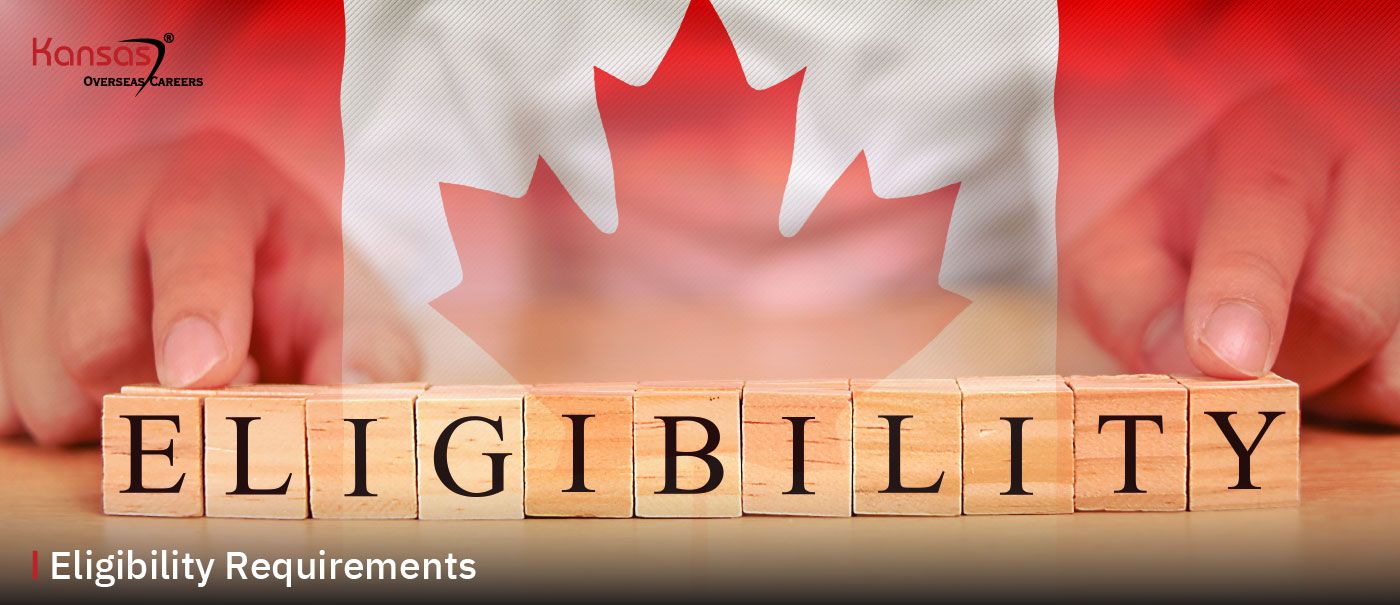 These are the important eligibility requirements for canada pr:
You must score at least

67 points

out of 100 to be eligible for Express Entry
Your Occupation must be listed in the NOC Demand List of Canada.
Canada's point-based immigration system evaluates your Comprehensive Ranking System (CRS) to assess how useful you are as a contributor to the Canadian economy.
The Express Entry system is a popular pathway for citizens of Oman to move to Canada and gain a Permanent Residence status under the Federal Skilled Worker Program.
To be eligible to apply for a visa under Express Entry, you need a score of 67 points or higher (out of 100).
You will be evaluated based on:
English or French skills (maximum 28 points)
Education (maximum 25 points)
Experience (maximum 15 points)
Age (maximum 12 points)
Arranged Employment in Canada (maximum 10 points)
Adaptability (maximum 10 points)
To know if you meet the basic eligibility requirements you can take the eligibility test below.
You must then get a WES evaluation done and get an ECA report from them. A visa consultant can help you with this.
You must also have a good score in IELTS or TOEFL to prove your English language skills, or take a french test.
Changes as of October 20, 2020:
If you get both the English and French tests done, you can score up to 50 additional points for Language ability which is a great way to improve your score.
Following this you can create your Express Entry profile on the IRCC website. Here on, you will be evaluated on your CRS score.
Documents Needed for Immigration from Oman to Canada
Documentation is one of the crucial requirements in the immigration process. The documents you provide help you to prove as a skilled professional.
They are as follows:
Education Credential Assessment (ECA) Report
Language test results
Identity proofs
Proof of funds
Educational transcripts
Work experience proofs
Character and Health Certificate
Nomination certificate from any of the provinces (if applicable)
Offer letter from any of the Canadian employers (if applicable)
Any false statements or insufficient documentation can make your entire visa application face hurdles.
How To apply for a

Canada PR from Oman in 2023?
Steps to apply for a Canada PR:
Step 1: Complete your ECA.
Step 2: Score CLB 7 or above in IELTS.
Step 3: Create an Express Entry profile
Step 4: You may register with a Job Bank (non-compulsory)
Step 5: Apply for a nomination with a PNP program (optional)
Step 6: Receive an your ITA (Invitation to Apply)
Step 7: Submit your clearance documents (medical and police)
Step 8: Get your PR status confirmation
Step 9: Prepare your move to Canada from Oman!
To comfortably settle in Canada after you receive your visa, can opt for our post-landing assistance service at Kansas. We will assist you to find the best accommodation and other settlement options for up to 6 months post your arrival in Canada.
Need help with your Canada PR visa process? Our visa experts can guide you.
Cost of a Canada Permanent Residency Visa
The cost for Canada PR visa fees are as follows:
Fees

CAD

INR

Application Fee

Processing Fee ($550) + Right of Permanent Resident Fee ($490)

1,365

82,855

Application Fee (Without right of PR)

850

51,596

Spouse or Common-Law Partner fees

1,365

82,855

Spouse or Common-Law Partner (without right of permanent residence)

850

51,596

Dependent Child

230

13,961
How Can Kansas Help?
Kansas Overseas Careers specializes in Permanent Residency Visas, Work Visas, Study Visas, Temporary visas, and Dependent Visas to Canada, UK, USA, Germany, and Hong Kong.
Apart from these services, Kansas offers its clients personalized services such as:
Profile Evaluation: Professional guidance based on an in-depth assessment of the client profile to determine the chances of visa success.
Documents & Review: Detailed, error-free documentation based on the visa type drafted to meet specific formats.
Dedicated Case Officer: A dedicated consultant to assist clients throughout the process.
Visa Filing: Kansas ensures that the visa applications meet all the standard requirements of concerned immigration authorities and governing bodies.
Test Preparations: Complimentary online courses are offered to help aspirants improve their Language Proficiency for important exams like IELTS, French, TOEFL, and PTE.
Visa & Interview: Guidance is provided for aspirants attending visa interviews along with verified documents.
Post-Landing Service: Kansas helps clients settle down in the new country with a comfortable stay after they have received their visas.
Additional services offered to job-seekers:
Resume Writing: Dedicated team of resume experts to craft the best resumes that meet prerequisites of immigration authorities and potential employers. This greatly improves their chances of selection.
Profile Marketing: Kansas is well-known for creating the best-in-class portfolios that boost applicant profiles in job-portals. And yes, this is a complimentary service!
Get started with your migration to Canada from Saudi Arabia today!
Conclusion
The 3 easy ways to apply for Canada PR from Oman are:
Express Entry System
Provincial Nominee Program
Quebec Skilled Worker Program
If you are a professional from Oman looking for Canadian visa services for permanent visas, student visas, temporary work permit, visitor visas, schengen area visa etc, then you can feel free to reach us.
For more information about these programs you can talk to our experts!