If you are planning to move to Canada, you must first understand the various types of visas that you are eligible to apply for based on your unique circumstances and profile history. This first-step becomes very important so that you can make the most of your experience and skills.
A visa immigration expert who knows the ins and outs of the industry can largely benefit you by giving you a detailed profile assessment. Read on to know how it is done.
What is Profile Assessment or Profile Evaluation?
Based on your unique work history, qualifications and skills, visa experts offer professional guidance for the visas you can apply for. We verify your background and assist you with way-forward strategies based on your preferences.
Our consultants conduct an in-depth assessment of your profile to determine your best chances at visa success.
Please Note: These assessments will help us in determining your chances of successfully qualifying for permanent residence to Canada for yourself and your family. All information is kept strictly confidential. Once you submit your completed Online Assessment Questionnaire, you will receive a confirmation mail.
Read on to learn more about this process.
What are the Factors for Profile Evaluation?
Though the eligibility requirements differ for each of the Express Entry-aligned programs,, as well as a certain level of proficiency on an approved language test in either English or French. Also, Canada screens all Express Entry applicants for criminal history and medical issues that could make a person inadmissible.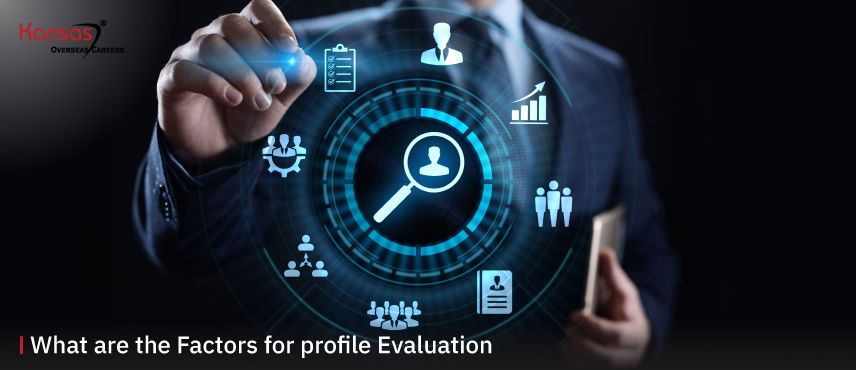 Here are the Factors that will give your Profile More Scores:
Work experience: All candidates are required to have at least one-year of skilled work experience
Educational Qualifications: Any certificate, degree or diploma that you have will be checked and verified. It will then be checked for its Canadian equivalence.
Background Check: Other factors like your age, adaptability, and so on will be verified.
Educational Credentials Assessment (ECA): Your ECA must be completed at the earliest, even before you create your Express Entry profile. We can help you with that.
Language Test: Taking the IELTS or CELPIP or French Proficiency Test is mandatory for all migrants.
CRS Score: Based on various factors, your

CRS score

will be calculated. We further assist you with way-forward strategies on how you can improve your score.
Immigrating to Canada? Know if your profile is in demand.
What is ECA?
The ECA is an evaluation of non-Canadian education by Canadian standards.
It is mandatory for Federal Skilled Worker Class, but it is recommended that FSTC and CEC candidates
Note: An ECA is not required for educational programs completed in Canada.
Who performs the ECA?
Educational Assessing Authorities for Canada immigration:
Comparative Education Service – University of Toronto School of Continuing Studies
International Credential Assessment Service of Canada( ICAS)
International Qualifications Assessment Service(IQAS)
You must include your ECA report and the reference number in your Express Entry profile.
Applying with a Spouse or Common-law Partner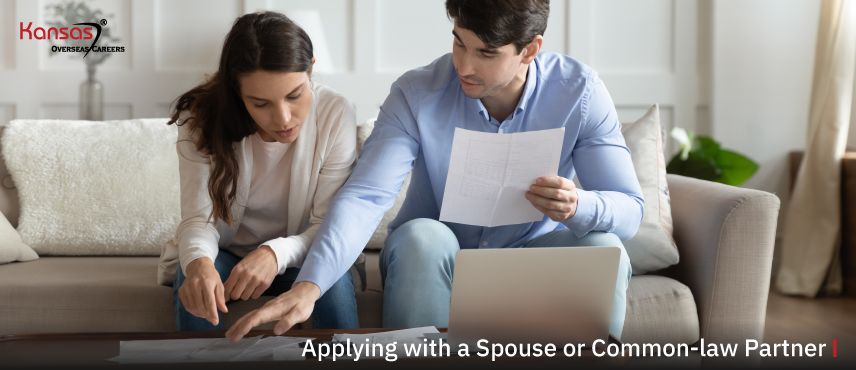 If you are applying with your spouse or common-law partner, you may want to compare your credentials ahead of time. One person must be listed as the principal applicant in the Express Entry profile and the vast majority of the CRS score will be based on the principal applicant's credentials.
Proof of Settlement Funds
You need to show an amount of minimum $13,310 in a Canadian bank account.
IRCC Express Entry Proof of Funds Requirement in 2023
| | | |
| --- | --- | --- |
| Number of family members | Funds required in Canadian dollars (CAD) | Approximate in Indian Rupees (INR) ( **Approx. 1 CAD - INR 60.7) |
| 1 | CAD 13,310 | INR 8,07,931 |
| 2 | CAD 16,570 | INR 10,05,810 |
| 3 | CAD 20,371 | INR 12,36,539 |
| 4 | CAD 24,733 | INR 15,01,317 |
| 5 | CAD 28,052 | INR 17,02,787 |
| 6 | CAD 31,638 | INR 19,20,467 |
| 7 | CAD 35,224 | INR 21,38,136 |
| For each additional family member | CAD 3,586 | INR 2,17,674 |
CRS Score for a Job Offer
You need a job offer supported by a positive LMIA in order to count the job offer towards your Express Entry profile and CRS score. The exception to this rule is for jobs that are LMIA-exempt.
CRS score based on your job:
What are the Minimum Points Required for Canada Express Entry 2023?
Before you enter the Express Entry Pool:
You need a minimum of 67 points to be eligible to apply for the Express Entry Program. Here's how you can score 67 points:
Canada Express Entry Eligibility | 67 points on 6 factors
| | |
| --- | --- |
| Factor | Maximum Points Available |
| Language skills - in English & French | 28 |
| Education | 25 |
| Work experience | 15 |
| Age | 12 |
| Arranged employment (job offer in Canada) | 10 |
| Adaptability | 10 |
| TOTAL POINTS AVAILABLE | 100 |
After you enter the Express Entry Pool:
Your profile will be ranked with a more detailed point-system in the Express Entry program, called the Comprehensive Ranking System or CRS.
CRS Score is evaluated based on:
Core or Human Capital Factors

Spouse or Common-Law Factors

Skills Transferability

Additional Points
Points Table for Factors that Affect your CRS Score
The CRS score has four important factors. Your profile will be given a score based on these factors.
Factors

Maximum Points Available

A. Core / Human Capital Factors

460 (with spouse)

500 (without spouse)

B. Spouse or Common-Law Factors

40

C. Skill Transferability Factors

100

D. Additional Points

600

Maximum Total Points

1200
Core or Human Capital Factors
The section of core or human capital factors includes the applicant's age, education, skilled work experience, and language proficiency skills. All of these factors help determine the immigrant's success after moving to Canada.
Spouse or Common-Law Factors
The second category here includes all the basic factors like age, education, work experience, and language skills of the common-law partner or spouse who will accompany the candidate.
There are factors like education, foreign work experience, and certification of qualification for all the candidates who are in skilled trade occupations in the skills transferability section.
Additional points are given to the applicant for Provincial Nomination under the Provincial Nominee Program. Other factors like post-secondary education from Canada or a valid job offer from a Canadian employer can also help win points.
The core factors, spouse factors, and skills transferability factors together account for 600 points. However, the candidate can get a maximum of 600 points in the additional points category, making the total points to be 1200.
Learn about the detailed point-breakdown of the CRS system in Canada CRS Calculator: Know if you're in demand in 2023!
What are the Benefits of Immigrating to Canada?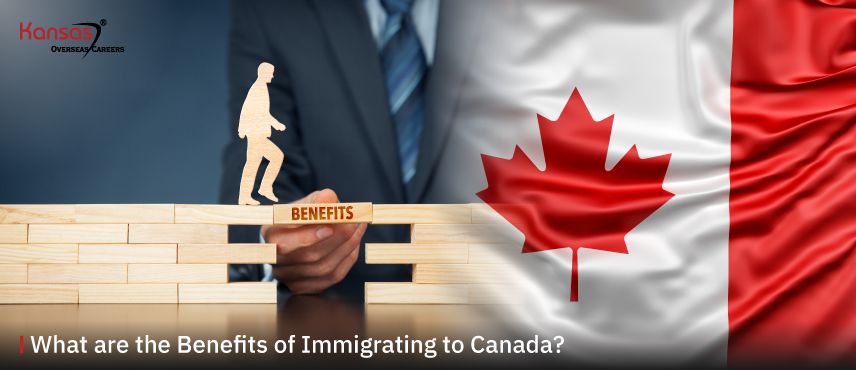 The top 9 benefits of settling in Canada from India are:
1. Right to live in Canada Indefinitely:
The first and foremost benefit of getting permanent resident status in Canada is the legal right to live and work in the country.
2. Canadian Citizenship
After getting a PR, if you have lived in Canada for over three years, you become eligible to apply for citizenship.
3. Freedom to move
Another benefit of becoming a permanent resident of Canada is that you can freely move in and out of the country.
4. Free education for your children
Every Canadian resident enjoys free education up to the level of Grade 12. The government also offers a subsidy on college fees.
5. Sponsor family members
You can sponsor:
Your Spouse
Your Common-law partner
Your Conjugal partner
Your Parents
Your Dependent children
Brother/Sister *
Nephew/Niece *
Grandson/Granddaughter*
* an orphan, under the age of 18, and not married.
6. Universal healthcare
With Canadian permanent residency, you can also enjoy universal healthcare. The government and authorities provide free medical care, including the fees and cost of prescription drugs. In the case of senior citizens, the province covers a part of the medical expenses.
7. Freedom to start a business
You have the option to either buy a franchise or start a new business and contribute to economic growth.
8. Social benefits
There is also an abundance of social benefits that you can enjoy on immigrating to Canada as a permanent resident. You can get tax rebates, unemployment insurance, and pension on retiring. It can ensure the immigrants lead a high-quality life in Canada.
9. Secure environment
Canada is a safe place to live when compared with other countries. It helps an immigrant to settle down and get familiar with the society there. An immigrant also enjoys the right to be protected by the government under Canadian Charter 6 in any mishap or emergency.
Other Important FAQs
Do you have relatives in Canada who are at least 18 years of age?
An Express Entry Candidate who has siblings in Canada can get additional points for adaptability. But, now the immigration authorities also grant additional points to a candidate who has family members in Canada. The family members can be through blood, marriage or common-law partner, and adoption.
Although it is essential that the relative must over the age of 18 and be a permanent resident or citizen of Canada. If you have any relatives in Canada who are at least 18 and have a PR visa, they can help you in the immigration process.
What is the minimum work experience required to apply for PR in Canada through Express Entry?
As per the guidelines of the Immigration, Refugees, and Citizenship Canada (IRCC), any work experience in a job listed in National Occupation Classification(NOC) or while studying can be considered a part of work experience for the PR process. The skilled work experience must be in Skill Type 0, A, or B.
The minimum work experience required for PR through Express Entry is:
One year of full-time work (30 hours per week for 12 months or 1,560 hours)
An equal amount of part-time work (15 hours per week for 24 months or 1,560 hours)
How are points assigned to age in the Canadian Immigration Process?
Canada immigration assessment of a candidate's age as a prominent parameter. Under the Comprehensive Ranking System (CRS), a candidate can win points for their age. It contains a maximum of 110 points out of the total of 1200.
Here is how points are given on the basis of the candidate's age:
| | | |
| --- | --- | --- |
| Age | Points With Spouse | Points Without Spouse |
| 17 years or younger | 0 | 0 |
| 18 years | 90 | 99 |
| 19 years | 95 | 105 |
| 20-29 years | 100 | 110 |
| 30 years | 95 | 105 |
| 31 years | 90 | 99 |
| 32 years | 85 | 94 |
| 33 years | 80 | 88 |
| 34 years | 75 | 83 |
| 35 years | 70 | 77 |
| 36 years | 65 | 72 |
| 37 years | 60 | 66 |
| 38 years | 55 | 61 |
| 39 years | 50 | 55 |
| 40 years | 45 | 50 |
| 41 years | 35 | 39 |
| 42 years | 25 | 28 |
| 43 years | 15 | 17 |
| 44 years | 5 | 6 |
| 45 years or older | 0 | 0 |
As per the Express Entry system, a younger candidate from the age group of 20 to 29 years may have an advantage over the older ones.
Conclusion
Profile Assessment is the first step in the process of Canada Immigration.
An Immigration Expert will help you boost your profile and make it easier for you to get the Authorized Assessment Certificates.
At Kansas, we help candidates get a good score and fast-track the visa process for them.
How can Kansas Help you?
Profile Evaluation: Our consultants will do an in-depth assessment of your profile to determine your chances of visa success.
ECA Assessment : We will do the ECA Assessment for you. It is the most crucial step in determining your eligibility to move to Canada.
Profile Marketing: We are known for creating best-in-class portfolios that boosts your profile in job-portals. And yes, this is a complimentary service!
Test Preparations: We have a specialized team of experts who provide online training for IELTS, French and other language tests at no extra cost.
Resume Writing: Our resume experts craft the best resumes that meet prerequisites of immigration authorities and potential employers. This greatly improves your chances of success.
Documents & Review: Error-free visa documentation from document gathering, verification, application submission, and also post-landing assistance.
Visa Filing: Kansas ensures that your visa application meets all the standard requirements as per the immigration authorities of the country that you are applying for.
Interview Training: Be it a job interview or a visa interview, we have experts who will help you excel in both.
Dedicated Case Officer: Your case-officer will assist you at every step of your visa process. You can also opt to request a change of officer if you're not satisfied.
Post Landing Services: Our customized accommodation-support team will help ease your migration journey to the country you wanted to work and settle in.
You can expect a one-stop solution for all your visa needs from profile evaluation, documentation, application drafting to post-visa services with Kansas.